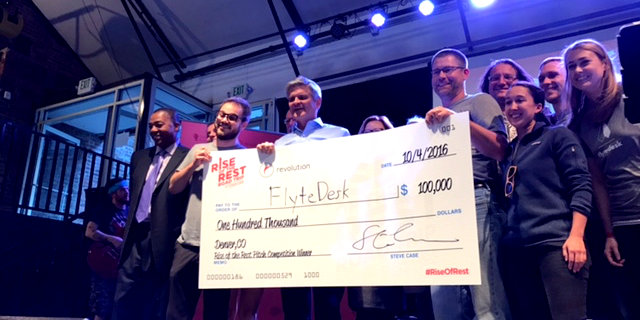 Boulder-based adtech startup Flytedesk brought home $100,000 — and a giant check — last night after winning Colorado's latest pitch competition.
The company, which got its start in 2012, works by connecting advertisers with 18 to 24-year-olds, specifically on college campuses. They've built a network of university newspapers, clubs and other ad placement partners. Advertisers select target audiences, upload their campaign's creative and "flight" the ads on Flytedesk's platform. The company then works with their partners to execute on advertising, reaching millions of students across the U.S.
During his four-minute pitch, Flytedesk CEO and co-founder Alex Kronman said the company is profitable, growing from $2 million in gross revenue in their 2016 fiscal year to a projected $20 million in 2017. He added the company's 12-person team is expected to grow to 25 or 30 by the end of this academic year.
Flytedesk has been making waves in the local adtech community. Having gone through both the Techstars Boulder and BoomTown accelerators, the startup counts major figures in the ad world among its backers, including CP+B's Alex Bogusky and SpotX's Mike Shehan.
Flytedesk's VP of Growth Piper Jackson-Sevy said she thought having significant pitching practice contributed to the company's victory.
"Going through BoomTown and Techstars really taught us how to pitch succinctly and clearly," she said.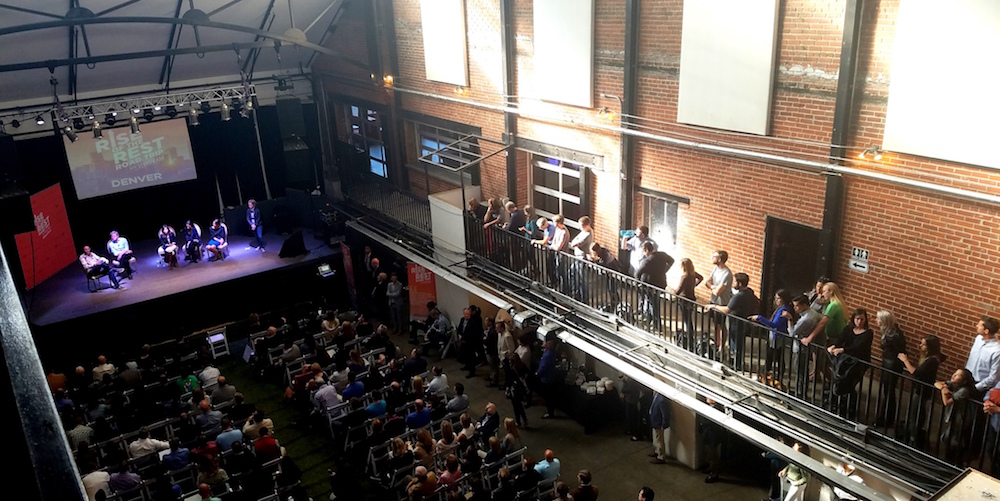 The competition, hosted as part of the Rise of the Rest bus tour, brought eight local companies in front of a panel of distinguished judges: the tour's headliner, AOL founder Steve Case; Foundry Group's Brad Feld; JB Holston, dean of the University of Denver's Ritchie School of Engineering and Computer Science; Paul Washington from the City of Denver's Office of Economic Development and International Trade; Revolution's Philippe Bourguignon; and Lisa Edgar of Top Tier Capital Partners.
Rise of the Rest seeks to highlight cities where entrepreneurship isn't typically celebrated. The road trips started in 2014. During this summer's tour, Case and his team will have traveled to Omaha, Denver, Salt Lake City, Albuquerque and Phoenix to highlight the policies, partnerships and perseverance that power each city's startup communities. 
As part of this summer's tour, Case and his team have organized pitch competitions in each city, where they will invest a total of $500,000 in each competition's winner.
Jackson-Sevy said in addition to growing their team, the company is launching a new version of their platform next month, which will allow them to start executing more efficiently at scale.
"We've figured out how to sell, and we have almost an unlimited supply," she said. "So it's a matter of making sure we can keep scaling."
As for the giant check? Jackson-Sevy said the one from Rise of the Rest will stand out among their "wall of checks," where they've hung other checks from notable clients, Trojan and Nintendo.
"Our industry still pays with paper checks and snail mail," she said. "We can only disrupt one thing at a time. This giant check will take that to a whole new level."
Check photo via Revolution.
Have a tip or know of a company that deserves coverage? Email us.