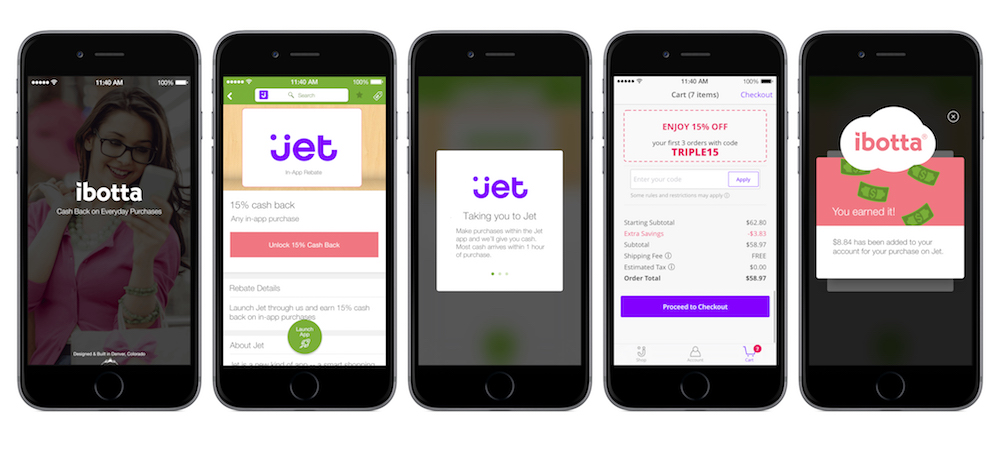 Denver-based Ibotta announced the launch of a new feature today, which allows users to earn rewards through purchases on other apps. Consumers can now get cash back from booking a hotel or plane tickets, having food or alcohol delivered to their home and purchasing items and experiences at a discount — all from the comfort of their own phones.
The company partnered with contextual commerce company Button to build out app-to-app deep-linking experiences, lending seamless navigation capabilities from Ibotta to the purchase process on their partner apps.
Ibotta CEO Bryan Leach said the company had wanted to have a similar feature more than three years ago, but the technology didn't exist.
"All of us realize that purchase intent arises in apps," he said. "Yet it's very hard and clunky to consummate that intent by making a purchase… When Button came along, we realized they'd built a technology with that in mind."
Leach said the Ibotta team worked with Button for most of the past year, building and testing the new feature. On the backend, partner apps like Hotels.com, Drizly and Groupon can choose to deliver different types of rewards to different types of consumers. Consumers will see recommendations based on their previous rebates and whether they've already installed a partner app.
Through Ibotta's integration with Button, consumers start shopping in the Ibotta app, where they unlock applicable offers. They're then immediately directed to the native app (such as DoorDash) to select what they'd like to purchase (such as a pizza from BeauJo's). Once their in-app purchase is complete, Button automatically verifies the Ibotta rewards and sends users a notification of the approval.
Leach said so far, feedback has been "overwhelming," adding it's their most popular feature to date and they've had a noticeable decrease in inbound customer support requests.
Leach anticipates the app-to-app purchasing process will drive downloads and purchases among consumers — and it's even changed the way he and his wife decide how to shop.
"My wife has been using it on all sorts of things we didn't previously use," Leach said. "We started getting our alcohol and food delivered, we started shopping on Boxed for our groceries and booking all my travel through Hotels.com. It's so easy, it's kind of addictive."
With the potential for disruption, Leach said he hopes this feature will help the company grow their team even more beyond their current openings.
Photo via Ibotta.
Have a tip or know of a company that deserves coverage? Email us.