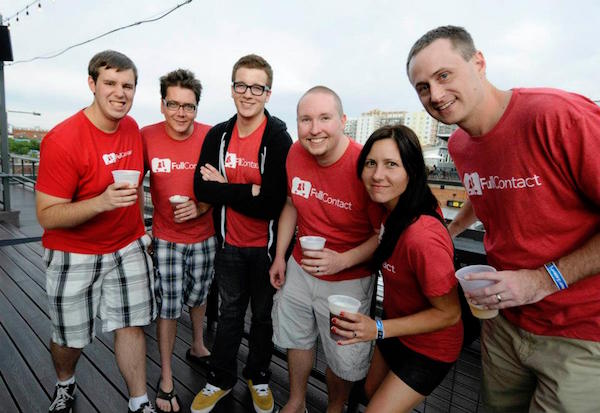 Multiplatform contact management service FullContact has secured $25 million in funding in a round led by the Foundry Group. Baird Capital, Shea Ventures, and Blue Note Ventures also participated in the round, which brings the Denver-based company's total funding to almost $45 million. The round is Colorado tech's largest so far this year.
The new funding will help FullContact hire sales, marketing and engineering talent, which will assist in building out new products in the contact management space. Currently, the company unifies contact information across devices and adds in information from social networks and even email signatures. The company also offers business-focused services to integrate customer profiles into other systems to keep track of customer information.
"With over 40 billion contact records under management, FullContact was already on track to more than double recurring revenue for the fourth straight year," Brad Feld, managing director of the Foundry Group, said in a statement. "The funding will be used to support the company's rapid growth by further expanding sales, marketing and engineering as well as pursuing strategic acquisitions that bolster our technology and data assets."
One of the new products the company is working on, co-founder and CEO Bart Lorang told TechCrunch, is a way to use a FullContact profile as a central identity across the web. The new service would help FullContact go up against behemoth LinkedIn, which was acquired this year for $26 billion. It wouldn't be the first time FullContact stepped into LinkedIn's turf — the company previously introduced a business card reader function shortly after the work-focused social network disabled their version.
But FullContact also plans to step up acquisitions, building out its product line by bringing in startups with promising products but who may lack the funding to bring their product to market. The company already acquired the tech behind Brewster, a major competitor in the space.
It also plans to grow through hiring, with new offices and a doubled headcount over the next year. The company already has offices in Denver, Dallas and Riga, Latvia and employs about 100 people worldwide. However, it doesn't have any motive to move its headquarters from Denver. 
"We are building a global company and community, but we will always be based in Denver," said CFO Rushton McGarr. "We don't need to be centralized and there are numerous benefits to not being caught up in the noise that surrounds NYC and the Valley. We will be establishing presence in more cities and countries, but the Mile High City is, and always will be, FullContact's home."
Image via Facebook
Does your company have news to share? Let us know with a tip or a tweet @BuiltInColorado