When applying for a job, it's kind of hard to tell what life would be like at that company. Sure, the job description says what you'll be doing, and maybe it'll have a bit of info about the company and its culture.
But what's it really like to work there? Do developers spend a lot of time in meetings? How does the team work together? What are the biggest challenges?
We've recently featured a few companies who are adding to their teams, giving you a behind-the-scenes look at what it's really like to work there.
This week is newmedia, an established full-service website design and development agency, which also includes 1FEE and DRUD. The DRUD team is building a product that changes the way websites are designed, built and hosted. They recently moved into a new office in Downtown Denver, and newmedia's teams are growing.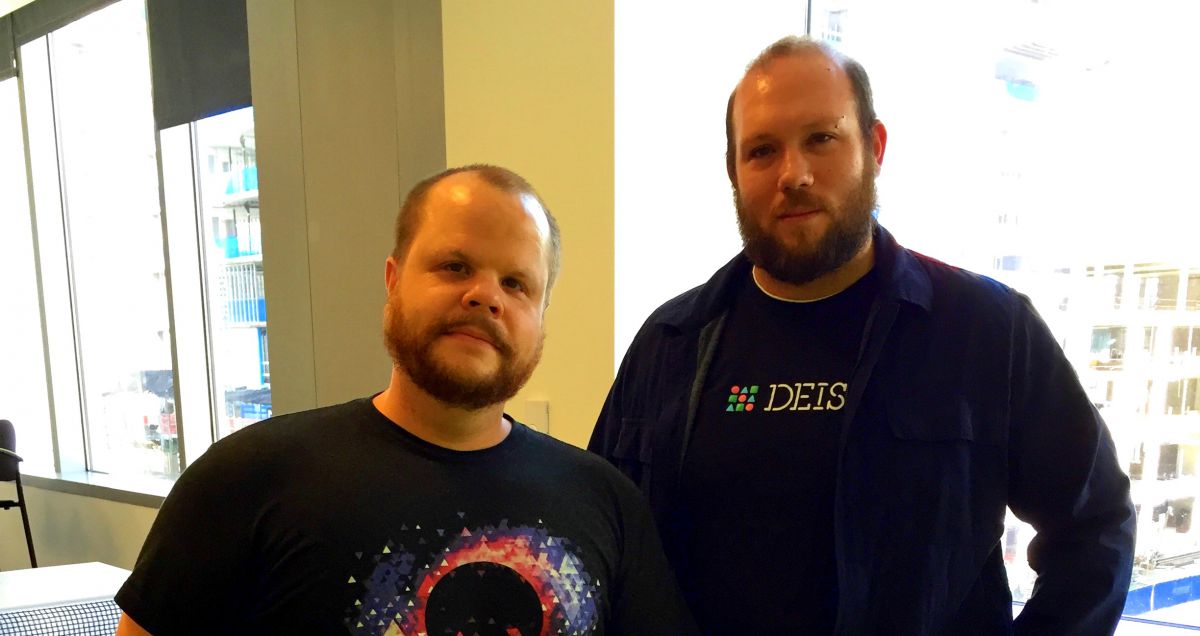 Brad Bowman and Erin Corson are both software engineers on newmedia's DRUD team. Bowman had spent six years as a contractor working on large-scale, enterprise-level websites before joining the team in August of last year.
Corson joined the team around the same time after having worked for the University of Colorado at Boulder building a system for managing Drupal and Wordpress applications. "Just as we were finishing at CU, I heard about the role at newmedia," he said. "The tasks and responsibilities were so similar, it seemed like a great position to hit the ground running."
We spoke with them about what it's really like to work at newmedia, from the day-to-day to being on the cutting edge, and the most challenging parts of the job.  
Day-to-day
Bowman and Corson both said their days are pretty similar. They usually arrive around 8 a.m. and get started programming. There's a standup meeting for the team of three at 9:30 a.m., and then they go back to programming.
"We spend most of our time in code trying to make the system come together," said Corson.
He said the team doesn't spend much time on process, as it's mostly been ironed out already.
Solving complex problems
Corson said he likes his job because he gets to be on the edge of the newest technology. "We're able to solve problems people hadn't thought were easily solvable before," he said. "When we're able to come to them with a solution based on this new reality that tech is creating for us, generally everyone is fairly satisfied. As a developer, I like being able to fix things for people and then see how it changes they way they do their jobs."
For Bowman, the best part of the job is its complexity. "It's pretty rewarding to build things, and then when you get the opportunity to build a robot that builds other things, that's even cooler."
He said it's a fun to take complex, manual processes that exist when it comes to building and deploying software making it easier for people. "So what used to take people an hour, when you see that happen in five minutes, that's a pretty rewarding thing."
Company culture
Even though newmedia's been around for more than 20 years, the DRUD team is still young — and the team is still building their own culture. But Corson said he likes how honest he can be with his fellow software engineers. "We're very, I'd say, hardcore sort of developers and we have a far different culture than the rest of the company," he said. "You can be honest and blunt with each other without worrying too much about hurting their feelings, when you're talking about code and the way things are done."
Bowman said he likes newmedia's environment. "We have ping-pong games all the time, we go out to lunch together a lot… it's a fun environment to be a part of."
Challenges
With such a small, autonomous team, making sure everyone's code works well together can be a challenge. "There are three of us working toward the same goal, but we're working on different parts of the goal," said Corson. "The hard part is making sure the ends meet. It's hard to make sure our assumptions don't come back to bite us."
For Bowman, it's also hard to see what competitors are doing and staying on the right path. "We look at what other people are doing and vet what we're doing against that," he said. "Simultaneously building a platform while trying to make sure you're staying ahead of the other people in this space is a lot to think about at once."
Some challenges can be good, though. "The other engineers are extremely good at what they do, so I think it's really rewarding to work with other people who know what they're doing that well," said Bowman. "It challenges me to operate on that level as well."
Interested in working with newmedia, DRUD or 1FEE? You can view their open jobs here.