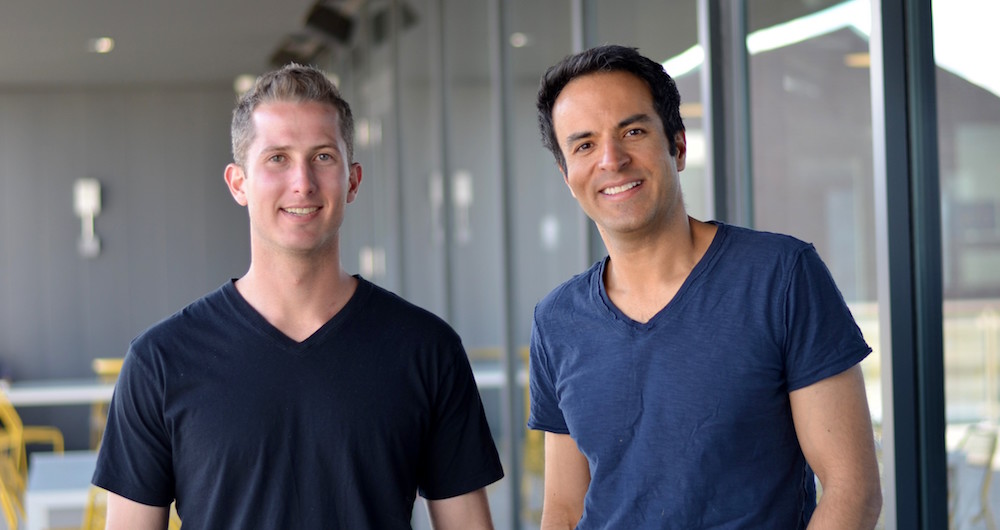 William Ahlering and Asim Malik want to change the way families find care for their aging loved ones.
Their new Denver-based startup,
, helps people find local assisted living care homes for their parents, grandparents or other family members in as little as 24 hours — and they're poised to change the industry completely.
Ahlering watched as his grandmother Eloise "Mimi" Crum's Alzheimer's progressed to where she needed professional care. Ahlering's parents, both physicians, ultimately decided assisted living was the best option, but the process of finding the right place for Mimi wasn't easy.
"None of the other families we knew had gone through this yet and it was really 'find what you can find,'" he said.
It took his family a week and a half, touring five to 10 places around the area. "They didn't really have a reference guide to go off of," he said. "They sort of just looked around and decided to find the best they could."
Malik's mother was an in-home caregiver for his grandmother for 20 years while he was growing up in Pakistan. He never gave it any thought, because that's just what people did. When he came to the United States, he was surprised to learn about how people (fail to) take care of the elderly. "In the U.S., it's a great place to grow up, but it's a very difficult place to grow old," he said.
People usually don't recognize a need for assisted living until an emergency occurs — a family member suffers a fall or other injury, they wander off or undergo a big surgery. The way the industry works now, when someone realizes their loved one needs assisted care, they turn to Google — and they're met with big, corporate facilities or huge databases with not much information.
It's an extremely stressful, emotionally-charged and expensive experience — and sometimes, like in Ahlering's case, it can take a family weeks to find a home.
But there are dozens of "care home" facilities in the Denver metro area that need to fill beds. These are small homes in residential neighborhoods; they're often ranch-style homes that have been converted to be accessible to the elderly. These facilities provide non-medical, 24-hour care — offering residents more independence than a nursing home or other facility. They're typically locally-owned, have fewer than 16 residents and a high caregiver-to-resident ratio.
Because these homes have small staffs — and small budgets — they're not able to market themselves as powerfully as the large facilities, especially online. That's where mimi comes in. mimi's online platform gives care homes the ability to market their services and control their consumer pipelines with real-time inventory and a feature called Care Match, which makes sure families are only shown homes capable of handling their loved one's needs.
Ahlering said the goal for mimi was to make it as easy for families to find assisted living care online as it would be for them to book a flight. He and Malik went door-to-door to dozens of homes in the Denver metro area, personally researching each facility's features and adding them to mimi's database.
When users visit mimi's website, they're taken through the Care Match process, which asks a user some obvious questions like who needs a room, their gender and what neighborhood they'd like to be in.
But through their one-on-one conversations with care providers, Ahlering and Malik discovered there are other, less obvious questions they should ask, too — like whether they're interested in respite care, or whether they're concerned about their loved one's memory.
After going through Care Match's questions, users are shown homes that match their needs. They can browse each home and see fast facts like the resident capacity, number of caregivers and whether pets are allowed. Most facility profiles also have photos and videos, and the price shown is all-inclusive. "What you see is what you get," said Malik. "That's not the norm with larger places."
He said larger facilities often start with a base monthly rate, but then add on fees and charges based on different levels of care. With mimi, it's all-in-one.
Malik said mimi's goal isn't to go directly against large facilities, though. "There's a spot for everybody, but for folks who want more personalized care, who don't want a large hotel-style place or who are looking for better memory care, it's these small homes that offer a personalized service."
And it makes business sense for the bootstrapped team of three. "We said, 'Wow, here's a segment of the market that can offer really great care that for one reason or another has been overlooked,'" said Ahlering.
He said small care homes have 65 percent of the open beds in Denver, and their needs match mimi's model perfectly.
"Taking that route of hitting the streets was really humbling for us personally," Malik said. "These guys are really busy as well. They all have an entrepreneurial story behind them, too. Our story resonated with them."
mimi launches their Care Match service in the Denver metro area this week, with plans to expand beyond Denver later this year.
Have a tip or know of a company that deserves coverage? Email us.