When applying for a job, it's kind of hard to tell what life would be like at that company. Sure, the job description says what you'll be doing, and maybe it'll have a bit of info about the company and its culture.
But what's it really like to work there? Does bureaucracy get in the way of making important changes? How quickly does it take developers to get caught up with what the team has been working on? What processes are in place to make sure out-of-date code doesn't pile up?
For the next few weeks we'll feature a few companies who are adding to their dev teams, giving you a behind-the-scenes look at what it's really like to work there.
Up first is Apptio, a startup that builds cloud-based software to help companies manage the business side of IT. Apptio's headquarters are in Washington, but they have an office in Denver with a growing engineering team.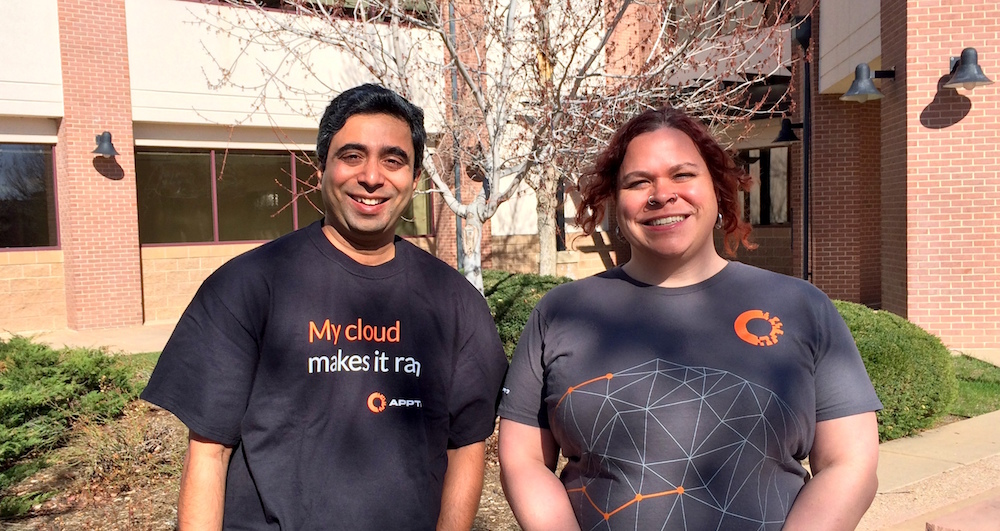 Hari Yalamanchili and Stephanie Toupin / photo via Apptio
Hari Yalamanchili and Stephanie Toupin are developers at Apptio who have decades of experience, combined. They both learned to code at a young age — Toupin when she was in third grade, Yalamanchili  when he was in seventh or eighth grade. Yalamanchili's been with Apptio for three months and Toupin started three weeks ago.
We spoke with them about what it's really like to work at Apptio, from the day-to-day to being part of the team and the most challenging parts of the job.  
Day-to-day
Toupin said she usually has an hour to review her work before their daily team scrum, and then they get to coding. She said a lot of collaboration happens during coding, but not so much that they get distracted. "There aren't many meetings, so people have time to truly code and truly think about the problems they're working on," said Yalamanchili.
Welcome to the team
They said it's not hard for new hires to feel like a part of the team. "What really stands out to me is the unfettered welcoming attitude of the technical team," said Toupin. "This is a very technical organization — it's so often the case that you walk into a software shop and you're supposed to stay away from the code and earn the opportunity to touch things. I was able to leverage my skills immediately to help solve day-to-day challenges."
Speaking up
When it comes to proposing changes, Apptio's tech team is all ears. "The focus is on getting high quality technical solutions out the door that have an impact for clients," said Toupin. "There's not a lot of bureaucracy around what you can and can't change. If you have a suggestion that will have a positive impact on the product, there's not a lot standing in your way from getting it done."
Yalamanchili added the company's flat structure ensures everyone has the opportunity to speak up. "An intern's voice will be heard if he has a good answer," he said.
Solving complex problems
Yalamanchili said his favorite part of the job is solving complex problems. "I like any project where you're solving something more interesting — something you haven't seen before — and you're working with people who are excited to accept those challenges," he said.
And it's important to keep code up-to-date. "We take tech debt very seriously," said Yalamanchili. "We don't pile up technical debt or take shortcuts when we are delivering work to our customers."
Biggest challenge
Toupin said the biggest challenge is getting up to speed. "The problems aren't like what you'll see in every business," Yalamanchili said. "It's a growing company, so there are a lot of moving parts. We have a lot of things that are changing."
Company culture
Despite the challenges, Apptio's team has worked to make a welcoming culture for their developers. "It's an engineering culture," said Yalamanchili.
He said whenever developers feel the need to take a break, they can pop over to one of Apptio's many Slack channels with engineering puzzles, discussions about the best computers and technology, and casual discussions about fun topics outside of work.
Ultimately, though, Toupin and Yalamanchili most enjoy working with a team who takes tech seriously and can work together to solve unique challenges. "Everyone knows exactly what they're doing and why," Yalamanchili said.
Interested in working with Apptio? You can view their open jobs here.