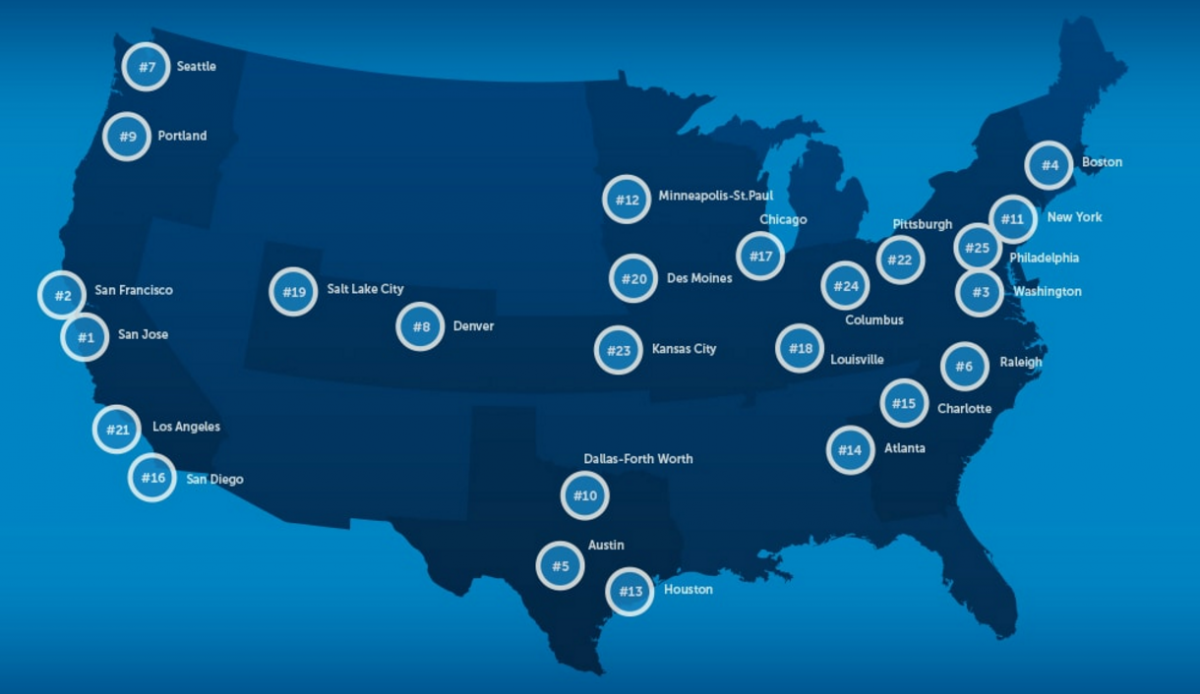 A new study by Dell named Denver's economy among the United States' best prepared for the future. 
For the study, Englewood-based IHS Economics was commissioned by Dell to find proxy indicators that a city was well prepared for future growth. To get the rankings, they looked at a number of characteristics thought to be associated with a "future ready economy." Among those were the ability of a city to attract curious and engaged people, the number of businesses that thrive in collaborative environments, and the prevalence of collaborative infrastructure.
The study found that of all the cities in the United States, Denver was the 8th best prepared for future growth. Denver was the second-highest ranked non-coastal city after Austin, which came in at number 5. The only other city in the Rocky Mountain Region to make the top 25 was Salt Lake City, which came in at 19. 
"We're very confident these cities will grow faster in the next five to ten years than most other cities," said James Diffley, IHS Economics Group Managing Director for U.S. Regional Services in a statement. 
That Denver is expected to grow quickly will come as no surprise to Denver residents who have witnessed the city's breathtaking growth first hand. In another study, the commercial real estate group
, found that Denver's commercial real estate prices have increased for the 17-consecutive quarter. At least 1.3 million square feet of office space is under construction downtown, with another 1.1 million square feet being constructed in the suburbs. 
There's no question that Denver is booming. Let's hope that Dell is right and we're ready for the growth.