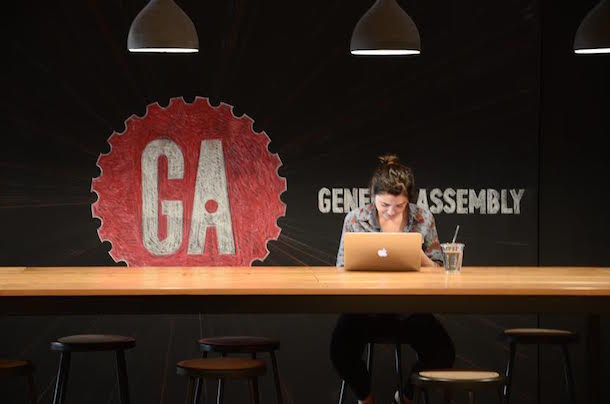 , a New York-based school that teaches 21st century skills in data, design and technology, announced today they are opening a campus in downtown Denver.
"We are excited to be joining the Denver community," Anna Lindow, General Manager of Campus Education and Operations at General Assembly said. "We hope and believe that we can be an asset to Denver's thriving tech community."
General Assembly offers full time, immersive courses in technology skills similar to those on offer at Galvanize or the Turing School. They also host most of those classes in a part time format, and also run a series of workshops and events. 
The new campus will be the company's 15th location, and the only one located in the Rocky Mountain Region. The school is set to be located inside the WeWork building currently under construction at Wewatta and 16th Street. 
The plan is to begin classes as early as February, with initial offerings including: Coding for Beginners, Intro to UX Design; a UX one day bootcamp, Intro to Adobe Photoshop, Digital Marketing Key Concepts & Metrics; Getting started with Wordpress; Intro to Google Analytics; Intro to Product Management; Intro to Denver Startup Community. 
Their longer format courses will begin in May, and include: Front End Web Dev (part-time), User Experience Design (part-time), and Web Development Immersive (full-time). 
Given General Assembly's timeline, it is probably safe to expect WeWork to open at least one of their new Denver properties in February as well, making it quite a month for Denver tech. 
Know a startup that deserves coverage? Send us an email via[email protected].