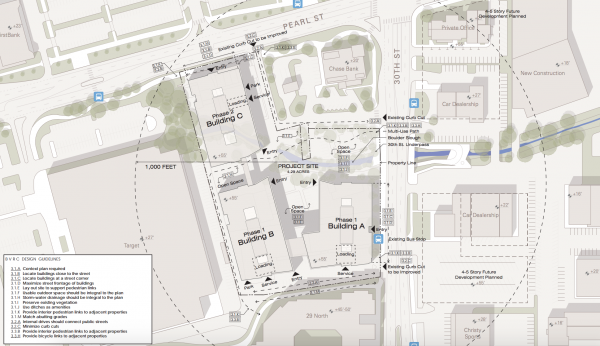 Google has officially broken ground on their new Boulder campus. Amid years of controversy, the project is finally underway. Amazingly, even though the project has been a topic of conversation in the area since it was announced, many people know almost nothing about what it actually entails. So, we dug into the plans to see if we could paint a better picture of what Google's new Boulder home will look like. Here goes.
The new campus is located at 2930 Pearl Street. That's a couple of blocks east of where Google's current Boulder offices are located, and about a dozen blocks from where Pearl Street turns into a pedestrian mall. There is a Whole Foods across the street, and it's not too far from the Goose Creek Path or the Boulder Creek Path. It'll be about a half a mile away from Boulder Junction, which will include an underground bus rapid-transit station and what is being heralded as a mixed-use, pedestrian neighborhood. That bus station is expected to come online in 10 days, and you can read more about it here.
The Google campus itself will end up being three four-story buildings that could employ as many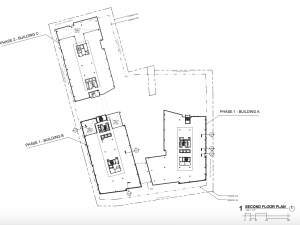 as 1,500 people — up from Google's current Boulder workforce of around 300. That would make it one of the top 10 largest Google campuses in the world. At around 330,000 square feet, it would mean the new campus would be about the size of one and a half Super Walmarts, though because the buildings are four stories tall, it'd be a smaller footprint. Actually, looking at the plans it looks like it'll be more open and a smaller footprint than the existing Target it sits next to. 
Between the buildings there will be a public area with a bike path through the middle of the campus. A creek, or I suppose more of a drainage runoff, will meander through the middle of the buildings. There will also be an underground parking garage that'll fit just over 600 parking spaces. While that's a pretty big garage, it means that as many as 900 employees will have a powerful incentive to ride a bike or take public transit to work.
Construction will take place in two phases, with the first one costing around $100 million. The first phase will take about 18 months to complete and includes two of the three buildings. The first buildings completed will be those south of the creek/drainage ditch. If you're into this sort of thing, you can find incredibly detailed plans of the campus here. 
Like it or loath it, Google is here in Boulder in a big way and looks like they're here to stay.
Have a tip for us or know of a company that deserves coverage? Email us via [email protected].