Denver-based Green Chef got a big funding boost today to the tune of $15.5 million in Series A financing from the global venture capital fund New Enterprise Associates. 
The startup delivers fresh, organic and seasonal ingredients to your doorstep in carefully designed meal packages. Think of it like taking all the boring preparation and hard work out of cooking, while leaving all the fun and glamour of creating a fancy meal.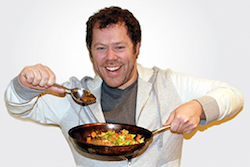 "One of the big trends in the last 30 to 40 years is the rise of going out to eat, but the choices aren't great and you're usually in a rush," Green Chef CEO and Founder Michael Joseph (pictured right) said. "We're trying to bring people back to the dinner table in a modern way."
The way it works is simple. Sign up, tell Green Chef how many people you're cooking for, if there are any dietary restrictions, and when you'd like your food delivered. Once a week they'll deliver fresh, organic ingredients directly to your door, with everything you'll need for 3 meals in a refrigerated box (so you don't have to be home). All the ingredients come precut, prewashed and ready to be cooked.
As you might expect, GreenChef offers meal choices for a multitude of dietary preferences. There are predesigned packages for gluten free diets, vegetarian diets, omnivorous diets and carnivorous diets. Prices change based on the type of package you choose, but the most expensive package is $14.99 per person. GreenChef says every meal is easy to master for even the most inept chefs, and that cooking time shouldn't be longer than 30 minutes.
"We've made a lot of non-cooks into chefs," Joseph said. "And in the future we're going to be working on giving consumers more and more choices."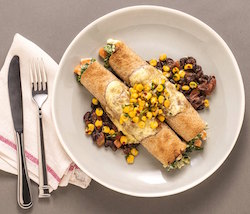 Joseph declined to comment on what the company will use the new infusion of capital on, though he did indicate that they're looking for talented people to join their team.
It may be more expensive than simply buying your groceries, finding a recipe, and making your own dinner, but how many of us can realistically get off work and make Pesto Gnocchi or Stuffed Eggplant from scratch?
If you're looking to impress a date or an in-law, or even if you're just looking to cook a couple of healthy meals at home, GreenChef's price point is similar to what you'd expect to pay for a healthy meal out. The main difference being that, with GreenChef, you get to take the credit for creating an awesome meal, which is priceless. 
Have a tip for us or know of a company that deserves coverage? Email us via [email protected]