Coming Out Day is Coming. Is Your Workplace an LGBTQIA+ Safe Space?
Two Colorado businesses share steps they have taken to create a supportive workplace for LGBTQIA+ employees.
Anyone who has ever lived through it can attest: hiding who you really are is taxing. 
This isn't just anecdotal. Research has confirmed that leading a double life between public and private personas leads to real symptoms, including depression and social stress.
This is particularly relevant to consider on October 11th, which is National Coming Out Day: A day when LGBTQIA+ people may choose to merge their private and public personas to reveal their authentic selves to the world.
Disclosing one's sexual orientation or gender identity to anyone is a highly personal decision in any situation. In a professional setting, revealing such intimate details is often, at best, awkward. At worst, it can open the person up to discrimination, harassment or violence which impacts their livelihood.
Conversely, there are potential benefits to coming out on the job. Research shows that "coming out increases job satisfaction, intention to stay and emotional support from coworkers," according to Harvard Business Review. No matter what, an employee should never be outed to colleagues by anyone except themselves. 
Though sexual orientation and gender identity are statuses which are legally protected from employment discrimination, that doesn't mean every workplace is safe for employees to come out. In fact, according to a survey for Built In's 2022 State of DEI in Tech Report, 74 percent of LGBTQIA+ respondents said they have faced workplace discrimination, and slightly more than half said they have left an employer due to workplace discrimination. 
These numbers tell a concerning story, and it's up to employers to rectify it. Over the past few years, many tech employers have made such declarations to improve their diversity, equity and inclusion practices. 
That's easier said than done, as creating a truly safe space requires action to back up promises. 
Employers need to own their shortcomings, be accountable and strive to do better. They also need to take initiative to support strong communities in the workplace. The Human Rights Campaign Foundation's Corporate Equality Index is one of the most well-known national benchmarking tools on practices pertinent to LGBTQ+ employees. According to the HRC, 93 percent of the highest corporate equality index-rated employers have an employee resource group or diversity council that includes LGBTQ+ and allied employees.
This is a strategy that both Freshworks and Duda have implemented. These companies, which both have offices in Denver, have found success from supporting employee-led groups in tackling inclusion initiatives, including the rollout of new gender pronoun practices at Duda. 
Built In Colorado talked to leaders from these two companies for more insights into building LGBTQIA+ friendly workplaces in advance of National Coming Out Day.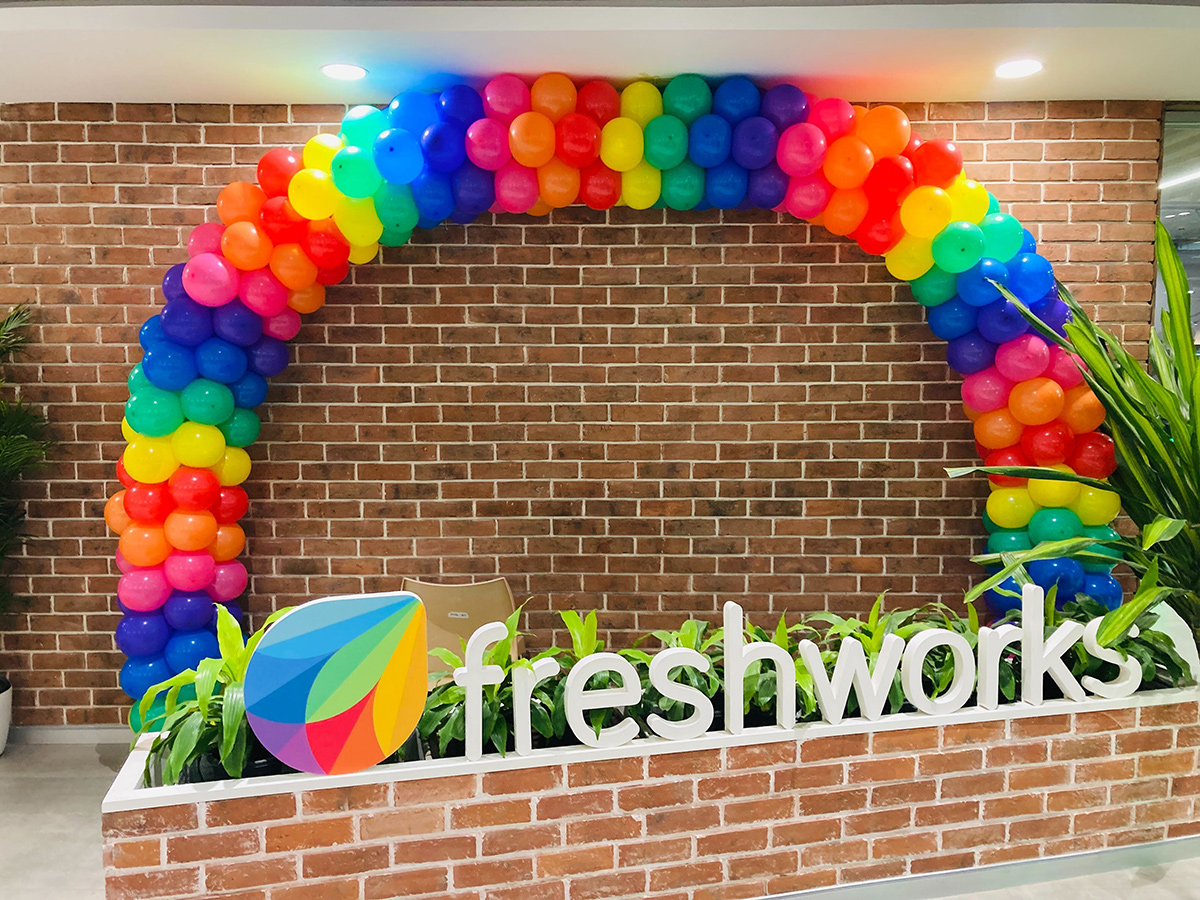 Freshworks is a unified customer-engagement platform.
Why is it important to you to support your LGBTQIA+ employees?
We believe diversity powers innovation, because great ideas can and do come from everywhere. We have always taken pride in being a company that is loved by its employees, customers and stakeholders — in that order. It's simple: happy, fulfilled employees lead to better, more innovative work. That's why we do everything we can to create a workplace where everyone can bring their true selves to work, feel comfortable speaking out, take risks, and feel they're an integral part of the Freshworks Kudumba, a term derived from the Tamil word for family.
Supporting our employees is at the forefront of our work and supporting our LGBTQIA+ employees gives us pride. 
What resources does Freshworks have in place to support LGBTQIA+ employees? 
Prideworks, our global LGBTQIA+ employee resource group
Committed internal DEI team
Pride month celebrations
Parental leave that is inclusive of birthing and non-birthing parents
Comprehensive medical insurance
Unlimited PTO
Wellness benefits
Work-from-home benefits
How do you work with LGBTQIA+ employees to ensure they feel heard, supported and included in the workplace?
Creating an environment where all of our employees can provide us with feedback is critical to employee happiness. Freshworks leads a biannual employee engagement survey where employees can provide anonymous feedback, managers lead quarterly check-ins and all leadership drive meetings include an anonymous outlet for feedback. 
LGBTQIA+ employees are also supported through meetings and events sponsored by Prideworks, our global LGBTQIA+ employee resource group. This includes safe spaces for members of the community, ally-supported spaces and regional support.
Externally, how does your company support the LGBTQIA+ community?
Prideworks, our LGBTQIA+ employee resource group is proud to give back to the community. This takes place in the form of fundraising initiatives, volunteer and community engagement opportunities, and supporting small LGBTQIA+ businesses.
Duda is a web design platform.
Internally, what resources, benefits or programs do you have in place to support LGBTQIA+ employees? 
Duda's employee population spans the world, with locations in the UK, Brazil, Israel, Quebec and the United States. With that in mind, one of the most important considerations for Duda in support of its employees is noting the cultural differences and sensistivies for each of its locations. A one-size-fits-all approach to diversity, equity, inclusion and belonging strategy would fall flat. Duda allocates resources and time to education of these important differences and resources. 
In the United States and Latin America, we have a DEIB committee made up of self-nominated individuals who are committed to building a diverse, equitable and inclusive culture of belonging  where Duders from all backgrounds and demographics are celebrated for bringing their full self to work. 
This group meets monthly to discuss events, resources and educational activities that support Duda's DEIB mission. A small example is removing Dude and Dudette terms from the company language when referring to Duda employees and transitioning to the more universal Duder. Examples of the updated language include renaming the employee award as Duder of the Quarter, removing Dude and Dudette on bathroom signage and updating company values reflective of this term.
A one-size-fits-all approach to diversity, equity, inclusion and belonging strategy would fall flat."
How do you work with LGBTQIA+ employees to ensure they feel heard, supported and included in the workplace?
Duda emphasizes the importance of everyone belonging from the first time that new employees join the company. 
For example, we create space for pronouns from an employee's initial day, but are currently putting together a resource for new hires that outlines all other systems in which they are encouraged to specify or change their pronouns, along with instructions on how to do so.
We also use strategic pulse survey questions to ensure there is a safe space for employees to provide feedback and suggestions to the people team and leadership.
Additionally, each quarter, Duda employees in each region submit nominations and vote for non-profit organizations to which Duda donates a total of $20,000 annually. Because this is an initiative voted for by employees, this is another avenue in which employees have a voice to ensure Duda represents and supports causes that  are important to them.
Externally, how does Duda support the LGBTQIA+ community?
We're a global company! What this translates to in terms of support and partnership with the LGBTQIA+ community is tailored to the specific location of each of Duda's offices and may look very different. For example, in Tel Aviv and the United States, Duda participated in local Pride events. 
Another example, along with other events, Duda hosted an Allyship discussion for all employees, led by a former executive director of Out Boulder and the Rainbow Center of Tacoma.