BombBomb Wants You to Change Your Mind About Your Career
Nobody has their dream job all figured out. Or if they do, there's no guarantee their plans won't change. At BombBomb, that winding career journey is just part of the fun.
Career growth isn't always linear. Sure, the word "growth" implies an upward trajectory, but sometimes finding professional bliss isn't so neatly plotted along a Y axis. Instead, it can be a meandering journey that takes unexpected turns.
Take Rea Ross, who has been at video martech company BombBomb for nearly four years. In that time, she's changed roles six times — and she's still not done. But to Ross and her peers, that's not a bad thing. After all, interests shift, new passions develop and people change. So, when after a few months of working as a business development rep she made the leap to customer care, nobody batted an eye.
"Being in that care role let me grow more, and learn our customer base and what their actual needs are," Ross said. "It gave me an opportunity to find my passion." 
Now an enterprise onboarding manager, Ross is eyeing her next move: a self-created position that will allow her to leverage the PhD she's working toward in a way that's meaningful to her, the customers and BombBomb as a whole. 
Ross's career path may be unique in the larger context of tech jobs, but at BombBomb, it's nothing unusual. According to Paul Karlik, a customer success manager, supporting employees as they navigate their own development is an intrinsic part of BombBomb's culture.
"You are not limited to what you were hired to do, nor are you expected to stay here," Karlik said. "We just have this freedom to blossom into the best version of ourselves. We're treated like individuals with intrinsic value."
Career pathing can be a murky and mysterious business, but Karlik and his team agree that BombBomb has made it transparent and empowering. To find out how, Built In Colorado connected with Ross, Karlik and Quality Assurance Lead Anitra Van Prooyen. They spoke about why the company's transparent leadership, professional development resources and culture of encouragement has helped them plot their paths to their dream jobs.
BombBomb's mission
BombBomb builds marketing software that allows people to build greater connections to one another through one-to-one videos. When sales reps are able to communicate to their prospects in personalized videos, relationships are built quickly, leads are converted faster and people's personalities shine. "BombBomb has been a phenomenal outlet for my passion, which is empowering the people who influence the world — and that's every single one of us," Ross said. "We're a conduit for people all over the world."
Can you take us through the nuts and bolts of what career growth looks like at BombBomb? What's been your experience?
Quality Assurance Lead Anitra Van Prooyen: I started less than two years ago as a quality assurance analyst, and three months ago was promoted to lead a QA team. When the QA lead position became available, I hesitated to apply. I liked what I was doing, and I wasn't sure I wanted to change things up. But someone reached out to me and encouraged me to apply for the job. That was the tipping point. 
In my new role, I got to hire most of the people on my team, and I hired out of BombBomb's customer care and customer success teams, because there were people on those teams who had an interest in tech and wanted to jump over to our side. We're very invested in asking people where they want to be. 
Customer Success Manager Paul Karlik: I started as an inside sales rep, then got promoted to a senior inside sales rep. That's when I decided that I love relationships but didn't necessarily like being in sales. I did a whole career restart: I went into a customer care role and started from the bottom. 
The conversation of wanting to switch up my career was actually very easy. Management here at BombBomb is very welcoming of change and encouraging of career growth. I knew I could talk to my boss about it. He connected me to the chief customer officer, who laid out the path that I should take and then opened a role for me on the care team. They put me on an expedited onboarding process, and after three weeks, I was up and running.
What company resources are available to help support individuals as they grow?
Onboarding Manager Rea Ross: It's all about making leadership aware of what you're interested in. They give you the tools and resources and coaching to help you ultimately achieve those goals, which is very rewarding.
Our people team is responsible for a mentorship program that connects employees and leadership, so you can learn from the people you want to grow from. Also, the company recently went through a training revamp with a company called Winning By Design. We partnered with them for continuing education resources to help each department be more successful. 
 
If you're not part of some kind of group that's making you a better person professionally, that's a deliberate choice."
Van Prooyen: We do regular one-on-one meetings with our direct reports, which lets everyone know how they're doing and where they stand. It's also an opportunity to narrow down what their life goals are and how to get there. We'll pay for employees' online classes and we have that official mentorship program Rea mentioned, but we also have unofficial programs where you can buddy up with someone in a role you're interested in. I'm thinking specifically about someone on the QA team who's buddied up with a developer to learn the tech stack while also taking classes that BombBomb is paying for. 
We also have a lot of book clubs and groups. My QA crew is reading a book right now about agile testing, but I'm also in another group with technology leadership that focuses on how to be better in our roles. If you're not part of some kind of group that's making you a better person professionally, that's a deliberate choice.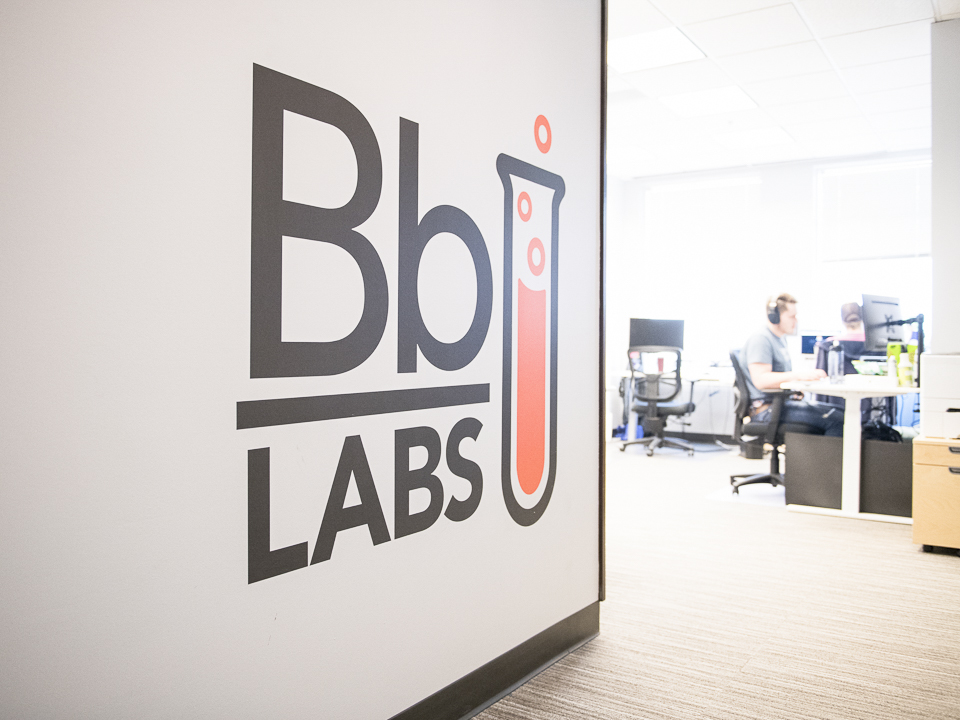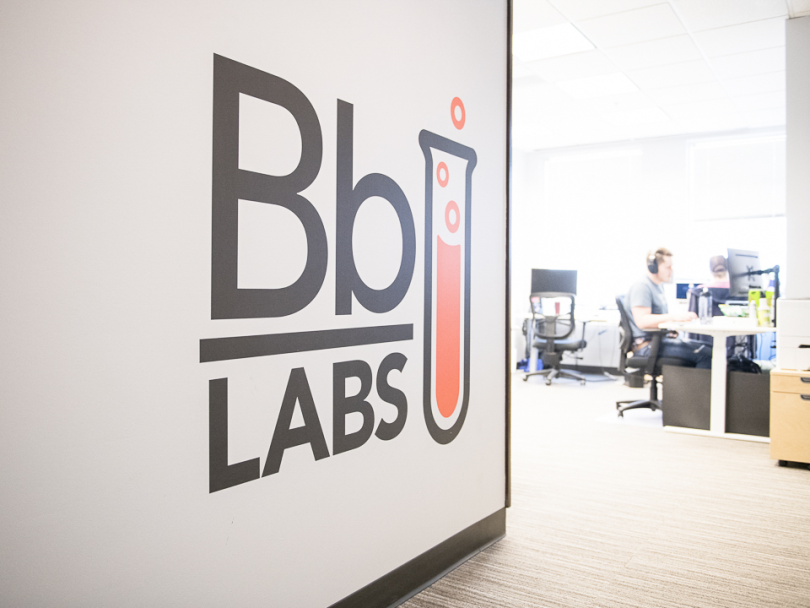 How does BombBomb encourage you to follow your passion?
Ross: I'm currently in school, on the very long path to achieve my PhD in neuroscience and human behavior. I didn't discover that I was fascinated about the human psyche until I started working at BombBomb. I'm taking what I'm learning in school — how do we learn, how do we feel important and rewarded? — then looping that back into a professional setting. I'm trying to figure out how we can offer more value and rewards for our customers' feedback and make our growth opportunities beneficial to them as well.   
I eventually want to create an organizational psychologist role within the company, not only to benefit our employees, but our customers as well. So it'll take several years to get off the ground, but my boss has been an incredible advocate for me to get to work on it. He even charted out what I'd need to figure out to show how this would be impactful for me and the company as a whole.
BombBomb Strong
When BombBomb employees undergo hardship, they don't have to go it alone. The company has an internal program, BombBomb Strong, which assists its teammates who are navigating difficult life situations with resources like flexible scheduling, funds and more. "I forget that other companies don't do this," Karlik said. "BombBomb is so accommodating about what people are going through. Leadership knows that whatever is affecting you personally is also going to affect you professionally."
What role does leadership play in this culture of professional development?
Karlik: At past companies, I would be promised a promotion if I, say, completed a big project. But once I completed that project, they'd say, "Well, actually, when you finish this other task, then we'll promote you." And it kept going. I had to keep fighting for a promotion. 
Here, my boss will tell me what I need to do to get promoted before I even have to ask. Or, if I want to change my career, I would just have that conversation and we'd figure out what needs to happen. Leaders here actually follow through with what they say — there are no empty promises. 
 
At BombBomb, people believe in you as a human. That ultimately empowers you to believe in yourself." 

Van Prooyen: I've worked in tech for most of my career. I think the keyword at BombBomb that covers everything is "respect." Leadership is approachable because they respect you. 
There can be a propensity in some corporate cultures to hoard knowledge to ensure your value to the company, or to point fingers when something goes wrong. BombBomb is the exact opposite of that. As we mentioned, we have these official and unofficial mentorships, where people are asking to share their knowledge with you. If there's an issue, nobody will let you take responsibility for what went wrong all by yourself. We celebrate our mistakes and learn from them. 
Ross: Here, "failure" isn't a bad word; it's just a part of growth. You're always going to fall forward, especially when you have this group to lean on. 
Leadership understands that our employees are the most important aspect of the company, and are the reason we're so successful today. They put a lot of value in championing their employees. At BombBomb, people believe in you as a human. That ultimately empowers you to believe in yourself.