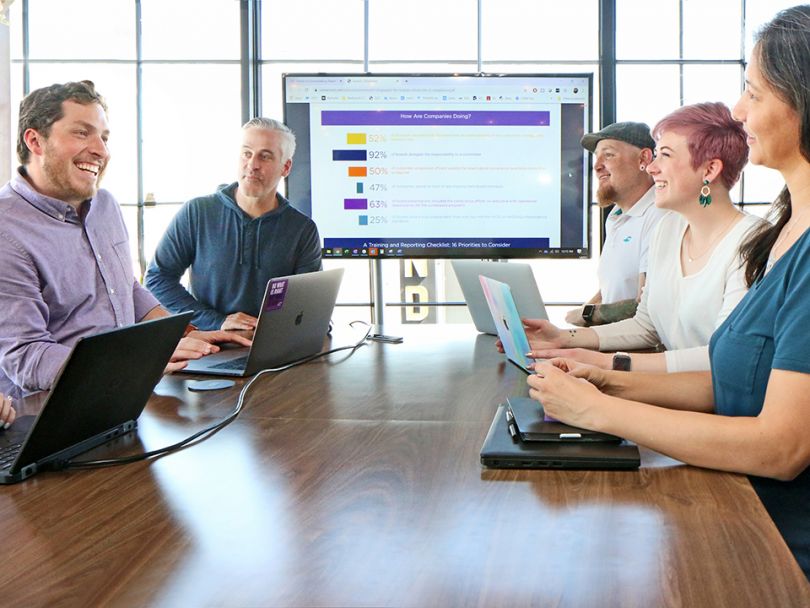 Ninety-six percent of employees at cloud-based ethics and compliance company Convercent recently reported that they feel their work contributes directly to the business's mission and overall objectives. As Chief People Officer, Rachel Gerace likes to see that data.  
"Our people operations strategy is not just about how well we're executing the traditional, day-to-day HR tactics," Gerace said. "It's about ensuring that we're creating people programs that propel our organization forward and allow us to adapt to changing conditions." 
In the past few months, COVID-19 put that strategy to the ultimate test. Like many companies, Convercent transitioned its employees to remote work. They also implemented company-wide pay cuts to avoid layoffs. In order to keep morale high and employees engaged, Gerace's team introduced "Tell Me Something Good" and "Convercent Connection," video-based initiatives meant to connect team members over milestones in and outside of the metaphorical office. They have also been relying on frequent and consistent communication through surveys and support groups. 
Their efforts paid off.  
Convercent leadership plans to reopen offices mid-2021, and the people organization will continue to build off of the programming that's kept departments motivated. Luckily, Gerace said many of their culture-building activities did not involve reinventing the wheel. Rather, she and other members of the people team simply relied on Convercent's solid foundation.
"You have to adapt and find new ways to keep cultural elements that teammates appreciated pre-COVID-19 alive, fresh and also relevant in this new world," Gerace said.  
It's hard to believe that I just celebrated my eight-year anniversary at Convercent. I first joined Convercent because of my respect for and desire to continue working alongside CEO Patrick Quinlan and Chief Strategy Officer Philip Winterburn. I had worked with the co-founders at a prior company and had respect for them as leaders. What started as a desire to work with great people evolved to include a deep appreciation for working at a mission-driven company. Convercent has an opportunity to drive ethics to the center of businesses for a better world.
Most of my career, I've been in customer-facing roles at technology companies. I've always appreciated having to work cross-departmentally. Earlier in my tenure at Convercent, I helped build up and lead our customer success organization. I began to have a broader reach and impact across the organization by driving cross-functional initiatives to help strengthen our culture and mature and scale the company.
We started talking about COVID-19 very early on.''
What has Convercent's general strategy surrounding COVID-19 looked like? How has that differed from competitors in the space? 
We started talking about COVID-19 very early on. We began educating our teammates about COVID-19 itself and the impact it was having at a global scale. We've relied on frequent and consistent communications as well as listening to the needs of our teammates through surveys, one-on-one conversations and support groups.   
But we didn't just focus internally. We looked externally as well to see how best we could be there for our customers around the globe. We used our Convercent community to bring our customers together in conversations about the pandemic, challenges they were facing, and how we could best support one another. We also quickly adapted our product to allow our customers to better engage with and support their employees with COVID-19-related concerns, new workplace policies and education.
As chief people officer, what has been your biggest challenge in the last six months? How have you worked to overcome it?
Not unlike a lot of companies right now, one of the biggest threats to our company culture is the ability to consistently create authentic and meaningful social connections while we're all physically apart. You have to adapt and find new ways to keep cultural elements that teammates appreciated pre-COVID-19 alive, fresh and also relevant in this new world.   
As we all went into work-from-home mode mid-March, it was important that we stayed true to our operational and communication cadence. We leaned on our existing programs and meeting cadence, adapting them to our new environment. We looked for creative ways that we could support our teammates.  
As a result, we developed a segment in our bi-monthly, all-company meetings called "Tell Me Something Good," a recording of teammate interviews and videos that have allowed us to virtually experience and celebrate milestones like weddings, baby announcements and welcoming new employees to Convercent. 
We've also introduced an initiative called "Convercent Connection." Each quarter, employees can submit videos where they share moments of gratitude, give shoutouts to recognize other teammates or display newfound talents and hobbies that we can all celebrate together. 
Not all companies our size invest in people programs like we do.'' 
Can you speak to the pay cuts the company initiated at the beginning of the pandemic? What was the initial response and how has it since evolved?   
Our primary focus throughout the pandemic has been to do our best to avoid layoffs and keep all of our existing teammates in their roles. At the beginning of the pandemic, we took many cost-saving measures across the business that we knew we could reverse as things became more certain. One difficult ask, however, was for all teammates to take a temporary pay cut. It was a way for all of us to play a part in helping us stay financially healthy and to contribute to our goal of protecting every role within the company. It was a difficult message to deliver but was met with incredible support and understanding. 
We do our best to be transparent, open and honest with our teammates. We bring them along in the conversation so they understand the "why" behind our decisions and how they can help make a difference. We rallied around this decision as an organization, met our performance goals and were proudly able to bring all salaries back to 100%. 
Where do you see the Convercent people team headed in the next few months? 
Not all companies our size invest in people programs like we do. One of our primary objectives has been and will continue to be putting our people first. Our people and culture are the heart of our company. 
Over the next several months, I expect a continued investment in developing our leaders and skill sets across the organization so our teammates can personally and professionally grow with Convercent. We are also more deeply committing to our efforts of creating a workplace environment focused on diversity, equality, inclusion, empowerment and belonging for all.