In a recent company survey, Xactly employees communicated to leadership that they were interested in better supporting their customers. So Learning and Development Program Manager Jessica Smith worked cross-functionally with leadership and team members to develop an upcoming empathy training for not just people managers, but all client-facing employees. 
The L&D opportunity will help participants express empathy over the phone as they move clients through the sales cycle and interact with family, friends and strangers alike. 
"Everyone could use a little more empathy in this world," Smith said. 
Since starting at Xactly around four years ago, Smith has administered Korn Ferry feedback 360 sessions, which help managers assess and develop leadership skills. She also started a weekly newsletter in both written and podcast format, where she shares how employees can use career assessment worksheets or conduct effective one-on-one meetings. Her strategies and trainings, which include a "crucial conversations" workshop, build upon the standard performance review to make professional and social interactions more intentional.  
When she's not leading a manager assimilation program (NMAP) or pitching an L&D podcast idea, Smith spends some of her extra income on personal training. Currently, she's exploring breathwork, a practice that involves intentionally changing your breathing pattern as a form of therapy. 
"I work in learning development, but I live it, too," Smith said.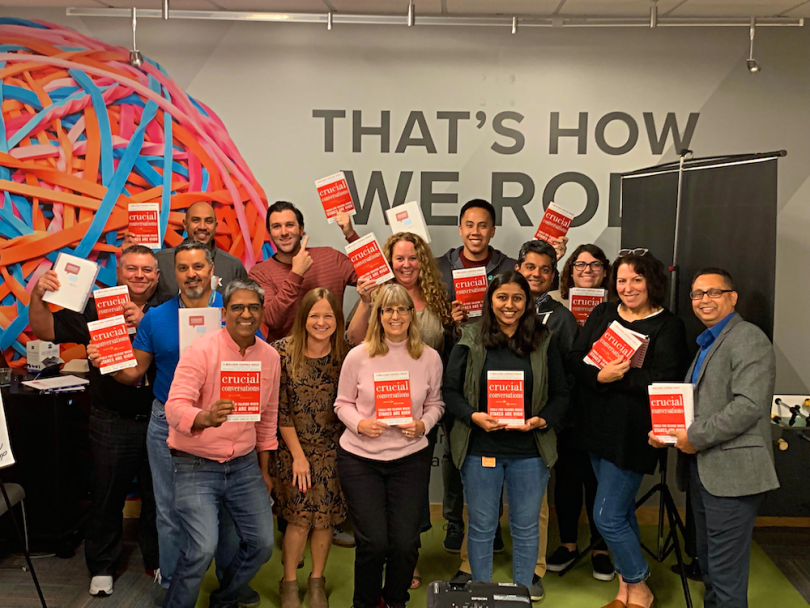 Tell us about your background as an author, recruiter and certified "Crucial Conversations" facilitator. How do your previous experiences influence your current work at Xactly?
My first book has a strong career progression and self-development component. It supported my tech recruiting path because I started actually working with people one-on-one as a career coach. That work influenced me to move from a tech recruiter into a learning and development manager. 
I do what are called feedback 360s through Korn Ferry. They are made up of executive coaching and one-on-one sessions with managers and leaders at Xactly. We take people managers through an assessment of different competencies and work with them to develop one or two areas. I then create a career growth development plan based around what we have learned. 
If you have an idea or an area of your career that you want to develop, managers at Xactly are open to that. It's very much a career-driven culture that caters to the individual. 
So what makes Xactly L&D offerings unique from other tech companies?
Employees have a lot of career ownership around where they want to go and what they want to learn with management's support. We design programs around feedback based on what team members find most interesting and what they think would be useful professional development. That's been really great for company alignment.
Our early career launch lab, for anyone who has been in a professional working environment from zero to three years, helps support employees who are new to the workforce. It's very interactive. We talk about what "professional dress" means, how to write a business email, how to interact with executives and more.
Our early career launch lab helps support employees who are new to the workforce.'' 
Share an example of a Xactly team member getting the most out of an L&D opportunity. 
We recently launched a program called "Crucial Conversations." It's a bi-annual, full-day, in-person training that helps people have conversations when emotions are at stake, and there might be opposing views. Employees fly in from all over the world to join and they get a certificate after participating. After participants open up with personal stories and work stories, you realize that everyone's having tough conversations.
The training leaders encourage all participants to "start with heart" by asking themselves what they really want to get out of any conversation. The goal shouldn't be to prove another person right or wrong, but to welcome them to share their insights. It's a two-way street. I know the training has impacted my conversations at work and at home.
What tools do you use to streamline L&D?
We use Lessonly as our learning management system to roll out trainings and onboard employees. I also use Mailchimp to send out a weekly newsletter to all managers, which streamlines training updates and announcements and highlights resources. I currently record an audio version of the newsletter so people can consume the content however best fits into their day. I find that the more I can blend in learning to people's normal routines, the better they're going to feel about it and the more likely they'll engage with it.
How do you encourage learning and development without making it mandatory or seem like homework?
While we actually do require managers to take a training once a quarter, we still see a great deal of managers and individual contributors participating in topics that go beyond the required courses. And I think that's because we have such a wide range of offerings in terms of time commitment, financial commitment and content. 
Our course catalog outlines our HR practices, sales boot camps, our Xactly University product training and our professional services boot camp. They are all on demand, so people can simply pick out what they want to participate in. Some are an hour and some last a day. Other times, I do NMAPs to help professionals get up and running. The mix of interesting and fun offerings leads to high engagement levels even outside of the required quarterly trainings.
 
Cultivating a workplace where continuous learning is recognized is critical to building a workforce that is versatile and proactive.''
How do you attract diverse candidates and how do you support diverse learning for employees once they're hired?
Fostering a "learn it all" versus "know it all culture" that promotes an environment of growth and self-development. We nurture those who seek solutions and enjoy taking on new challenges. We don't currently have a global training solution for every interest or skill, so we support people in going out and getting the learning they need from another source. 
Cultivating a workplace where continuous learning is recognized is critical to building a workforce that is versatile and proactive, regardless of whether someone is working in a group or focused on individual tasks. 
Where do you see the L&D space a few years from now?
I think there's going to be a lot more bite-size learning opportunities so that learning fits into the flow of work. It's going to be more integrated. 
When I think about the future, I believe there's going to be more on-the-job learning and coaching. We're already seeing that a lot. Managers are now being asked to not only hire, fire and do tactical work. They're also being asked how they support their people. Are they giving coaching in the moment or are they role-playing? Are they on their feet and in the room with them, even in a virtual sense?