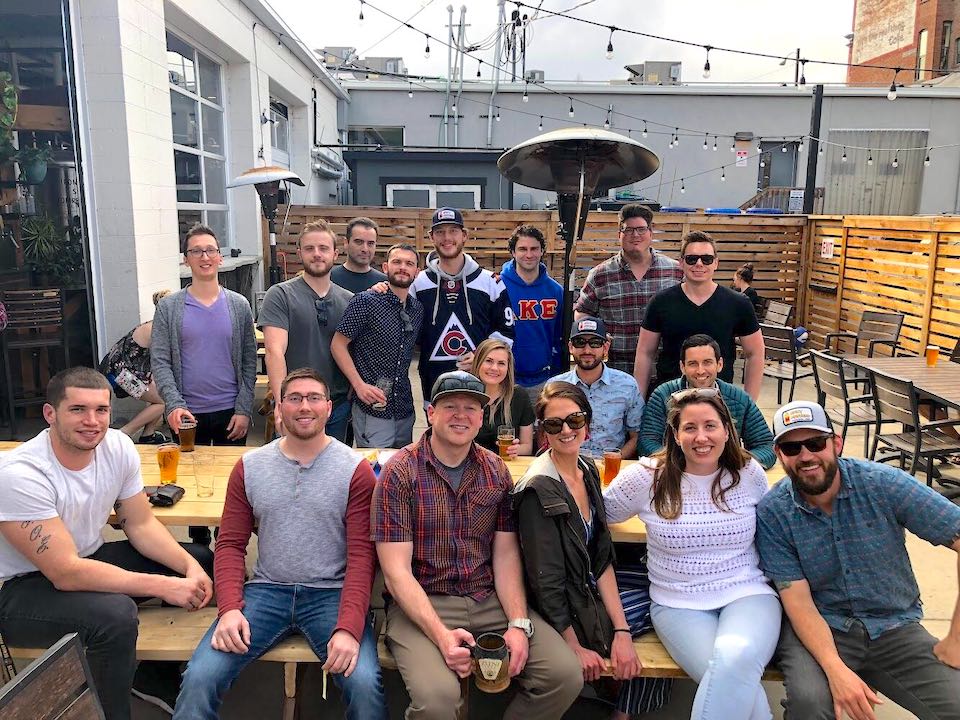 Staying on the cutting edge of the rapidly evolving mobile marketing industry is an exciting but neverending challenge, and Denver-based AdAction Interactive understands this problem well. So when it came time to find a new leader to take the helm of its data organization, AdAction knew they needed to find someone with big, innovative ideas — and the experience to back them up.
But, much to the hiring team's surprise, it wasn't a mobile marketing veteran who wowed them most for the role of director of business intelligence. It was a former theoretical physicist and financial analyst named Pat Shively.
While Shively may not have had the traditional resume for a leader in a mobile marketing company, what he did have was a bold vision for the future of AdAction's data and analytics operations. As it turned out, it was this vision — a vision the team didn't even know they needed —  that made him the perfect fit for the job. 
Flash forward a year and AdAction's data and product teams — now led by Shively — have been completely transformed. Through investments in professional development and a commitment to proactively addressing business needs, Shively has helped redefine the data teams' goals and its function within the business.
We caught up with Shively, who is now the senior director of data and product at AdAction, to learn more about the team he's building, his leadership style and where he's planning to take the team next.
We hear you're pretty new to the mobile marketing industry. Tell us a bit about your unique background. What made you want to take the leap to AdAction?
Lifelong nerd, first-time marketer here. I've always been interested in understanding new concepts, in particular when they branch into the unknown. That is what attracted me to academia, where I got my start in physics, and later brought me to the financial space where I was developing trading strategies.
I was really attracted to AdAction during the interview process because I met a lot of hardworking, motivated people facing a lot of untapped business challenges. It seemed like an ideal place to build something transformative, and that's exactly what we're doing!
You came into your role with a bold vision. What initiatives have you led to help evolve the data and product teams? What impact have those initiatives had on the business so far?
The most impactful initiative was changing the working relationship between the data squad and the rest of the organization. Many organizations make the mistake of thinking of the analytics/business intelligence/whatever-you-want-to-call-it team as task doers and report builders; AdAction was in a similar situation when I started.
The first step (and the hardest!) to changing that is essentially changing the internal mindset of the team and arming them with the soft skills needed to really investigate and understand the rest of the organization's business needs and begin addressing those needs instead of asks. Over time, this transformation created a demand from the stakeholders and changed the way they think about and work with the data team.
How to measure this change? By the morph in our operating model over the course of the past year: from reactive, ticket-based tasks to proactive, robust, business-driving products.
The most important thing is that people feel a sense of ownership over their own domain and empowered to speak up outside of it as well." 
Looking ahead, how do you hope to continue evolving the data and product teams?
The end goal is to build an agile and collaborative team of experts to drive the business forward in new ventures. The key phrase from that is really the collaborative team, and the challenge is making that team effective.
To accomplish that begins with the empowerment of our current team, and AdAction's open structure lends itself to that. Then we'll expand it by recruiting strategic thinkers and highly-skilled technologists who can engage with the current team to define problems. We'll optimize our current MVPs in a data-driven capacity and enable each individual team member to continue driving the business by primarily honing their soft skills and growing the hard skills through education.
How has your leadership style evolved over the course of your career? Were there any moments, roles or people in particular that really helped you grow?
I've been incredibly fortunate to work with a ton of inspiring people over the course of my career thus far. The role that stands out to me as the most formative was at my previous company. There, I was selected to join a new incubator group of partners as the most junior member. The leader of the team, also CEO of another subsidiary, was my direct boss and who I began modeling myself after.
He didn't have much spare time for our group but really prioritized empowering employees, challenging assumptions and practices, and only getting involved where he thought he would have the biggest impact or saw the greatest need. In my opinion, he was the perfect blend of mentor and enabler. Since then, as I've grown into a leader myself, I've learned that this management style (while perfect for me) doesn't work for everyone, so I've learned from my teams how to adjust.
Given your own nontraditional path to AdAction, what are the most important traits you look for in a candidate?
You can't teach intellectual curiosity, and I would say that's the main thing for any data or product role. I really look for a candidate's ability to engage with a problem or thought and work with me (or by extension, a team) to co-create reasonable solutions or plans of attack. Phrased differently, I'm looking for someone to bring a lot of well-posed questions and the drive to find answers to them.
In your opinion, what is the foundation of a great team culture? How are you working to build that?
The most important thing is that people feel a sense of ownership over their own domain and empowered to speak up outside of it as well. Building that empowerment really starts with the delegation of problems (not tasks); making yourself available as a facilitator, helper or sounding board; and ultimately supporting your team members to come to a solution by applying their own methods or strategies.