Jobseekers today are looking for so much more than a paycheck. They're looking for a career that leaves them fulfilled, a team that inspires and motivates them, and a company culture that makes work feel like a second home. Sound familiar?
If you love what you do but not where you're doing it, if you wish you could find a place where you can really make a mark, look no further. These local tech companies are growing fast. And the best part? They're looking for people who want to grow along with them.
What they do: Ibotta's mobile shopping app brings couponing into the 21st century, enabling shoppers to save money on everyday purchases — such as groceries, electronics, home goods, clothing and office supplies — directly through their phones.
The perks: Comprehensive health benefits, unlimited vacation, 401(k) matching, company equity, paid volunteer time, catered meals, job training and conferences.
Advice from the boss: "Ibotta is a driving force in the emerging startup and growth company community here in Colorado," said SVP of Operations Zev Barsky. "To be successful here, bring your passion for helping people with a product that does good in the world and be ready to contribute in a high-energy, highly creative environment. At Ibotta, we always say a good idea can come from anywhere; will our next great idea come from you?"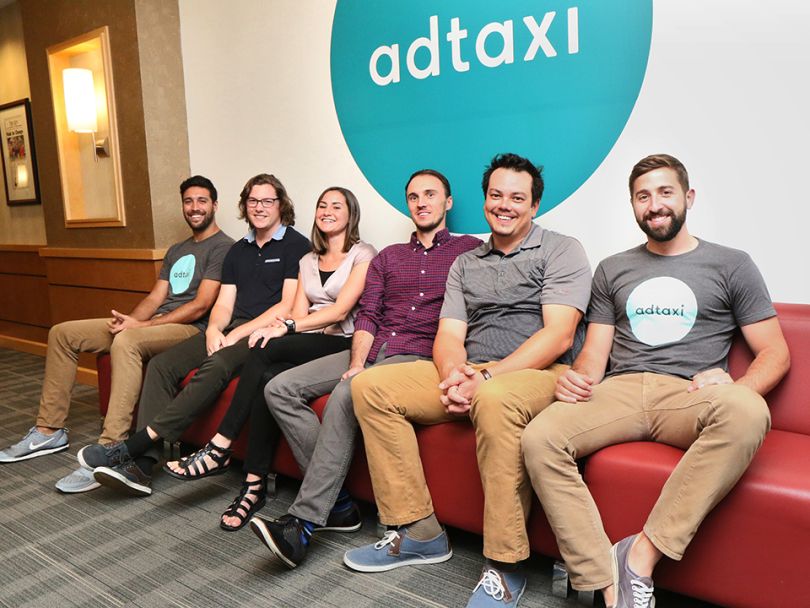 What they do: Adtaxi works with media businesses and advertisers to implement performance-driven, omnichannel marketing campaigns. 
The perks: Tuition reimbursement, monthly massages, onsite gym, breakroom snacks.
Insider insights: "We look for candidates who demonstrate a keen attention to detail and an analytical mind, show a willingness to go above and beyond in their roles, exhibit a curious nature, and exude passion for the industry," said David DeHart, director of RTB operations. "While we implement a strong training schedule, these are skills that lend themselves to successful Adtaxi employees and are harder to teach. We promote a culture of collaboration, learning, and work-life balance, so if this sounds like you, make Adtaxi your next, and best, career move."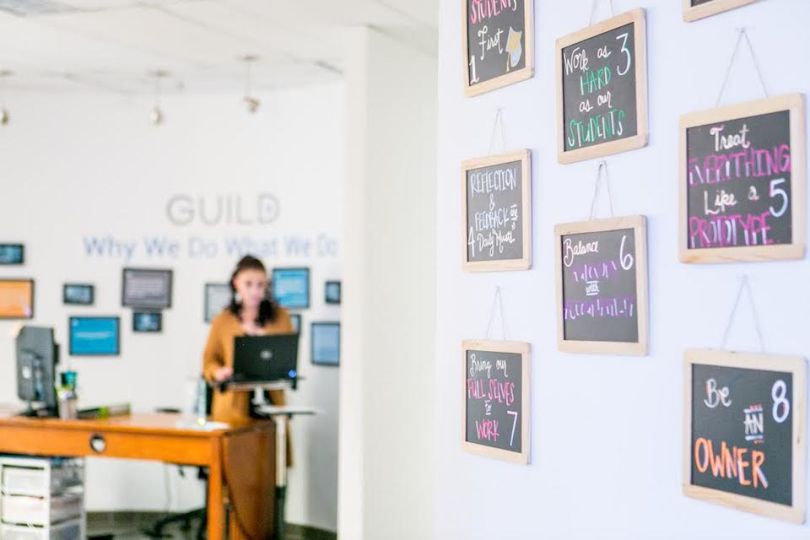 What they do: Guild Education partners with businesses to offer education as a benefit to their front-line employees, helping businesses retain their best talent and helping adults get access to educational opportunities that position them for long-term success.
The perks: Tuition reimbursement, company equity, unlimited vacation time, catered meals, comprehensive health benefits, onsite gym.
Advice from the boss: "One thing I look for in interviewing are people who can contribute to an environment of humility, respect and trust," said CTO Donnie Flood. "We obviously want to work with smart and motivated people, but we also want people who are humble and open to feedback. Professional engineering is a team sport, so we're also always looking for engineers who understand the importance of clear communication to drive effective team collaboration."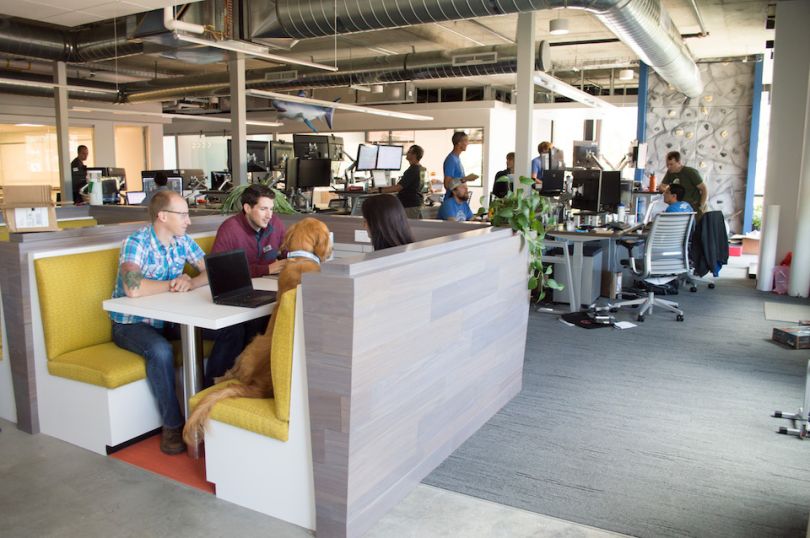 What they do: The Trade Desk aims to change the way advertising is bought and sold by enabling advertisers to target and reach consumers on the right channels at the right time. They're growing like crazy — and hiring several people for the roles of data scientist, entry-level site reliability engineer and engineering intern.
The perks: Company equity; 100-percent paid employee, spouse and dependent healthcare; generous maternity and paternity leave; casual dress; fully stocked kitchens; company-provided meals, happy hours, fitness facilities and rock climbing wall.
Advice from the boss: "At The Trade Desk, we look for two things from all candidates: a track record of ownership and contribution, and a passion and aptitude for solving problems you have never seen before," said SVP of Engineering Zak Stengel. "Our platform operates at the edges of the current technology's ability to scale — and it's growing all the time. Much more than those who have great answers to today's problems, we need people with the grit and ingenuity to help us solve the 'impossible' problems we'll face tomorrow."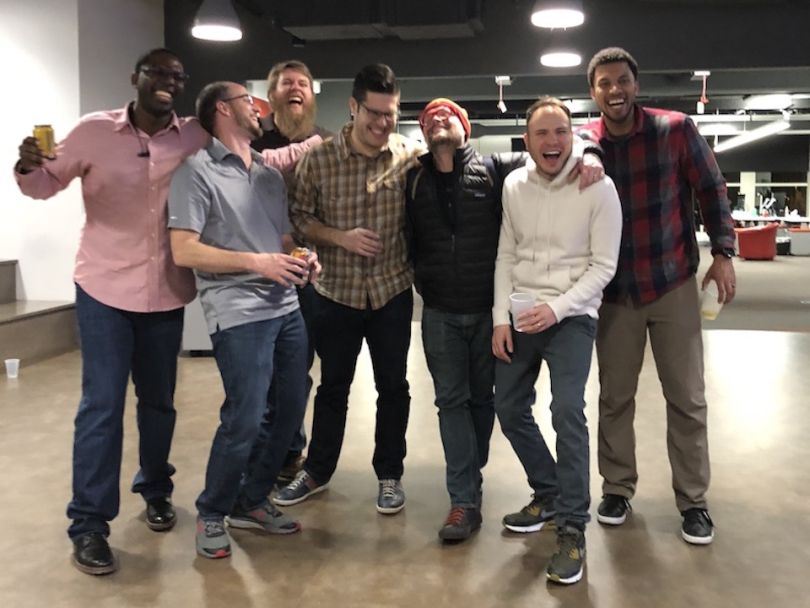 What they do: Red Canary's cloud-based endpoint security software and security operations services help businesses of all sizes manage the detection and response of cyber threats.
The perks: Monthly in-office massages, company equity, comprehensive health benefits, onsite gym, membership to the Colorado Athletic Club, phone and internet reimbursement, unlimited vacation time.
Advice from the boss: "We give our teams autonomy to use their skills, creativity and passion to deliver exceptional results for our customers," said Chief Revenue Officer Chris Rothe. "If you're self-motivated and results-oriented, Red Canary is a place you will thrive."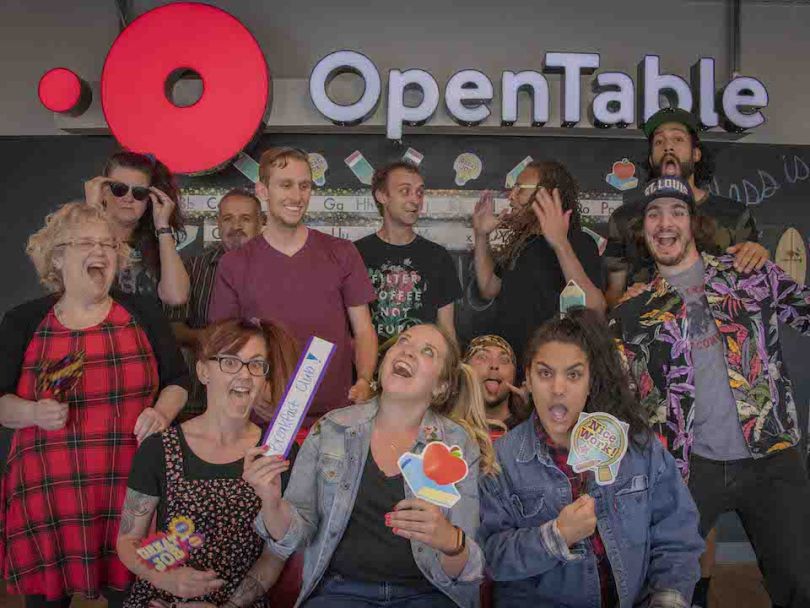 What they do: OpenTable connects people to the restaurants they know and love — as well as the ones they've yet to discover. Users can find restaurants in their area, read reviews and book reservations right online. As a customer-first organization, OpenTable is growing its customer support team rapidly, hiring several CS reps to joins its team.
The perks: Onsite gym, 401(k) matching, paid volunteer time, commuter benefits, company-sponsored happy hours, job trainings and conferences.
Advice from the boss: "At OpenTable, we're certain that a great customer experience begins with a great employee experience," said Matthew Caron, director of customer support. "We believe a positive employee experience starts from being treated with respect — always — and continues with compassionate leaders that provide coaching to grow your life skills and not just improve job performance. At OpenTable, we celebrate the things that make you, you! We operate in an environment where culture and communication come together so that thriving here isn't just possible, it is an expectation."