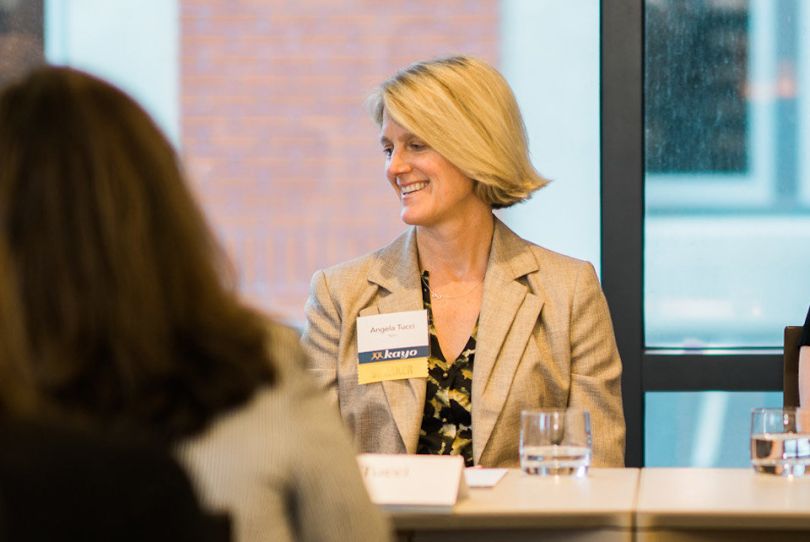 It's one thing for a company to slap their values on a few posters around the office, or put them proudly on a pair of branded T-shirts. It's another thing entirely to see those values actually embodied by employees on a daily basis and supported through company initiatives.
That's something Denver-based Apto knows well. The company, which provides CRM solutions to brokers in the commercial real estate industry, recently saw a serious push to give their core values a complete facelift. Not only did the company redevelop those underlying principles from scratch, but they also took heavy input from members of the team to ensure their new values are kept both in mind and in action. 
We spoke to CEO Angela Tucci, who spearheaded the culturally transformative project, to learn more about how the initiative unfolded — and the effects its had on the team since. 
We hear Apto recently revamped its core values. How and why did you decide as a company to undertake such a huge project?
One of the reasons I came to Apto was because of its culture. We had top-notch people but we needed a little direction. Identifying and articulating our core values would provide that direction and help align different areas of the business. We realized our original core values just weren't internalized.
We asked everyone in the company to participate in small group sessions to talk about their personal values and how they might translate into company values. Feedback from all the sessions was aggregated into themes and painstakingly distilled into a set of core values by a cross-functional team. Surfacing core values from the employees themselves not only reflects the company culture, but also gives employees a greater sense of ownership and meaning.
So, what are those new core values?
Collaborate enthusiastically. Shoot for the moon, Aptonauts. Be a good human. Commit to honesty and integrity. Act like an owner.
Surfacing core values from the employees themselves not only reflects the company culture, but also gives employees a greater sense of ownership and meaning."
How are you putting these values into action? 
We recognize people who exemplify these values in their work through several channels, including weekly company meetings and a public recognition channel in Slack. We also strive to give back to the community by sponsoring one company-wide volunteering event per quarter and encouraging employees to volunteer independently.
Tell us about a moment in your company's history that made you proud to be its leader. How did that moment reflect the values you've instilled here — either new or old?
One example was our first diversity and inclusion event. Since we'd never done one of these before, we had no idea what to expect. What was amazing was just how many of our staff showed up for authentic conversations. The support and care people had for one another, and their embrace of differences, made me so proud to be a part of this company and its culture of inclusion.
Have you or members of the team built any traditions, activities or rituals to foster culture?
We want everyone engaged in the business at all levels. One of the first things I did after joining was implementing business planning sessions held once a quarter. We hear from different departments, talk about the business at a high level and break into small discussion groups to address our biggest challenges. It gives everyone a chance to work cross-departmentally and contribute their ideas. We then take those ideas and continue the work via three quarter-long initiatives, and we present the results at the next quarter's session.
We want everyone engaged in the business at all levels."
What's next for your company? Where do you see Apto in one year? In five?
In the past year, we've been busy re-orienting our entire business around the broker by building tools brokers love. Now, we're focusing on building a scalable business so we can grow and offer more value to the broker community. In one year, we hope to be exceeding our growth plans and honing our internal processes. We'll also have some new product features and partnerships in place.
When it comes to new hires, how do you know you've found the right fit?
Every applicant goes through an interview with a current employee who embodies our culture and values. This interview is less focused on technical skills and more on if they seem like they would thrive in our work environment and embrace our values. The candidates we've found most successful not only can prove they will do the job well, but also that they're humble, curious and passionate — someone who takes their job seriously, but doesn't take themselves too seriously.