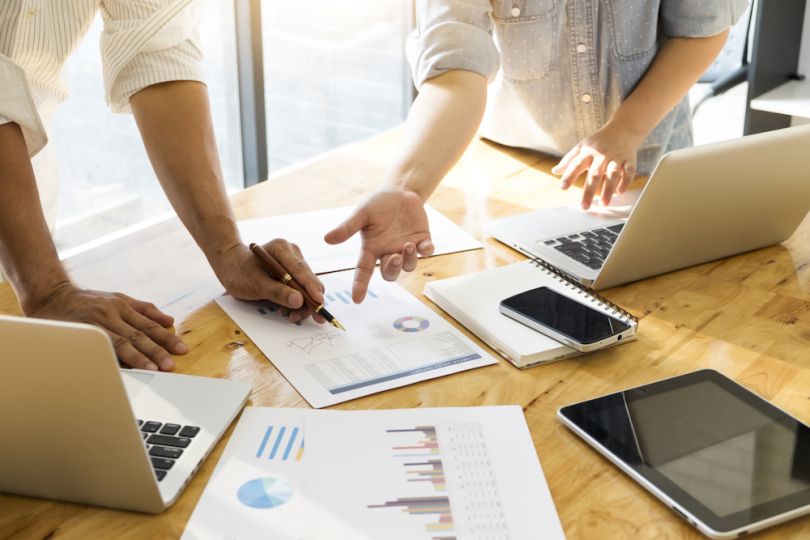 It can be difficult to talk about money at work, but businesses can't afford to ignore this once-taboo topic.
Whether a person makes six figures or a starting salary, financial issues affect everyone. Without the proper support, employees end up using company time to balance budgets, stave off debt collectors or deal with their taxes. Those lost hours can have major consequences for a business, said Laura Veith, head of people at Eave.
"What's happening as a result of this is a perfect storm," Veith said. "People are working longer hours, but they're not using their time as effectively because of these financial issues. The financial impact on companies is huge, but it also has a negative impact on employee happiness."
Providing financial wellness support and talking about money in a nuanced way can go a long way toward solving that problem, Veith said. While it can be difficult to break from cultural tradition, it's a conversation that can impact the bottom line.
"Holistic financial wellness support can dramatically increase a company's return on investment and employee happiness," Veith said.
We spoke to Veith to learn more about what companies can do to provide financial wellness support to their employees.
1. Provide nuanced financial education to employees
There is no one-size-fits-all approach to financial wellness education. Everyone's financial situation and knowledge is different. Veith encourages companies to survey their population once a year to figure out what areas of finance are most important to them.
From there, she suggests employers partner with experts like wealth advisers to offer workshops around those specific subjects throughout the year. Each class should combine to give employees a holistic view of financial wellness and prepare them for financial success. Think of it like a college major.
One class might cover the basics of wealth planning, another retirement planning and then robust investment strategies as employees gain more knowledge, Veith said.      
"It's relatively affordable to do that and the return on investment is huge," Veith said.  
2. Encourage early investments
While a company can offer a great matching 401(k) plan, it's important that they encourage employees to use it. This is easier said than done. With so many immediate financial demands, it can be difficult for employees to think long term. To overcome this, Veith encourages employers to provide education on retirement savings, work with wealth advisers and provide loan counseling if an employee wants to stop their 401(k) deductions.
"Often, the most tempting thing to do is to stop saving for retirement when you hit financial struggles, because it's not hurting you today," Veith said. "Understanding the impact of that through data visualization is very impactful."
But it shouldn't stop there, Veith said. Programs like student debt assistance plans, 401(k) matching plans and opt-out retirement plans can go a long way toward empowering employees to invest early and often.
3. Provide employees with ongoing financial management support.
While intermittent financial education is helpful, financial situations can arise at any moment. For that reason, it's important to provide ongoing financial support.
Veith suggests employers research wealth advisers and financial SaaS platforms to partner with and then allow employees to time to meet with them with or utilize them.
"Personalized financial support provides the individual focus that education alone cannot," Veith said. "This is important because everyone has a different financial situation. It would be valued."
4. Help prepare for financial emergencies
No one likes to think that an emergency will happen to them, but it's important to prepare for them. Without that, employees could be in such dire straits they need to ask for an advance on their paycheck, Veith said. This not only puts the employee in a difficult position but also the HR person. In order to prevent this, she suggests that employers encourage employees to set up a separate account for these situations.
"You can work with different investment groups to offer a program that will allow people to begin investing a percentage of their paycheck," Veith said. "It can be helpful for people psychologically because that money never hits their bank account. They don't feel like they're losing out on money."
 
Eave is a direct mortgage lending company that utilizes a proprietary technology that can automate 80 percent of the mortgage-lending process, while an expert from Eave provides personalized support to complete the process. It also hosts free financial wellness workshops and a free financial wellness toolkit.