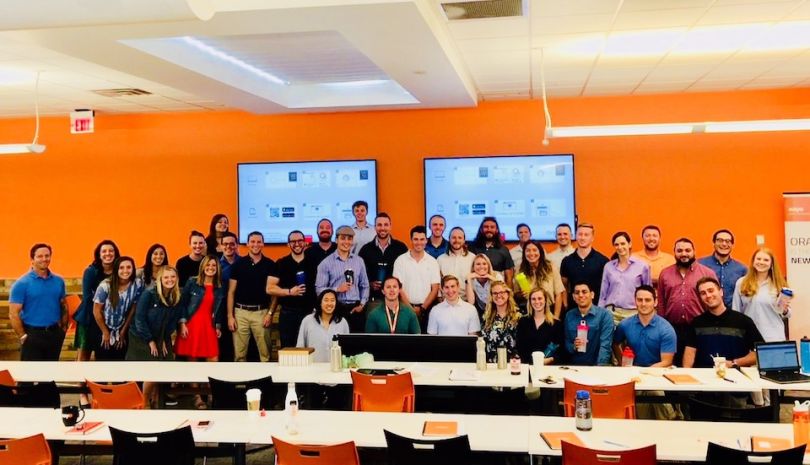 Sometimes finding new talent means molding and nurturing existing talent.
At least, that's how Zayo Group sees it. When Zayo launched the company's Early Careers Program in August 2017, the intent was to build a training program centered around the inside sales team — a talent pipeline for direct sales roles at the company.
But as the program evolved, it began to truly take on the entrepreneurial spirit the company values cross-departmentally. Today, it's blossomed into a program where sales trainees get exposure to roles across the company — giving them the experiences they need to accelerate their careers there.
We caught up with James McGuirk, the senior manager for training and development who spearheads the program, to learn more.
Tell us a little bit about Zayo's Early Careers Program.
The program lasts for 12 months, and in the first few months, you'll be immersed in training. You'll learn about our platform, the fundamentals of Salesforce, and all the other computer and software tools we use as resources. From there, you'll go into a sales support role, where you'll support our account managers and learn our sales process.
Working side by side those account managers, you'll also get training from product groups, so that by the end of two or three months, you can move into an account manager role and be assigned accounts.
In terms of impact, what have you seen happen with the program? What do you hope it accomplishes in the future?
The impact the program has had in driving customer engagement and customer experience has been evident since the beginning, with our increased focus on helping the customer grow their network that best fits their needs and industry. Through this impact, we'll be a catalyst for building a strong talent funnel in a growing technology market locally and globally.
The impact the program has had in driving customer engagement and customer experience has been evident since the beginning."
What has been the most rewarding part of leading this program so far?
We get a lot of folks who come into the program as their first job out of college. We also get folks who have been in a professional career for one or two years post-school. Taking those people and getting them trained to conduct sales and participate in our operations — and seeing the value they add in such a short amount of time — is extremely rewarding. The biggest reward is to see people go on to another role at Zayo and watch their careers progress.

How does this program reflect the company's overall culture and mission?
I've worked in a lot of corporate companies that are large and slow — and not very agile within their industry. Zayo is unique; we are lean and innovative and very entrepreneurial. Anyone who works at Zayo can throw on multiple hats and be successful.
The folks who come through our Early Careers Program get the full Zayo experience, and it really adds to the mission.
What advice to you have for potential applicants to the program?
For people who embrace innovation in an industry that's constantly changing and growing at a fast pace, and who want to be surrounded by a team of like-minded, driven people, my advice is to apply for our roles.
My own background is not in telecom, and it doesn't fit in a lot of roles here at Zayo, but it's been the best job and company I've worked for. Zayo gave me the role and the ability to let my skills show.