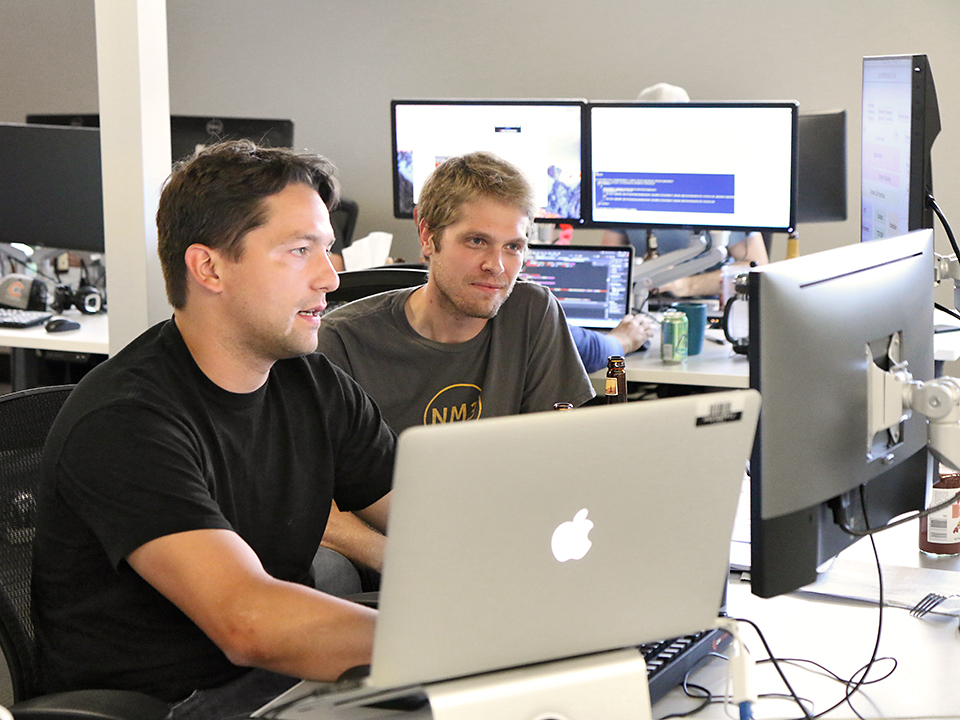 Boulder-based LogRhythm is on a roll. Since its 2003 founding, the company has melded multiple technologies into a user-friendly platform that detects and responds to cyber threats and attacks. And last year, LogRhythm closed a $50 million round of new financing to advance its mission to meet the market need for rapid threat detection and response solutions.
We recently caught up with LogRhythm team members to understand what it's like to work here — and why the mission, many years in, still has them geeking out.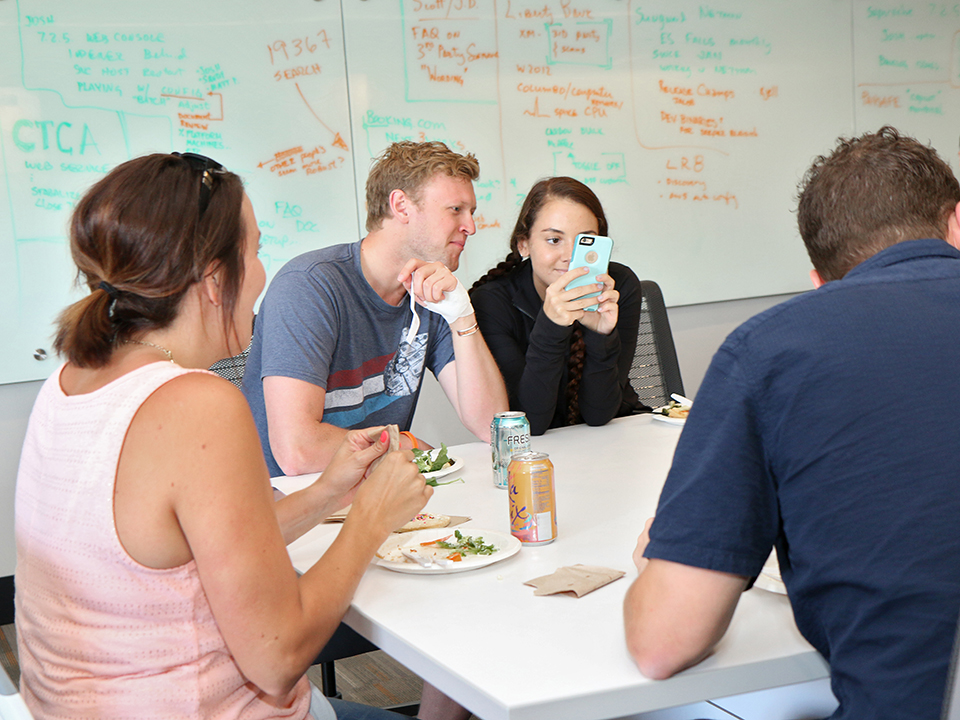 LOGRHYTHM AT A GLANCE
EMPLOYEES: 675 worldwide; 475 in Colorado.
WHAT THEY DO: Protect client data by making it easier for cybersecurity pros to detect and respond to threats.
PLATFORM INCLUDES: Security information and event management, log management, advanced security analytics, and network and end-point forensics.
CLIENTS: Governments, nonprofits, companies across industries.
MUST LOVE PUNS: Company offers free classes, like "Loglates" (pilates) and "Loga" (rhymes with yoga).
TUBE-TO-WORK DAY: This is the one day employees love being up a creek without a paddle. (In an annual tradition, about 100 "Loggers" commute to work by riding inner tubes up Boulder Creek.)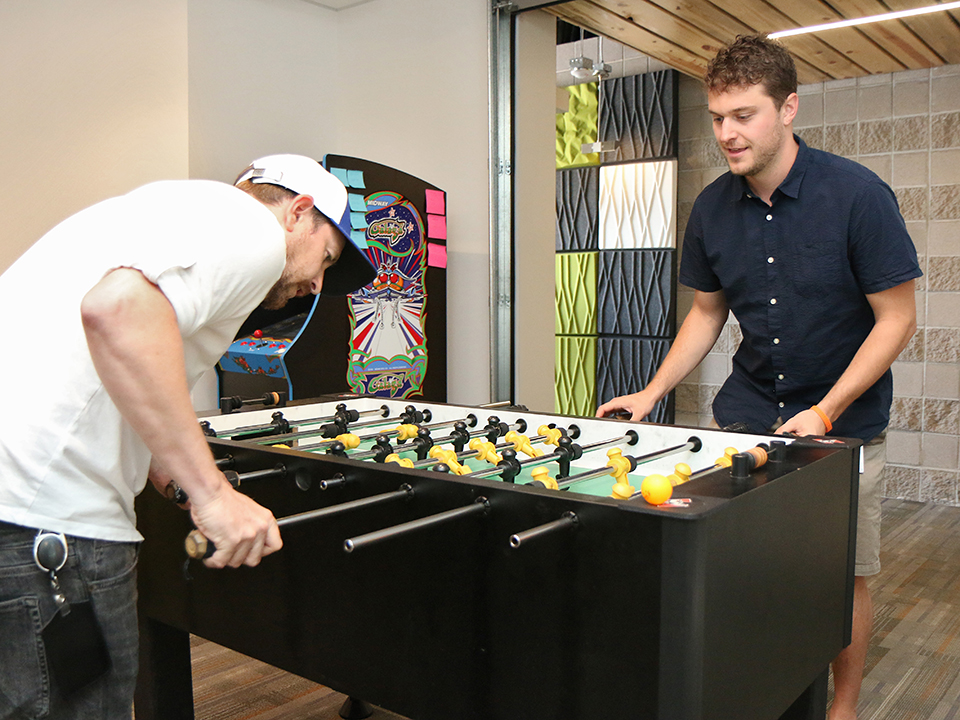 Describe your product.
Michael Euperio, director of technology alliances: LogRhythm is a software platform that allows clients to rapidly detect and respond to cyberthreats and attacks. If an organization has people, and those people have email accounts, that organization can be compromised — and chances are it has been.
Prevention is very important, and we focus there. But we also know that if motivated actors want to compromise your security, they will be persistent about it. From a tech standpoint, our mission is to reduce the mean time to detect a security breach and the mean time to respond to it.
Arthur Velasquez, VP of sales enablement and global customer relations: We're also trying to prevent what we call "swivel chair syndrome" — where security professionals shift focus from one thing to the next, "swiveling" in their chairs: "What about this? What about that?" We give them the ability to detect and respond to threats on a single pane of glass.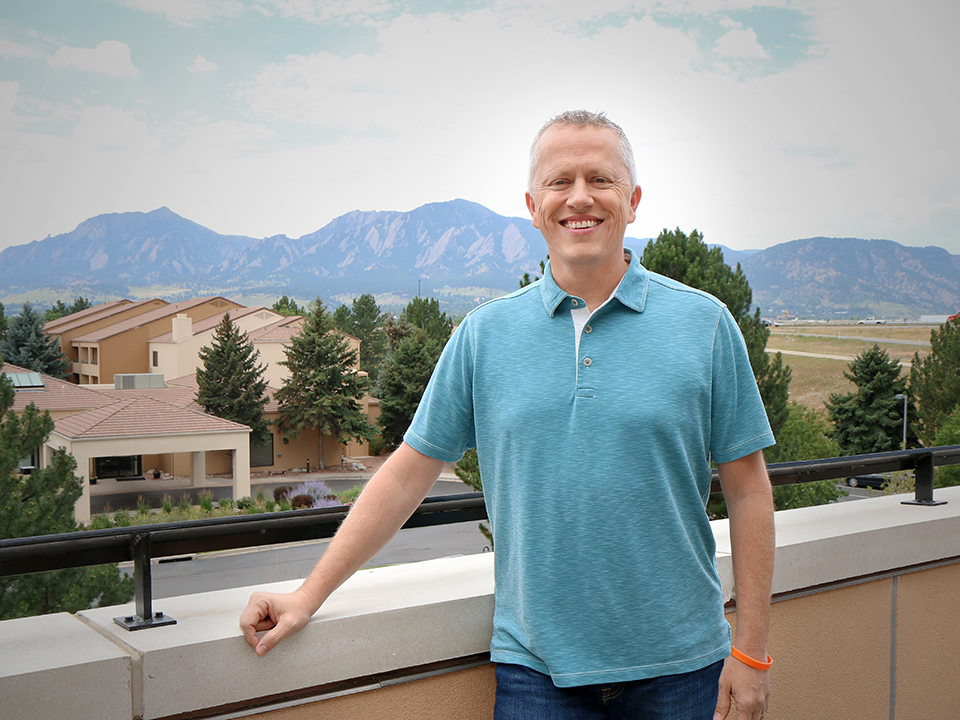 How has LogRhythm's technology evolved since its launch?
Euperio: In the beginning, our founders had a vision of the end-to-end platform, but they didn't know how long it would take to build. So they used the resources that were available — and built in chunks.
Here we are 15 years later. Our platform ingests data and collects logs as it did in the beginning, but that information now also goes through an analytics engine. We can automate responses without a security analyst's involvement. We support more than 900 devices out of the box — and we're working on supporting 400 others.
Today, more competitors are encroaching on our space, trying to do automated response and deeper network analytics, so we're focused on innovating faster than anyone else.
How are you different from your competitors?
Euperio: Our biggest competitors started doing one thing and later shifted into cybersecurity, or they came into cybersecurity through acquisitions and mergers. That makes it difficult to deliver a seamless customer experience. From day one, LogRhythm had a laser focus on cybersecurity — and we built the best platform for that from the ground up.
With us, you don't have to question whether user interfaces and their underlying code are similar, or if an integration is going to work.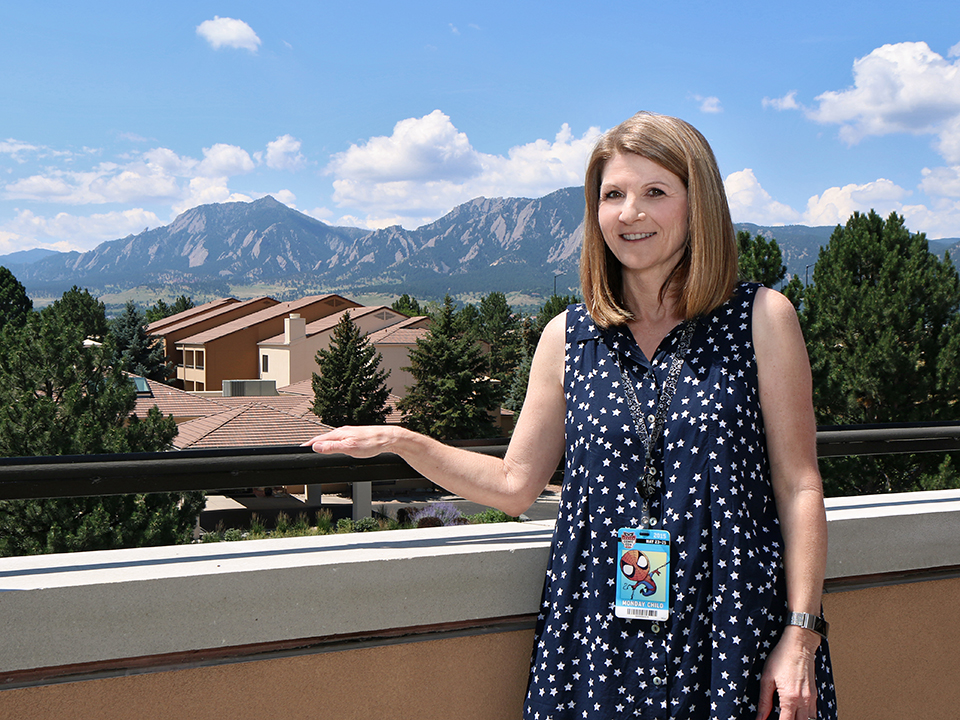 What are some reasons you like working here?
Kelli Jordan, engineering director: I joined LogRhythm nine years ago, when network security was not super well known. When I interviewed, I saw the founders' passion, and I knew I could get behind it. I've stayed because I believe — I know — we are protecting your data.
When I talk to my sons about what I do, we talk about superheroes. That's how they understand how we help customers detect and avoid huge problems. Who doesn't want to sound like a superhero to their kids? I'm still amazed by what we do. I still get geeked out about how cool our work is.
Rachel Lataitis, sales enablement specialist: I was also drawn to the opportunities LogRhythm provides. It feels like a grown-up startup. There is a solid foundation, and you have access to the resources you need — but the people are still innovative, creative and scrappy. And no matter what role you play, you will be heard.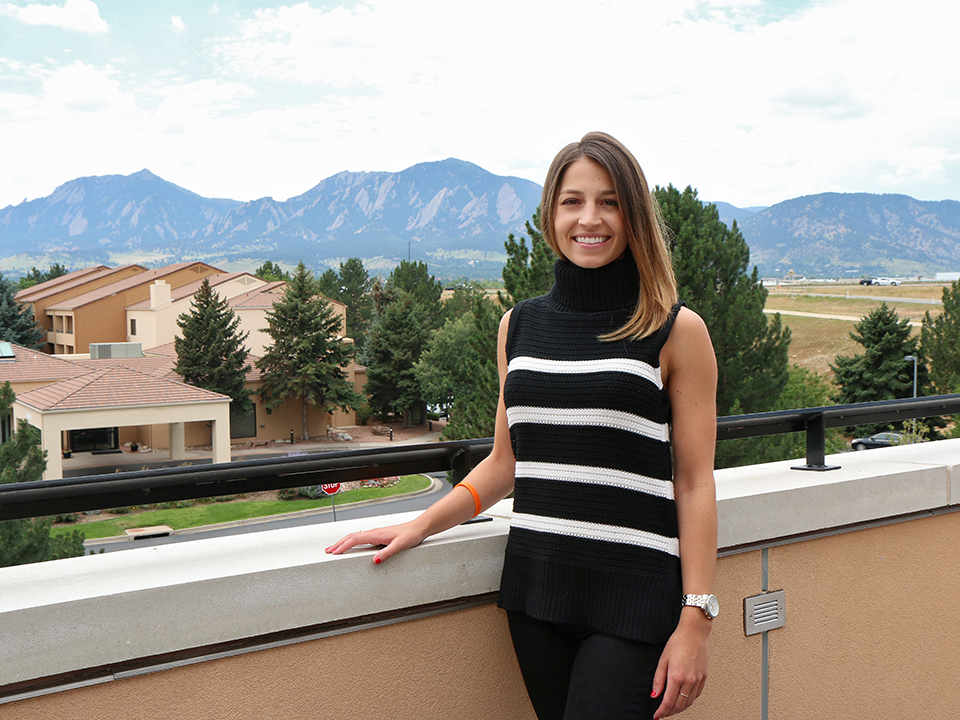 Tell me about building your company culture. Was it deliberate or did it just happen?
Jordan: It was absolutely deliberate. One of the founders' top priorities was creating a fun place to work. As LogRhythm got bigger, they asked people to help create a great culture. They didn't want management driving and controlling everything.
Today, our employees embrace and perpetuate a culture where people, passion and mission overlap — and where those three things are at the center of everything. We work hard, and we have fun.
Velasquez: Everything about our culture flows from our focus on delivering excellent customer service. We constantly identify ways to improve the organization. Then we lead and drive change internally without being authoritarian or encumbered by a lot of hierarchy. Through shared core values and mutual respect, we identify opportunities and get all people focused and driving along the right road.
How has Boulder influenced your culture?
Velasquez: We tie so many things back to Boulder. We have a "bring your dog to work day." We offer classes in "Loga," which rhymes with yoga because that's what it is, and classes in "Loglates," which is pilates. In our Biggest Logger competition, teams compete to get the highest activity minutes. We also have sports teams: softball, hockey and basketball. There's a pingpong tournament, and we have "tube-to-work day."
Lataitis: I loved seeing Andy, our CEO, leading the troops into the river for tube-to-work day. That experience is so representative of our leadership team. So much excitement, energy and enthusiasm trickles down from them. It's contagious.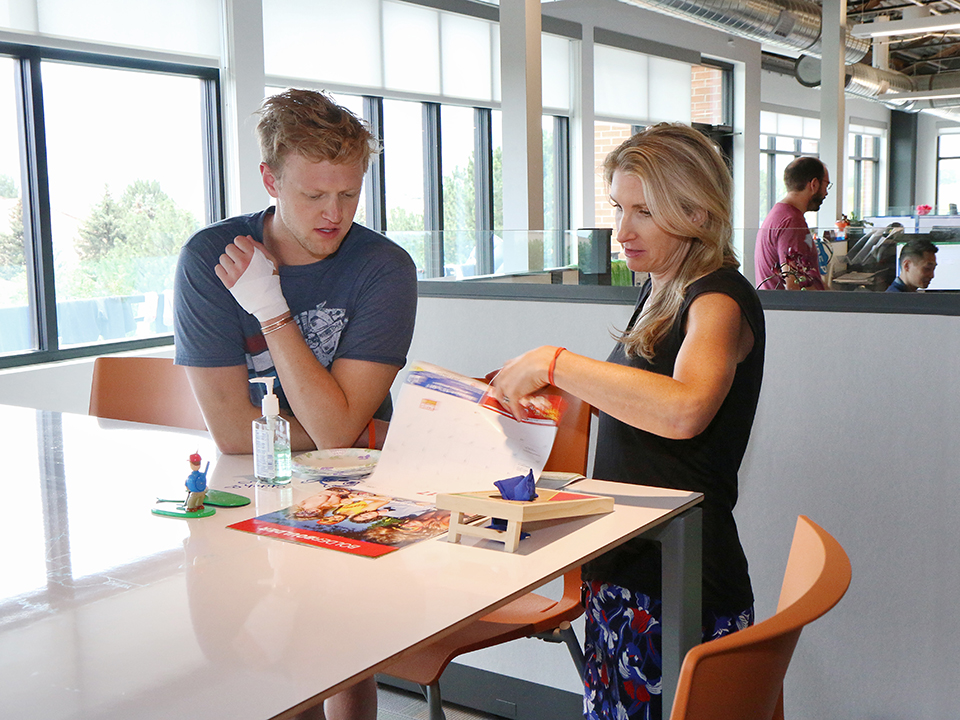 Describe your ideal candidate.
Lataitis: One of our core values — and my favorite — is "roll 'em up." It means you roll up your sleeves and do what you need to get the job done. Anyone who works here will need that mentality. So, the ideal candidate is someone who is quite tenacious and has grit. To succeed, you need to approach challenges with courage and determination, wrestling through to a solution.
Euperio: It's important for us to have people who are proactive about learning. You are not going to come into the role knowing everything. And that's alright. We need people who have the tenacity to solve problems without a ton of guidance.
Velasquez: My ideal candidate brings a desire to succeed — but not to succeed with the mentality of: "I will step on people on the way to my success." We want people who will be part of the team.
Jordan: My ideal candidate has the required skills — but, more importantly, they can tell a joke. They can laugh at their own mistakes and share them. I am always looking for someone to bring something new and different. Don't be just like us.