Behind every great startup is a great idea — or in some cases, a frustrating pain point in need of a solution. In fact, the best companies are born from an opportunity to make an industry, a product or a service better. With the help of technology, founders all over Colorado are doing just that.
We talked with three Colorado startup founders to learn what sparked the ideas that launched their businesses.
Lawrence Hester (pictured right) started FareHarbor with his brother Zachary in 2013. It all started with a trip to visit his brother in Hawaii, where he was finishing his senior year of college. The two grew up sailing together, and as they drove around the island during that trip, they began to think about how they could help local sailing charters grow their businesses. It quickly became clear that there was a need for a different type of online reservation software — a modern platform built around the real-world needs of activity operators.
When did you have your "lightbulb" moment — that moment when the original idea for the company came to you?
The lightbulb moment came not with the initial idea for an online reservation system. That has been done many times over. The lightbulb moment came after we had our first client and we saw how we could help grow their business — with them and for them. We knew we would be more than a simple software. We saw the potential to grow the entire tour and activity vertical.
How did you take that idea and turn it into a business?
In the early days, Zachy and I ran every aspect of the business-side of FareHarbor. We were the salespeople calling potential clients. We were onboarding. We were account management. We were 24/7 support. We even slept with our laptops in our beds.
Many of the features we didn't have in the early days would be done manually by Zachy and myself. We did whatever it took to provide excellent service and help grow our clients' businesses. We were helping our clients in such a meaningful way that we knew it was our responsibility to offer FareHarbor to more activity companies. The only way to do that was to build a business. And so we did.
How has that original idea evolved since launching the company?
The idea will always be evolving, but the core idea never changes. We have always been about servicing our clients better than they could have imagined. We have always been about helping clients grow their business over time. What has evolved is how we achieve those goals and who we can service.
Now that we are approaching 200 employees, I don't have to answer support calls and sleep with my laptop. The free websites we build for our clients are now an entire department, as we have a fully hosted websites platform. Our feature set can now support the largest activity operators in the world. As we continue to look to the future of the tour and activity industry, FareHarbor will continue to grow the market in new and creative ways.
Before co-founding the IoT startup Canvas Technology, CEO Jonathan McQueen was leading a manufacturing business in England. For years he struggled to change the way they moved raw material from the warehouse to their production machines, an effort that could decrease waste and help the company stay competitive. Today, Canvas is solving the problems McQueen was never able to solve with their innovative self-driving carts.
When did you have your "lightbulb" moment — that moment when the original idea for the company came to you?
It was a dark winter day in northern England at the end of 2007 and I was a young CEO, naively telling our highly experienced and very smart warehouse manager that we should simply move to hourly deliveries. He kindly pointed out what should have been obvious to me: we would need "an army of people" to deliver material hourly from the warehouse to the multiple production lines. Hiring wasn't possible, so we were stuck, and I spent a lot of time reflecting on that reality.
Over the following months, I searched for automation and became hopeful when I discovered Automated Guided Vehicles (AGVs) working at a nearby Toyota factory. Unfortunately, as we looked closer at them, we found that none would work for us. They were too inflexible, too unreliable, and too complex to operate. Making that factory competitive took us longer than it should have because the tool we wanted to move materials across the factory wasn't available.
How did you take that idea and turn it into a business?
After I sold that manufacturing company, I couldn't get this challenge of material movement out of my mind. I wanted to help other small and medium-sized companies overcome the material moving problem that I was never able to solve.
I started researching the technologies and decided the way to reliably solve mobile automation in factories and warehouses was through vision-based perception. In other words, for robots to perform with the right level of intelligence in such chaotic environments, they need to perceive their environments as well as humans — or maybe even better.
I was lucky to meet some of the world's experts who were pioneering research and development in this area of technology. I co-founded the company with a few of those people who shared a passion for building solutions for the industrial space — and who were up for a really tough challenge.
How has that original idea evolved since launching the company? 
Not very much! The original idea was a fully autonomous self-driving cart which would "just work" out of the box, requiring no infrastructure and no programming and able to withstand tough manufacturing and warehouse environments. The only real surprise is the size of company interested in our solution. Our aim was small to mid-size companies with little knowledge or experience in automation. In addition to those, we are seeing strong interest from large companies with extensive experience with robotics who understand the value of our technology.
Apto was a startup born out of frustration — and an industry way behind the technological times. CEO and founder Tanner McGraw had been working in the commercial real estate brokerage business for nearly 10 years. After years of juggling software that never quite solved his problems, McGraw decided to build it himself.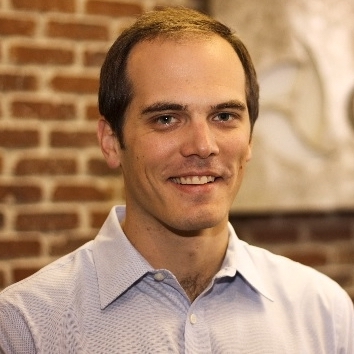 When did you have your "lightbulb" moment — that moment when the original idea for the company came to you?
It was less like a lightbulb moment and more of a gradual pain that I finally got tired of dealing with. The technology just wasn't up to speed. So we kind of built the business in spite of the technology. We used three different pieces of software trying to make it work, and then the last downturn happened in 2009 and I had the opportunity to really think about the business and how we wanted to come out of the downturn. Technology was the obvious gap.
How did you take that idea and turn it into a business?
From that point, I built the technology to run the brokerage business. We came out of that last downturn pretty hot and ended up nationally ranked. We got a good bit of attention and interest in the business, and that led to an opportunity to commercialize.
I come from a family of entrepreneurs. I've been around it my whole life, so the idea of starting something wasn't foreign. I ran both businesses together for about a year — which is a terrible idea. The whole serving two masters thing is hard to do. Eventually, I decided that this was much more interesting in the long-term for me, my skillset, my interests.
How has that original idea evolved since launching the company?
We started with workflow technology — CRM and deals. About 18 months after the company went to market, we launched a commissions product that was post-transaction, helping brokers complete transactions and get paid. Since then, we've released a mobile app, and in about seven or eight days we'll be launching a ground-up rethinking of what CRM is — not just for commercial real estate but more broadly. Last year, we invested heavily in product and engineering headcount to help accelerate all of that.
Photos via featured companies and social media.
Have a tip or know of a company worth covering? Email us.