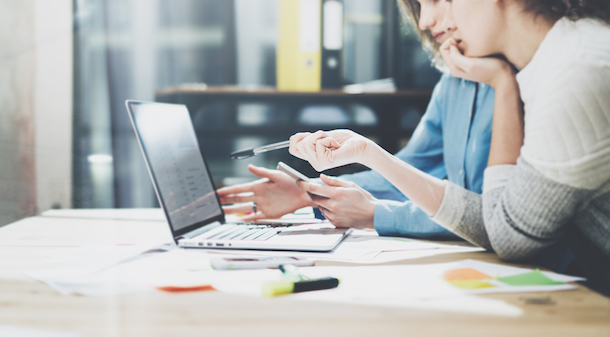 Just as companies like Coca-Cola and Apple have to market their products to the right people to be successful, businesses that sell products to other businesses need to market smartly to make sure they can find the right buyers. But B2B marketing can't use the same methods as traditional marketers.
Boulder-based CaliberMind is bringing artificial intelligence into the B2B marketing world, using natural language processing to provide in-depth info on buying teams so that marketers better understand their target buyers.
"Unlike other current tools, we analyze human language from [customer relationship management] marketing automation systems and a variety of social networks to develop data-driven bio-personals," said director of customer success and operations Rachel Israel. "We map the buyer's journey with recommended content through the top, middle and bottom of the funnel."
By taking in all this information and presenting clear insights, marketers can provide better content to accelerate sales. The company doesn't just provide info about what the buyer's needs are for their company — it provides details on the motivations and pain points of a buyer, identifying how they may react to various marketing tactics.
Israel compared it to Netflix's recommendations, which takes into account tons of data about your watching and browsing habits to serve you up your new binge-able show. CaliberMind uses everything from LinkedIn info to previous email communications with a buyer to build its profiles.
"Most companies and most of the data that's available is historic data, like 'people have been at this company for X amount of years, they report to this person.'" she said. "What really distinguishes CaliberMind is that we're the only predictive marketing solution leveraging customer psychographic data."
CaliberMind raised a $1.2 million seed round in October and is using that funding to build up its customer base. The company currently has nine employees, ranging from data scientists and developers to sales and marketing staff.
Image via Shutterstock
Is your startup doing something awesome? Send us a tip or a tweet.