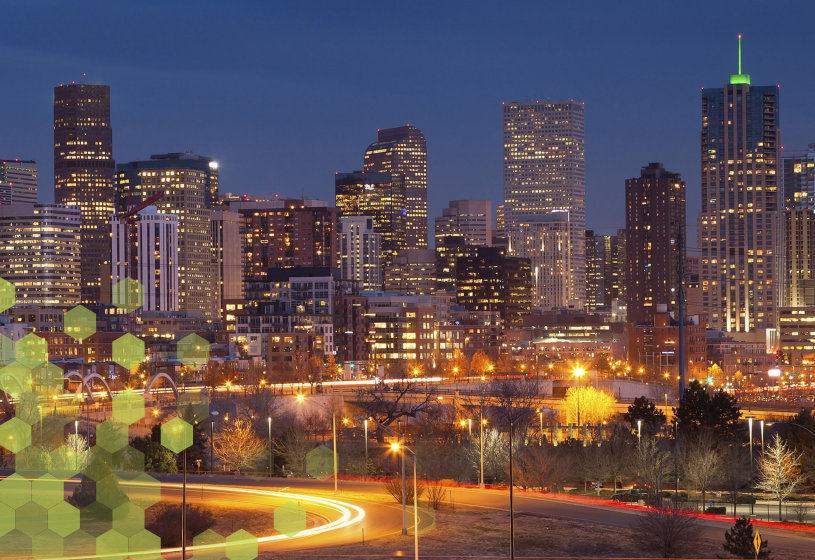 Anyone who has been paying even the least bit of attention has seen that the tech industry in Colorado has been steadily growing over the past five years. And while it's easy to speculate, it's even easier to look at the numbers. 
Colorado released their annual Colorado Techbook last week, showcasing the local tech industry's growth in regards to employees and office space. 
The report showed that 15.5 million square feet of Colorado office space is occupied by tech firms and the total net absorption of space during the past four quarters landed at 890,000 square feet. On the employment side of the equation, the state saw 2.8 percent job growth since May 2015 and a 25 percent growth in tech employment since 2010.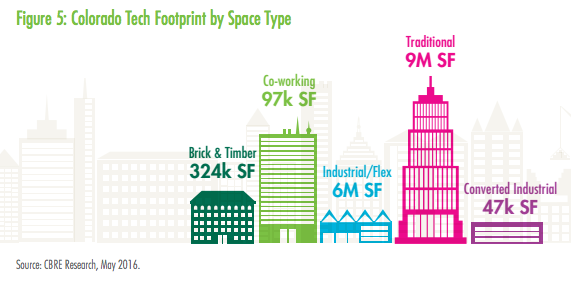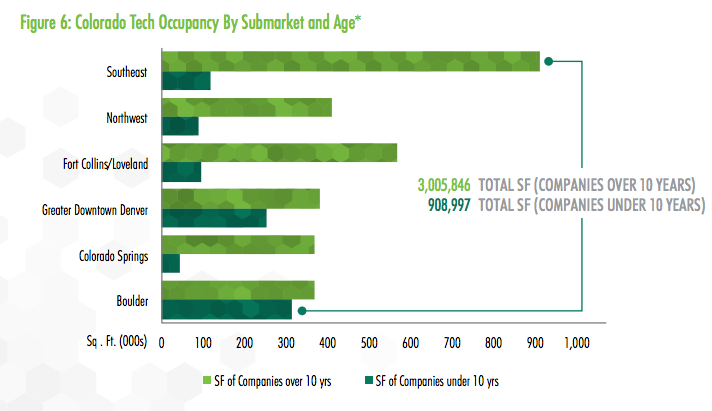 "This geo-spatial interpretation of Colorado's varied tech sectors and submarkets is a first-of-its-kind analysis into the hard data behind one of our fastest-growing industries," said Alex Hammerstein, senior vice president, CBRE Denver Tech & Media Practice. "Revealing the unique profiles, personalities and preferences of Colorado's high-tech sectors not only provides valuable insights for companies looking to expand or relocate to our state but also implications for what the future may hold for these tech-friendly submarkets." 
In total, Denver tallied 9.8 million square feet of tech office space, meaning 16 percent of the city's total office leasing is going to tech. Denver was listed as the fastest growing city in the U.S. (+2.8% growth) by the U.S. Census Bureau and currently employs 79,000 tech workers. But to better understand the city's growth, let's break it down by micromarket:
Greater Downtown
Four companies have made the greater downtown area their home in the past four months and with the total revitalization of Union Station, the area has a whole new look. Since 2011, the average asking lease rate in the area has jumped nearly $10 per square foot since 2011. 
Downtown Denver
Home to established companies like Ping Identity, KPMG Ignition and Craftsy, Core CBD houses 93.4 percent of its companies in traditional office space (i.e. high rises and general office buildings). The area also has the most tech office square footage (559k sq. ft.) of all the downtown micromarkets and is home to the new Ibotta and Sendgrid offices. 
LoDo
Comprised mostly of software companies (55.6%), the tech office space in LoDo primarily lies in brick and timber spaces (39.1%). Notable tenants include ProtectWise, Inspirato and FullContact. 
RiNo
Far and away the most popular area for coworking spaces like INDUSTRY, Green Spaces, and TAXI (which comprise 36.6% of its real estate), the scene is comprised of 28.9 percent business services tech companies and absolutely zero traditional office space.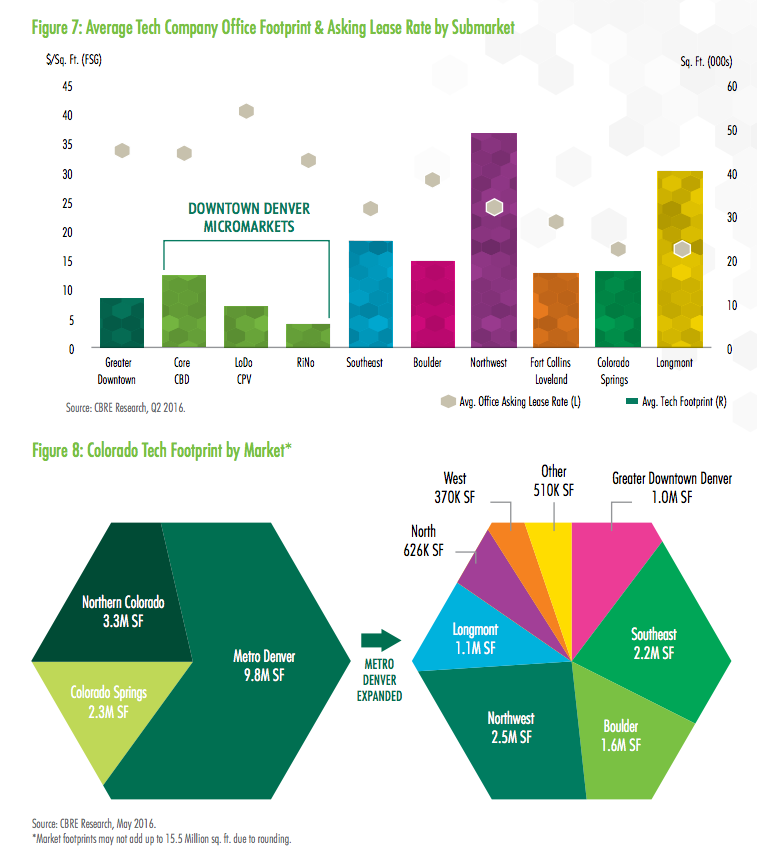 Other Colorado Markets
Southeast Denver
Housed in 94 percent traditional space, the Southeast market accounts for 2.2 million square feet of tech real estate. With an average of 300 square feet per employee, they fall just behind the Northwest market in that category. The scene is comprised 45.2 percent software and 38.7 percent business services including older companies like TriZettp Corporation, Truven Health Analytics and Pearson eCollege. 
Boulder
Featuring giants like IBM and Qualcomm, 532,000 sq. ft. of Boulder's 2.2 million sq. ft. of tech space is dedicated to hardware engineering and manufacturing. Not to be outdone, tech companies focusing on media & entertainment, gaming and social media have their largest presence of any market (10.3%). Boulder also has the largest presence of young companies who account for 300,000 sq. ft. Recurly, Snaplogic and Morphis all opened their Colorado locations in Boulder this year, joining the area's mainstays like Sphero, Backflip Studios and Twitter. 
Highway 36 Corridor/ Northwest Denver
With the largest tech footprint of all submarkets (2.5 million sq. ft.), the Northwest can thank their many companies who occupy over 50,000 sq. ft.. including Oracle's 1 million sq. ft. office. The area also has the highest concentration of tech companies at 36.7 percent, comprised mostly of software companies. Office vacancy in the area has also dropped approximately 10 percent since 2013. 
Colorado Springs
Colorado Springs is a magnet for established companies — 89.5 percent of their space is occupied by companies 10 years or older. Their 2.3 million sq. ft. of tech real estate houses more than 14,200 workers. Vacancy has dropped about 4 percent in the past year, falling to 12.2 percent. The area is also growing into a national hotspot for cybersecurity. 
Fort Collins
Also a hotspot for companies 10 years or older, Fort Collins employs 7,300 tech workers in 2.4 million square feet. CBRE's report also shows a massive social media company presence in the area accounting for 88.6 percent of their tech office space which is largely comprised of industrial/flex space. 
How did your city measure up? For a closer look at CBRE's findings, you can check out the whole report here.