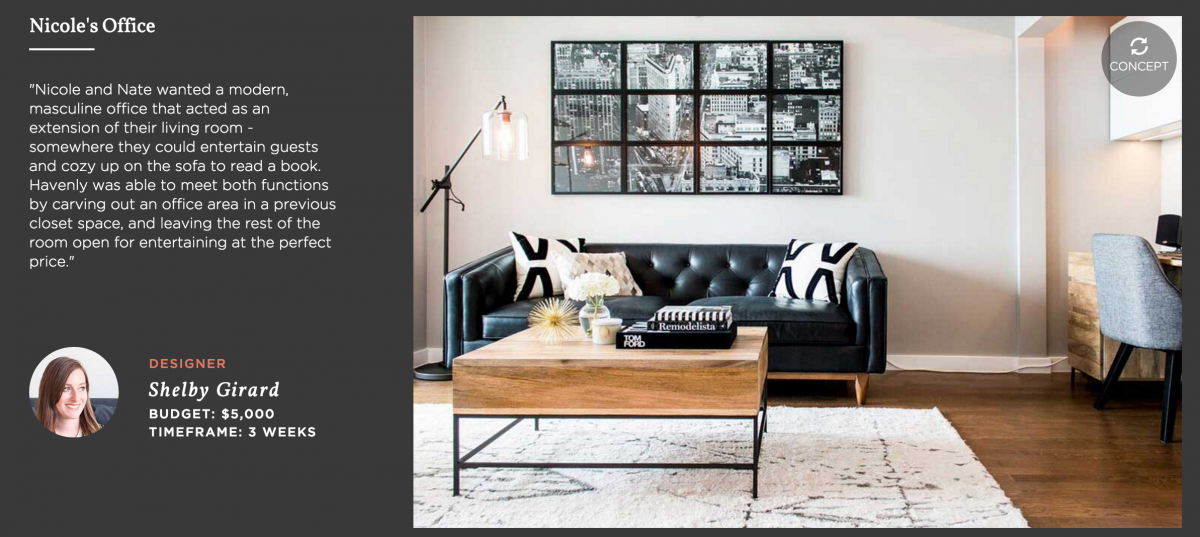 Designing a beautiful room is a lot of work, requiring skills many of us simply don't possess. Not that it stops us from trying.
Denver-based Havenly announced today they had raised $7.5 million in new funding to take on the challenge of making your house look good.
"Havenly is committed to making decorating your home easy and affordable - our innovative services provide online design help to the many customers that can't afford a traditional interior designer," Lee Mayer, CEO and cofounder of Havenly said. "We're excited to be partnering with phenomenal investors to expand our offering and build a fantastic team here in Denver."
Havenly's service helps the interior design-challenged among us create beautiful homes or offices without leaving our laptops. Like knights in shining armor, their designers help steer you away from buying that La-Z-Boy recliner with a built in mini-fridge, and guide you toward something a little more sophisticated.
Basically, the company's service connects everyday people with professional designers on the internet. You fill out a brief survey about your design preferences and budget, and then upload some photos and details about the room you're redecorating. Their professional designers then do the heavy lifting, and come back with concept images of how they think your room should look. 
When you do finally settle on the concept you like, all the items that feature in the concept images are for sale and within your price range. With a click of a button, everything you like will be delivered to your door. It's kind of like magic — you sit on your butt and the room changes around you. 
Heavenly was founded in 2014, and has grown to employ 20 people, 17 of whom work in Denver. With the new funding, which was led by the Foundry Group, the company plans on expanding hiring in their marketing, operations and technology departments.