Systems Engineer at Bluestaq
Sorry, this job was removed at 8:44 p.m. (MST) on Thursday, July 2, 2020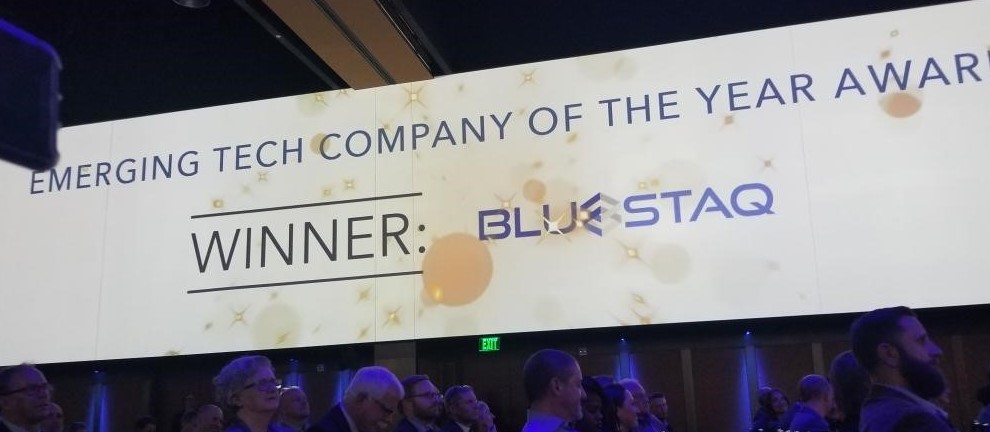 Bluestaq starts with our people.
Are you ready for the best job you've ever had? At Bluestaq, we've rapidly built a culture around community, constant innovation, and customer commitment. Bluestaq is dedicated to cultivating a growth environment where our team feels valued, works with a sense of mission, is personally rewarded, and professionally challenged.
Bluestaq is an emerging technology company, founded in 2018 to streamline global operations using cutting-edge enterprise software and mission analytics. Bluestaq develops and transforms its enterprise systems and secures disparate data to solve our customers' most critical challenges. Today, Bluestaq primarily provides the U.S. Department of Defense and the nation's intelligence community with advanced software systems. Our name, Bluestaq, originates from "blue" a military term for friendly forces and "staq" referring to a software stack.
Bluestaq was recently recognized by the Colorado Technology Association as the 2019 Emerging Tech Company of the Year, named Colorado Springs Chamber of Commerce and EDC 2019 New Company of the Year, recognized as a 2019 Best Workplaces in Colorado Springs by the Colorado Springs Gazette, and acknowledged on three 2020 Built In Colorado's Best Places to Work Lists:
#21 Best Places to Work in Colorado,
#5 Best Small Companies to Work for in Colorado,
#4 Best Paying Companies in Colorado.
Looking for amazing quality of life? In 2019, Colorado Springs scored a "Perfect 10" for "desirability" by US News & World Report.
Why join Bluestaq in Colorado Springs?
Cost of living - below the national average
Lifestyle Amenities – coffee shops, craft breweries, boutiques, locally-owned restaurants
Nature – more than 100 parks and ample outdoor sporting opportunities
Weather – Colorado Springs boasts over 300 days of sunshine a year
Laidback atmosphere – an accessible alternative to the faced-paced Denver lifestyle
Bluestaq is located in the heart of Downtown Colorado Springs. Our street level, headquarters location aligns with the Bluestaq brand identity and company culture. Bluestaq believes the Downtown location embodies an innovative, dynamic, industrious, and collaborative brand identity. The flexibility of working in a dynamic community with access to food, entertainment, retail, and other businesses, and increasing cultural amenities allows our team to handle personal errands, exercise and unwind within walking and biking distance of our headquarters.
Who we're looking for…
Bluestaq is looking for a self-starting, ambitious individual who is not afraid to question assumptions or learn a new skill/technology on the job to solve a problem. As a talented communicator, you are the authority within the space, air, intelligence, or other focused domain. Bluestaq Systems Engineers are recognized experts with 10+ years of subject-matter expertise. In a Systems Engineering position at Bluestaq, you will work collaboratively with cross-functional teams at all levels, from developers, industry partners, to government officials and operational analysts to design advanced software systems. And we're focused on doing - we keep meetings to a minimum.
Desired Qualifications
A recognized expert with a history of implementing high-performance enterprise solutions with strict availability, concurrency, and low latency requirements.
Strong operational domain knowledge in Space, Air, Intelligence and other desired domains.
Strong physics or mathematical background as it pertains to the domain.
Excellent interpersonal skills and ability to communicate at all levels from developers to high level government officials.
Experience with and understanding of enterprise software principles and technologies.
Proficiency with scripting languages (Python, JavaScript, Typescript, Bash, etc.)
Knowledge of software security concepts (authentication, authorization, protocols)
Familiarity with cloud-based concepts and the AWS component stack.
Education: BS in Computer Science, Mathematics, or EE, or relevant industry experience is required.
This position requires the ability to obtain a TS/SCI Clearance. To be eligible for a clearance, US Citizenship is required, and an employee must agree to participate in a background screen and credit check, provide their Social Security number and allow the investigating government entity to access their tax records. If the clearance process requires a polygraph or drug test, an employee must agree to participate in these required steps.
Bluestaq is proud to be an Equal Opportunity/Affirmative Action Employer that is committed to inclusion and diversity. We also take affirmative action to offer employment and advancement opportunities to all applicants regardless of age, gender, race and religion, disabilities, or protected veteran status.
Read Full Job Description