Legal Tech, Payments, Unlimited Vacation Policy, Employee Stock Purchase Plan, Social Impact, 1 - 10 employees
2 Companies

Hustle 2.0 offers subscription-based education programs to prison/jail systems, nonprofits, and faith-based organizations that equip incarcerated people with the training and tools to transform their lives and hustle, thus helping corrections systems reduce disciplinary incidents, violence, and recidivism.
---
Team based strategic planning
Group brainstorming sessions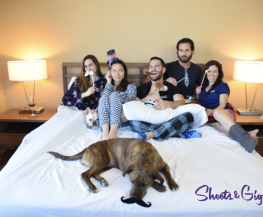 S&G's eucalyptus lyocell bed sheets are naturally softer and more breathable than even the best cotton, and they're sustainable, too. In June 2018, S&G became the #1 all-time crowdfunded bedding on Indiegogo, in September we won first place at Denver Startup Week, and we made over $600,000 in our first year. Techstars Boulder 2019.
---
Volunteer in local community