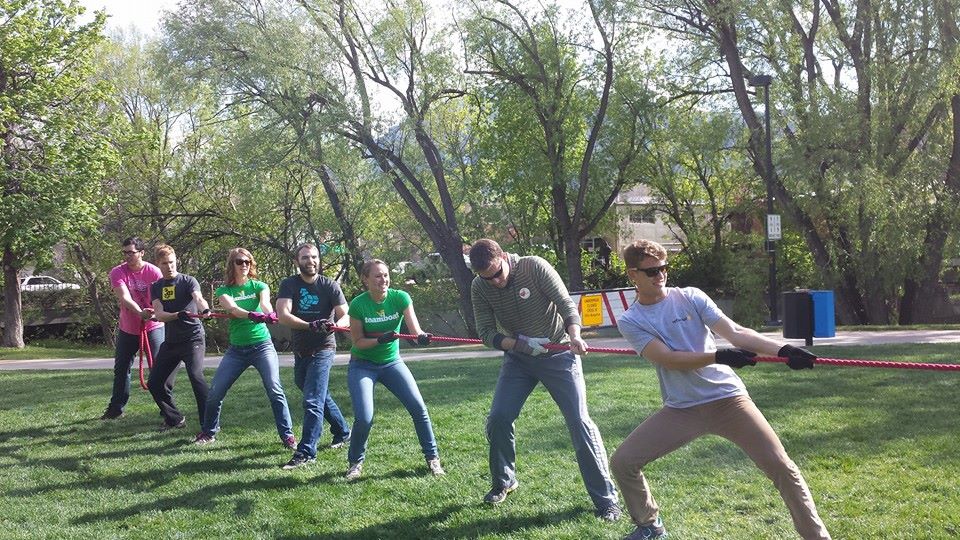 The ShipCompliant team plays tug-of-war
The antithesis of a blissful startup employee is one who has a dreadfully long commute, is tied to a strict ten hour work day in a dimly lit cubicle, and whose breaks from work entails drinking Folgers and eating a bologna sandwich. In the startup world, benefits are far from having that stigma.
Frequently, I come across job descriptions whose benefits seem out of this world compared to traditional corporate offerings.  It's important to analyze why these benefits are important and have come to be an integral part of the job package. There is logic behind having a ping-pong table and offering unlimited granola bars.  The true reasoning comes from a desire to improve daily work life by creating a lasting relationship and cultivating a healthy lifestyle for employees. In turn,  employers gain a more productive employee and stand out against those competing for like-talent.
Below are 6 startup perks, some Colorado real-world examples and some benefits that are often overlooked.
Social time
[ibimage==29644==Medium==none==self==ibimage_align-center]
Building comradery within and between your divisions does more than just reward and show your appreciation for their work, it also creates a system of allegiance.  Events where employees can gather and work together on a mutual problem outside of work reinforces a bond and allows individuals to connect on auxiliary levels, which adds a human element and understanding of one another. Are you more likely to help and work through a problem together with a friend or a stranger?
Local Startup Sampler: Design-team Quick Left takes company bike rides and is notorious for hosting a medley of hacking events for employees to interact with the community.
Free grub (& caffeine)
[ibimage==29646==Medium==none==self==ibimage_align-center]
In SF and more established tech hubs, in-house lunch (and sometimes even dinner) has come to be an expected perk. Sound ridiculous? When you calculate the price per head for a meal versus the salary range for devs, the startup is winning out by capitalizing extra in-office time. Not only do employees not have to go out to eat- taking valuable time from their work- but they also don't have to worry about preparing something for the next day when they get home after a long day. Simple math on return vs expenditure.
Local Startup Sampler: StackExchange hosts lunch everyday and has a healthfully stocked kitchen.
Making life's duties easier
[ibimage==29647==Medium==none==self==ibimage_align-center]
Anything that alleviates your staff's daily life when it comes to monotonous chores and tasks will pay out in the long run.
Broken down into a few examples:
Free weights: Healthier employees decrease your health insurance bill, their time out, and increases confidence levels.

Easy commute: The commute is often a big hurdle- whether it is concerning transportation, traffic, or duration. Offering out of a convenient building that is easily accessible via public transportation and offers parking will make for a happier employee overall and decrease the likelihood of turnover. It may be obvious but all too often employers become blindsided by building costs and location.
Local Startup Sampler: Denver-based iTriage has top of the line gym equipment, is located right across from the transportation hub at Union Station and provides RTD passes to all employees.
Flexibility
[ibimage==29667==Medium==none==self==ibimage_align-center]
If you're hiring enthusiastic individuals who are more than just workhorses, then you know that they're going to feel like they're locked in a cage if they have to grind at a desk for 10 hours a day. Allowing them to work out of the office at least one day a week should decrease inner opposition to habitual humdrum.
Flexible schedule: Not everyone is a morning person. It doesn't make sense to treat everyone the same when it comes to work efficiency. Allowing employees to take a running break or break up their work day in a way according to their efficacy will most likely decrease the time wasted browsing the internet.  
Local Startup Sampler: Hosting.com prides itself on its flexible schedule – especially for techies- and provides ample vacation time.
Paid Vacation
[ibimage==29668==Medium==none==self==ibimage_align-center]
There is nothing like a long vacation when it comes to reviving ambition. Not only do people come to realize one another's significance and role, but it also provides a refreshed perspective and enthusiasm upon return.
Local Startup Sampler: JobAdder employees to go on a 4 week vacation.
Education Reimbursement
[ibimage==29651==Medium==none==self==ibimage_align-center]
​Compensation for higher education and training opportunities.
Local Startup Sampler: ReadyTalk boasts that employees are reimbursed for tuition and continuing programs and offered discounted classes.
Underappreciated perks of startup jobs
Autonomy: Due to the multitude of duties and the time-strapped team, you'll be far from bureaucracy and have the authority to progress without repeatedly asking for permission.

Opportunity for unlimited growth, with a supportive team

An easy going work environment - that allows you to dress like a confused middle schooler.

Equity: take a financial stake in what you are building

Support in personal entrepreneurship: There has been increased access to a vast range of local and national resources. Governments, along with some big service providers and organizations, are offering incentives and access to mentoring programs gratis.