'Build Your Own McKinsey': How an Empowering Culture Fuels Transformation at QuantumBlack
Three team members describe how diverse expertise and an empowering culture catalyze the creation of influential technology.
McKinsey & Company may be often characterized by bustling professionals in tailored suits and polished pencil skirts helping companies formulate growth strategies. Yet this industry behemoth relies on more than refined business sense to deliver impactful solutions for its clients.
The firm's AI arm, QuantumBlack, forms the technological backbone of the organization, operating as an innovation hub in which data science, engineering, product and design experts develop digital products and frameworks. 
However, it isn't enough for the team to develop innovative products. These proprietary assets, which are developed within QB Labs, must support the organization's wide range of customers as well as the global tech community, meeting the demands of every industry. 
To be effective across such a wide range of applications, Senior Data Scientist Sanjay Hariharan explains that the team designs assets in a way that ensures they can be reused, providing greater efficiency and ease of use for those who leverage them. 
It's like cooking from scratch versus with pre-made elements: the latter shortens the cooking time and makes meal prep simpler. 
Hariharan, who works specifically on technology that serves the life sciences sector, explained that every asset is a pre-developed piece of code or coding pipeline that can be applied to various issues, such as modeling physician engagement or optimizing resources. "When a data scientist or engineer starts a project, they are essentially 60 or 70 percent of the way there, so projects can be accelerated and de-risked," he said. 
While increased speed issues from faster results, it also stems from frequent usage. Senior Data Scientist Ian Whalen added that repeated use of the company's products creates "super users," which ultimately renders long-term impact. 
"It lets you spend more time on important problems rather than implementation details," he said. 
[Working with pre-developed code] lets you spend more time on important problems rather than implementation details."
With heightened familiarization also comes greater collaboration among teams.
For Senior Principal Engineer Ivan Danov, improved alignment regarding processes makes it easier to onboard new team members and accelerate their work. 
Nevertheless, building powerful products requires more than just top-notch technical skills. The company's success relies on two essential elements: diverse perspectives and an empowering culture. 
'A MATCH MADE IN HEAVEN'
McKinsey and QuantumBlack rely on each other equally for expertise. It's a beneficial bond that Whalen described as a "match made in heaven." Without his team's expertise, the larger firm would struggle to develop effective solutions and vice versa. "Working in tandem yields really great results for our clients," Whalen said. This transference of knowledge begins at the start of any project. According to Danov, a McKinsey business consultant — or, in some cases, several consultants — will work alongside QuantumBlack team members two or three times per week until a solution is achieved. 
Expertise in Everything
Driving progress looks different for each person at QuantumBlack. While one individual may apply their PhD in physics, another may leverage their economics degree. 
According to Whalen, his colleagues possess a diverse array of diplomas, yet they all have one thing in common: ambition to accomplish a goal. By taking different approaches to achieve a particular aim, he and his teammates spur transformation. 
"When someone's past area of study aligns with the product they're working on, a lot of innovative work can happen," Whalen said. 
PUSHING THE BOUNDARIES
Hariharan said team members at QuantumBlack are constantly searching for ways to embrace the latest tech trends. In an effort to push the boundaries of data science, he and his colleagues are currently focused on implementing aspects of deep learning into their life sciences work. "It's more complex but, in theory, it's a highly predictive model that has already been applied to other industries within McKinsey," Hariharan said. Ambition of this magnitude requires serious manpower, which is why the company is currently focused on building out its data science department.
Danov added that unique perspectives are more than a catalyst for compelling work. Employees have more chances to grow when they're surrounded by peers with different knowledge. 
"Having a wider viewpoint makes it easy to make better abstractions and identify problems more easily and clearly in the future," Danov said. 
For Hariharan, the importance of employing a wide range of experts is simple: It results in stronger outcomes. "If you only had consultants solving a problem, you may not create something sophisticated or innovative, and on the other hand, if you only had analytics practitioners solving a problem, you may not create something that is useful," he said. "Having people with differing expertise can be challenging sometimes, but it creates a better solution in the end." 
If you only had consultants solving a problem, you may not create something sophisticated or innovative. If you only had analytics practitioners solving a problem, you may not create something that is useful."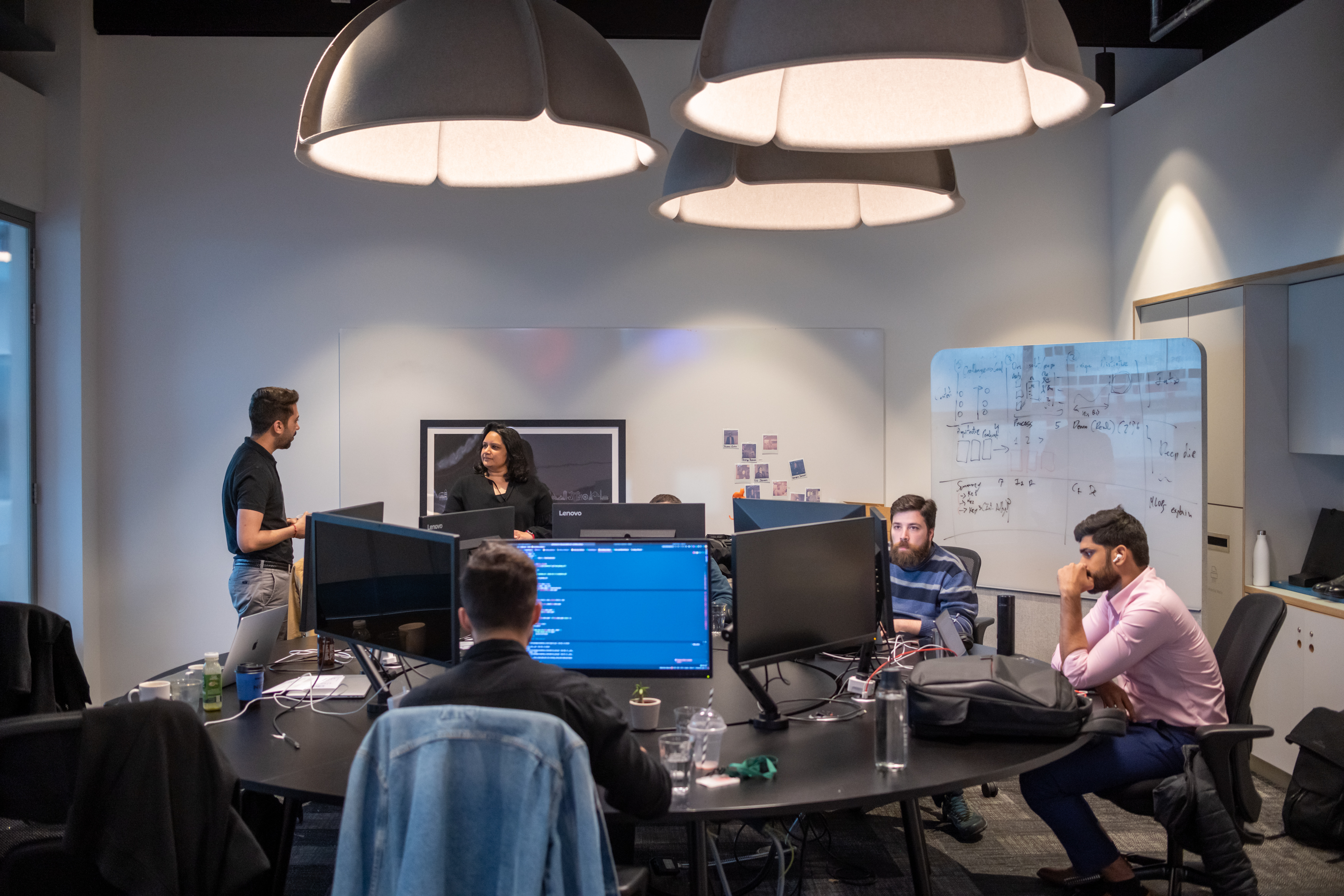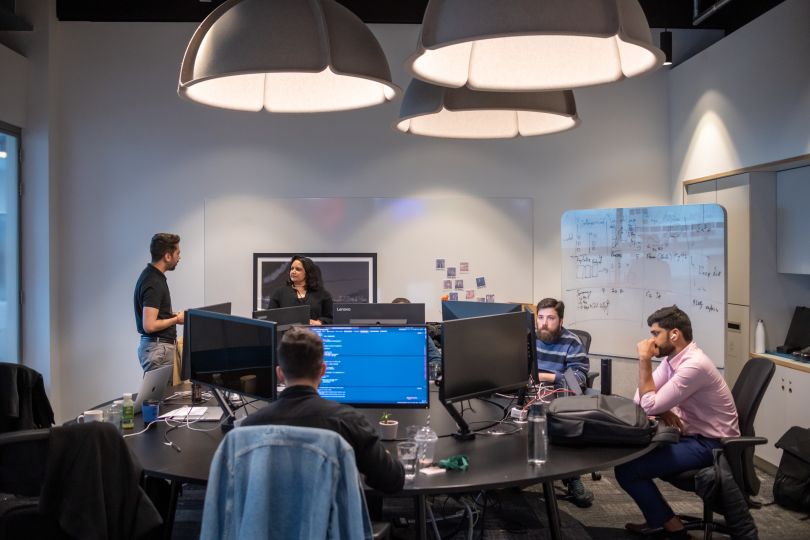 'Build Your Own McKinsey'
Having talented team members is crucial, yet their influence is felt most keenly when they have room to grow. That's why QuantumBlack has cultivated a culture defined by evolution and empowerment. 
Danov said the company embraces the philosophy, "Build your own McKinsey," which means team members have the autonomy to build products they want to see. It's an adage he knows well, considering his experience at the organization so far. 
While no one told Danov to build the company's Python framework, Kedro, he persisted in developing it. Now, it's an open-source tool that countless professionals rely on, and he owes its success to the environment he works within. 
"I don't think that would have been possible in a big tech company where things are way more hierarchical," Danov said. 
TOOLS FUELING TRANSFORMATION
According to Danov, QuantumBlack's technologists rely mostly on Python when building new products while also leveraging various tools, such as Pandas, JavaScript, React and Plotly. He added that the company's cloud servicing team frequently uses AWS offerings, including AWS SageMaker.  
This focus on freedom also means that employees aren't afraid of failure. Danov added that everyone is encouraged to test out ideas rather than avoid unforeseen consequences. 
By embracing the unknown, technologists are enabled to shape their own futures by broadening their knowledge. Hariharan said the company's status as a consulting firm allows tech employees to learn how different organizations across every domain leverage data, problem-solving and analysis. 
Yet being a team member at QuantumBlack isn't always about finding answers and honing new skills. In fact, Hariharan considers the time he has spent with his colleagues to be the highlight of his career journey at the company. Whether they're engaging in an insightful discussion or attending conferences together, he and his peers have ample opportunities to connect over their passion for data science. 
By giving diverse team members space to see their ambitions come to fruition and work together to drive innovation, QuantumBlack prioritizes the success of its people. And for some, achievements take the form of personal career wins, as was the case for Danov. 
Watching his own curiosity manifest as an accessible, innovative tool served as the marker of his own evolution — and it's an achievement he cherishes deeply. 
"It's quite rewarding to know that I've started with something that was very small, and now it's so much bigger," Danov said. "That freedom is something I value a lot here."