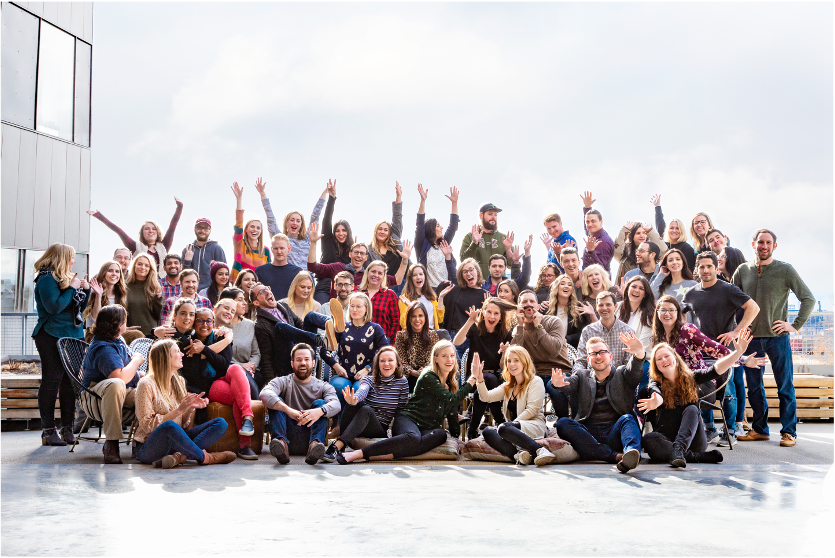 Colorado is quickly becoming a popular destination for techies all over thanks to its proximity to nature, diversified communities and a large number of successful startups (now over 4,100). 
One such techie that was drawn to the Centennial State for these reasons is Rachel Buffalo. 
Buffalo relocated from Florida to Colorado because she was offered a financial advisor position at Personal Capital, a digital wealth management company in Denver. "Making the decision to move from Florida to Colorado to begin working at Personal Capital was not the easiest choice to make," she said.
However, once Buffalo met the team and got a sense of their collaborative culture, she quickly felt at ease. 
Personal Capital isn't the only Colorado-based company that greatly emphasizes a collaborative culture. Built In Colorado checked in with leaders from 11 more companies that have also felt a sense of belonging since the moment they were hired.
What they do: Software company IntelePeer provides users with a communications platform as a service (CPaaS) to improve their customer experience. The CPaaS includes voice messaging, APIs and workflow automation.
Why Director of Partner Marketing Sara Wollesen has stayed at IntelePeer: "In the last seven years at IntelePeer, it's been truly amazing to see how much we have grown as a company and the transformations we have made," Wollesen said. "I've really enjoyed being a part of a company that embraces new ideas and encourages its employees to think outside the box. Since I've started with the company, I have been promoted several times and always feel supported by the leadership team to grow my skill set and continually advance my career."
What excites Wollesen about the future of IntelePeer: "I am very excited about the continued expansion of our products and services. Every year we come out with new and exciting ways to help businesses communicate, automate and implement AI. Everything we do here at IntelePeer is about supporting and providing for our customers and I expect that to continue in the future. My partner marketing team is directly responsible for engaging and educating our partner network about everything we do here at IntelePeer."
What they do: Convercent is a software company that helps organizations design, implement and measure effective compliance programs.
Why Senior Director of Revenue Enablement Maggie Callahan accepted a job at Convercent: "When I was interviewing for my position at Convercent, I remember being incredibly impressed by the intelligence and business acumen of every person I spoke with," Callahan said. "As someone who believes that you are who you surround yourself with, I was invigorated at the idea of working alongside brilliant, motivated and diverse minds who I knew would challenge my way of thinking and being. 
"One characteristic I've continued to appreciate about the entire team at Convercent is that everyone believes in continued growth — personally and professionally. I find myself inspired by every person I have the opportunity to work with on a daily basis and I can genuinely say that I am a better version of myself since joining this team."
What excites Callahan about the future of Convercent: "While most organizations 'talk the talk' about internal growth and promotions, we really do 'walk the walk.' Over the last year, we've focused a great amount of energy on our programs supporting internal promotions and continued development, whether that's from a business development representative to an account executive, an account executive to a sales director and so on. 
"The best part of my job is watching people exceed their own expectations of themselves and transform into leaders and guideposts for others. I am so excited for the continued efforts we're putting into these internal development programs. It shows our dedication to onboarding, consistent training, offering opportunities to embark on projects that push people's previously considered limits and our commitment to our company values."
What they do: Pax8 modernizes how its partners buy, sell and manage cloud software.
Why Manager of Talent Acquisition Brian Schooley accepted a position at Pax8: "Prior to joining Pax8, I already had an opportunity on the table that I 'knew' I was going to take before I even interviewed here with this team," Schooley said. "However, less than 24 hours later, I was signing my offer with Pax8. It wasn't just the smiling faces around the office that seemed excited to meet some random person who was coming into the office. Nor was it because my resume starts with six jokes before even going into my skills and experience (everyone seemed to appreciate that). 
"But it was because I was going to have the opportunity to challenge myself with something I had never done before in building a department of my own and being a main contributor to the growth strategy of an ambitious startup that was starting to get its footing in the industry. Less than three years and more than 400 new teammates later, that opportunity to take on a challenge bigger than me is still there and there's been no looking back. What I have accomplished in my time here could have taken me 10+ years anywhere else and I am excited for all that lays before me."
What Schooley is excited to accomplish in his role in the future: "There is so much to look forward to at Pax8. We have achieved so much already here in the U.S., but with our current initiatives to expand internationally, this poses so many exciting opportunities to get involved in our growth efforts on a more macro scale and add to our culture. 
"On a more micro-level, I am still greatly excited over the opportunity to offer more talented and passionate people their dream job to come work at Pax8 and see their careers take off to new levels they couldn't even fathom."
What they do: Funding Circle is a peer-to-peer lending marketplace that allows the public to lend money directly to small and medium-sized businesses.
Why Head of Public Policy and Social Impact Ryan Metcalf has stayed at Funding Circle: "I originally joined Funding Circle because I grew up in a family where everyone is a small business owner, including myself, and I knew personally the challenges and rewards that access to quality capital has on your business and livelihood," Metcalf said. "Funding Circle, at its core, is trying to apply innovative concepts and technologies to provide capital to small businesses.
"I joined Funding Circle two years ago with a goal of applying these innovative concepts to our country's regulatory frameworks in states and in Congress with some success to date. But, I have stayed because there is so much more to do and if successful, our work will positively impact tens of thousands of American small businesses."

What Metcalf is excited to accomplish in his role in the future: "My work in 2020 and 2021 has and will be focused on facilitating Paycheck Protection Program loans to thousands of small businesses in every state in the U.S. My goal is to ensure access to capital is equitable so that no community is disadvantaged and that public policy protects vulnerable small businesses and makes the market more efficient and transparent."
What they do: Havenly is an interior design startup that uses algorithms and individual consultants to provide personalized design choices.
Why Business Partner of Design Services Levi Austin accepted a job at Havenly: "Accepting the job at Havenly ultimately came down to the people," Austin said. "The level of excitement and enthusiasm was at the core of every interaction, followed by a tremendous level of solution-oriented initiatives. Beyond that, there was a consistent theme of striving for greatness and setting ambitious goals, which is an exciting aspect of how the team operates on a daily basis.

"In the earliest conversations, the team was (and is) consistently self-aware of opportunities for improvement and proactively ideated on improving the business. This was a powerful driver for realizing the opportunity ahead. Once part of the team, I realized this is standard, across the organization. Better yet, the best part is how they manage to continuously inspire talented individuals to overperform, recognize success, and maintain a playful, sense of humor along the way.
 
What excites Austin about the future of Havenly: "Havenly, as a whole, is in the most exciting part of any company's lifecycle: growth. The opportunity to be a critical part of evaluating past practices and historical data, then translating those learnings into operational effectiveness is not only valued across the organization, but every team member is empowered to act like an owner — ultimately treating every role at Havenly with an entrepreneurial opportunity to make the most of.

"At Havenly, I'm laser-focused on not only vetting the best interior designers looking for an opportunity at Havenly, but providing designers with the tools and resources they need to deliver the most delightful experience to every client on a daily basis. Optimizing the way Havenly connects with and empowers all designers will be both an exciting challenge and I'm beyond thrilled for the journey ahead!
What they do: Personal Capital is a digital wealth management company that offers users a wide range of planning and analytical tools.
Why Financial Advisor Rachel Buffalo accepted a job at Personal Capital: "Making the decision to move from Florida to Colorado to begin working at Personal Capital was not the easiest choice to make," Buffalo said. "Accepting this job really came down to the culture at this company and making me feel 'at home' before I even started. On top of the culture, I felt Personal Capital was the future of how wealth management is constantly evolving and I wanted to be a part of a company on the forefront of the financial services industry."
What excites Buffalo about the future of Personal Capital: "I'm most excited to be part of a company continuing to grow and revolutionize the financial services industry. Helping people reach their financial goals will hopefully propel our company into becoming a household name."
What they do: Wowza Media Systems is a live video streaming platform that delivers broadcast-quality streaming to any sized audience on any device. 
Why Senior Director of Global sales Renee Ingenito has stayed at Wowza: "After I spent the majority of my career leading sales teams in selling video platform solutions for major corporations, I was interested in joining a smaller company where I had an opportunity to build a cohesive, results-focused sales organization, greatly contributing to the company's growth," Ingenito said. "It was equally important to be joining a company that truly valued its employees, understood customers' needs, and was agile and adaptive in our fast-changing tech world. 
"Throughout the interview discussions, I also came to realize that Wowza's core values were very much in line with my beliefs. After being at Wowza for almost three years now, I feel so fortunate to have been given the opportunity to develop and lead a top sales group while being part of a truly innovative company leading the charge in video streaming software solutions. If you are fortunate enough to find yourself in the Wowza interview process, you'll have an opportunity to join an outstanding group of professionals that are uber-smart, passionate, bold, customer-obsessed and accountable in enabling companies all across the world to launch and scale video streaming in their business."
What excites Ingenito about her role and the future of Wowza: "What excites me most about where Wowza is headed is that our products and services empower companies to innovate and be successful in ways both imagined and unimagined. Whatever a company can dream, our software can help stream it with the highest quality, lowest latency, top security and most reliability. Regardless of the business segment or location, Wowza is helping organizations throughout the world leverage our platform of video solutions to bring real-time live experiences to viewers around the globe.  
"As I did throughout 2020, I will work enthusiastically with our sales team to fully understand the business needs of our customers so we can truly find the best solutions for their success. Now more than ever, the Wowza team is being called upon to be leaders in video technology. We have quickly become a team of subject-matter experts for just about every industry, empowering such organizations to engage and connect most effectively and efficiently with the world through Wowza's video-streaming software technology and expert professional services."
What they do: Four Winds Interactive provides digital signage services for a variety of establishments like airports, arenas, banks, hotels and more.
Why Corporate Sales Executive Jessica Schmelzer accepted a job at Four Winds Interactive: "When I think about the deciding factor for accepting my job, I cannot pinpoint just one reason — there were many factors that attributed to my decision to join the team at Four Winds Interactive," Schmelzer said. "One of the biggest reasons was the company's clear drive and passion for innovation, something that is extremely important in today's ever-changing world.
"Another reason that stands out is the clear support and investment you receive from the management team and your peers. There is no question that the team wants to see you succeed in your current role and wherever your career might take you. It is not easy to find a workplace that provides strong support and collaboration as well as actively providing challenges for personal and professional growth. Four Winds Interactive has found a way to evolve despite the effects of COVID and is actively seeking out the best ways to support their team and customers moving forward."
What excites Schmelzer about the future of Four Winds Interactive: Four Winds Interactive's passion for growth has only increased with the recent acquisition of SmartSpace Global. As an account executive at Four Winds Interactive, I am excited to be able to provide our customers with a robust platform that will create a safer and more functional digital workplace as people are heading back into the office. I hope to leverage my previous sales experience in different industries and my perspective to contribute to the team at Four Winds Interactive so that we can continue to grow our platform and assist customers as they strive to improve their digital workplace.
"I take great joy in collaborating with others and hope that I can continue to add value to my team, to fellow employees within the company and to my customers to tackle business initiatives and help bring new ideas to life."
What they do: RingCentral creates cloud-based collaboration and communication tools. It's all-in-one video, call and messaging communications platform allows users to access it from anywhere on any device.
Why Account Executive Jace Henderson accepted a job at RingCentral: "My decision to join was easy," Henderson said. "One of the first things I noticed when I was shadowing my soon-to-be team was the blatant camaraderie and culture that permeated the floor.
"As soon as I walked in, I saw people laughing with each other, crossing the hallways to speak with employees on other teams, but still working hard. I could tell that the teams weren't siloed and that people communicated across departments. It seemed like a place that drove great results and truly valued the importance of culture."
What excites Henderson about the future of RingCentral: "From the Black Lives Matter protests, social distancing and COVID-19, and all the changes that have come over the world, companies have had to make drastic changes in the way they operate. As an African American, I'm extremely proud to see how quickly RingCentral took a stance regarding the BLM movement, from reaching out to employees personally to creating different employee resource groups that continue to spread awareness and educate. I, myself, addressed a lack of African American representation in the company and RC was quick to allow me to be involved in the interview process, targeting African Americans across the country. I'm excited to continue growing with the organization, personally and professionally, and spreading awareness to other African Americans about the opportunities that RingCentral has as a global force."
What they do: Prove is a mobile and digital identity authentication platform used by banks, insurers, brokerages and technology companies.
Why Senior Software Developer Jennifer Risdon has stayed at Prove: "I didn't have to think too hard about what has kept me at the same company for seven years, because I answer this question a lot when interviewing candidates," Risdon said. "While Prove has great perks — an awesome 401(k) plan and other benefits — none of that compares to the amazing team of people I get to work with every day. When I started working for Prove, I was one of around 30 total people in the company. We had a rather small development team and our customer base was also small. I was there when we launched our first major customer — one of the biggest banks in the country. Over the years, I have witnessed us develop several new products that help our customers verify and establish trust with their customers. It's really cool knowing that the products we've developed play a major role in many of the daily transactions going on out there in the world via mobile apps, web pages or phone calls. 
"It's quite amazing to see us grow from 30 people to over 130 people in the past few years! What's really awesome is that many of the people I started working with that long ago are still here as well. Having such a great development team to work with has made work fun, challenging and rewarding."
What Risdon is excited to accomplish in her role in the future: "As of today, I'm currently on a team that is working on a greenfield project, which will not only provide cost savings to our company but also help our customers to better verify and protect their customers. As a part of this team, I get the opportunity to learn some new technologies, but the real highlight is I get to continue working with some of the same smart people I've been working with, as well as hire on new people to add to this great group! It's been fun passing on the knowledge that I've gained to newcomers and watching them develop and grow their own skills. I feel very fortunate to be a part of this company and to be playing a role in its growth."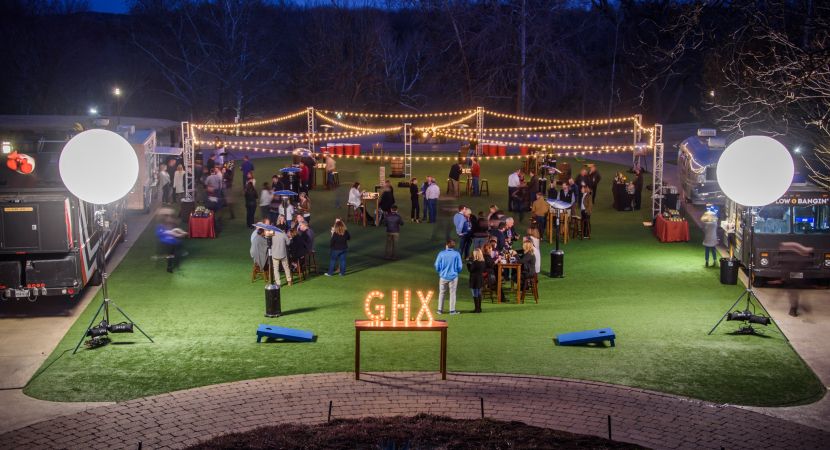 What they do: GHX is a healthcare business and data automation company whose cloud-based supply chain technology exchange platform empowers healthcare organizations to enable better patient care and maximize industry savings. 
Why Senior Recruiter Kaley Lodin has stayed at GHX: "I proudly remain a member of the GHX team because I believe in our purpose, mission and people," Lodin said. "Together we take more than $1 billion dollars out of the cost of delivering healthcare every year. It's fulfilling both personally and professionally to help change the way healthcare does business for the better.
What Lodin is excited to accomplish in her role in the future: "While COVID-19 highlighted fissures in the global healthcare supply chain, it also underscored the importance of the supply chain in driving healthcare's digital transformation. By automating key business processes and translating evidence-based analytics and data into meaningful action, GHX is helping the healthcare ecosystem to move faster, operate more intelligently and achieve greater outcomes."
What they do: Workiva is a cloud-based, reporting compliance platform that enables the use of connected data and automation of reporting across finance, accounting, risk and compliance. 
Why Engineering Manager Marie Yue accepted a job at Workiva: "There were many reasons I accepted my job at Workiva, and the obvious were things like compensation, benefits and work-life balance," Yue said. "But what really sold me was the positive feedback about working at Workiva that I got from my future coworkers during my interview process. I was looking for a place with a collaborative and supportive team culture where I could build cool things. I've been here for over a year and I love my job. All jobs are challenging at times, but when the team culture is good, it's so much easier to tackle hard problems and accomplish goals! Workiva has a strong focus on customer satisfaction and we are able to pivot quickly and work on the most important projects to keep our customers happy.  
"This makes for a fun and technically challenging environment that's always evolving. I also really appreciate the candid and informative virtual all-hands meetings that our CEO started hosting regularly after our offices closed due to COVID-19. They are a huge morale booster and we hear from different people around the company who speak to a variety of topics from company financials, OKRs, product roadmaps and more."