For many companies, the concept of culture goes way beyond flashy marketing speak. It's at the heart of everything they do — how they collaborate, how they treat one another and their customers, and how they handle both the wins and the losses inherent with growing a business.
We took a look at the unique cultures of three local tech companies to see what they do to keep those cultures strong — even as they evolve and scale.
What they do: Flowhub develops user-driven business management and compliance software that caters specifically to the unique needs of the highly regulated cannabis industry.
News worth celebrating: In September, Flowhub was named to Green Entrepreneur's list of the top 100 Cannabis Leaders of 2018.
Lessons in hypergrowth: Since entering the market in mid-2016, Flowhub has won more than 30 percent of the market share and drastically grown its team. But even though the company has changed a lot since the early days, it's continued curating the positive culture it was built on.
"Adding employees and growing as a company can lead to major cultural changes, for better or worse depending on how they're mitigated," a source at the company told us earlier this year. "Flowhub has done a great job of managing its growth and maintaining a tight-knit culture where radical transparency, enthusiasm for our customers and our products, taking ownership, expecting excellence from each other and pushing the status quo lead all of our actions. Celebrating the small wins, encouraging employees to have fun at the right time and the occasional GIF response in Slack keep things positive around the office."
Coolest perks: Company equity, kombucha and cold brew coffee on tap, a beer-stocked fridge, an open and pet-friendly office space, and more.
What they do: Payfone helps businesses combat identity fraud and keep their customers and users safe with its mobile and digital identity authentication platform.
News worth celebrating: After experiencing explosive 1,132-percent revenue growth between 2014 and 2017, Payfone was named to Deloitte's 2018 Technology Fast 500, which recognizes some of the fastest-growing tech companies in the country.
The secret to this team's success: Payfone is built on the idea of improving trust on the web — and that foundation of trust extends to the company's culture and the way its teams collaborate.
"For me, the secret to this is much more straightforward than some might think: Hiring people who are smarter than me, and then giving them the resources they need to succeed, is critical," President and CEO Rodger R. Desai told us in October. "My only job is to ask the right questions — great people know the answers. It's not only relieving that I don't need to know everything, but it's also a winning playbook for long-term success."
Coolest perks: Comprehensive health benefits, 401(k), company equity, commuter benefits, catered meals, parking and more.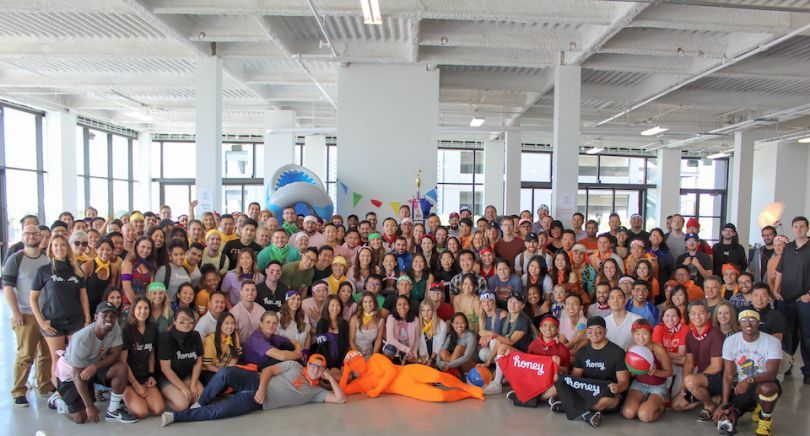 What they do: Honey's internet browser extension helps shoppers get the best deals online by automatically applying coupon codes to purchases, offering cash-back incentives and enabling users to set up alerts when prices drop on products they're eyeing.
Fun fact: Co-founder Ryan Hudson got the idea for Honey while ordering pizza for his kids. Unable to find a coupon that worked and frustrated by the entire process, Hudson created a prototype the automatically found and applied coupons from across the web.
A culture of inclusion: Just last month, Honey hired its 200th employee. Scaling company culture from a team of 20 to a team of 200 comes with no shortage of growing pains, and throughout the process, Honey has made a number of efforts to ensure employees continue to feel connected, valued and heard.
"Honey is one of those rare companies that truly values and promotes a culture of inclusiveness," a source at the company told us in August. "The leadership team plays a huge role in promoting diversity by hiring people who don't just possess diverse backgrounds but also cognitively diverse talents. Everyone, regardless of their position, can have a voice on projects and goals. All employees are encouraged to stay curious and to challenge themselves to reach their highest potential."

Coolest perks: Comprehensive health benefits, 401(k) matching, generous parental leave, company equity, free daily meals, relocation assistance, fitness subsidies and more.