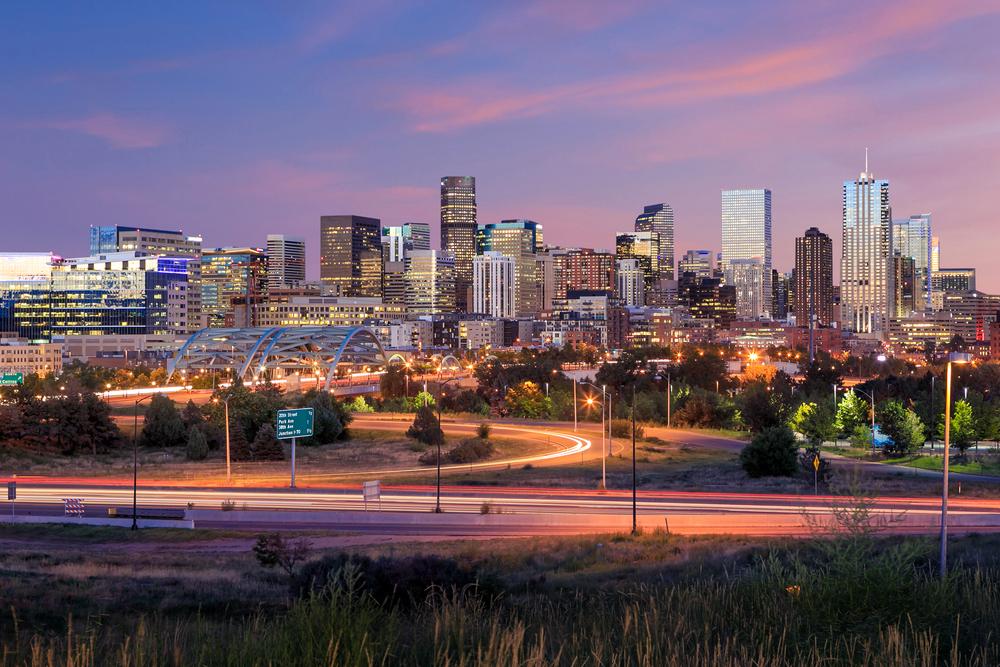 Denver Startup Week is just a few days away, and it's shaping up to bigger and better than ever before.
Beginning Monday, September 25 and running through Friday the 29th, DSW will host thousands of startup lovers from around the country, hundreds of events and seminars, and some major headlining names like Mark Cuban and Casey Neistat — all in celebration of the amazing startup community we've built here in Colorado.
Our favorite event of the week — the annual Startup Crawl — will take place Tuesday, September 26. The event gives Startup Week attendees the chance to peek inside some of the hottest offices in Colorado tech, mingle with the people behind the magic and let loose after a day of learning and seminar hopping.
Here's what to expect at this year's Crawl.
Union Station
Address: 1550 Wynkoop St.
What they do: CA Technologies, which acquired Rally Software two years ago, builds software and provides a range of IT services to support businesses.
What they're up to now: Earlier this month, the company was named to the Dow Jones Sustainability Index (DJSI) for the seventh consecutive year. The DJSI rates companies based on corporate sustainability.
Startup Crawl fun alert: Come talk to the startup teams from CA Technologies' internal accelerator/incubator. There will be beer, snacks, games and plenty of swag — oh, and did we mention there's gonna be a waffle bar?
Other info: Once you're on Wynkoop you'll enter the door under the sign SA+R — right across the street from Office Depot. When you enter the building take the elevator to the second floor, where someone will escort you in.
Address: 1601 Wewatta Street, Suite 700
What they do: The cloud-based ProtectWise Grid gives enterprise-level businesses greater visibility and detection of complex security threats from one streamlined platform.
What they're up to now: ProtectWise kicked off the year with the close of a $50.4 million funding, enabling them to bring on some strategic executive talent and forge new partnerships with other industry leaders.
Startup Crawl fun alert: Try on a Gear VR or Hololens and play with the ProtectWise virtual reality interface, which stops outsider threats and defends networks. Attendees can also grab beer, wine and snacks on the ProtectWise patio.
Other info: The ProtectWise office is in the same building as the Colorado Athletic Club. In the lobby, use the elevators on the left to get to the 7th floor.
Address: 1550 Wewatta St.
What they do: SparqU is a local and virtual incubator and community that accelerates pathways to entrepreneurship for freelancers, self-employed professionals and startups.
What they're up to now: Be on the lookout for one of SparqU's carefully curated events. They hold regular bootcamps, lunch 'n' learns and panels through events like Startup Fest.
Startup Crawl fun alert: This stop on the Crawl will feature a panel of diverse entrepreneurs from SparqUs Bootup Acceler8r. Grab some food and drinks while listening to testimonials from the alumni of their Summer BootUp experience and hear where they are today with their ventures.
Address: 1750 15th St
What they do: Red Canary protects organizations around the world from cyber threats by combining endpoint security technology with 24/7 monitoring from security professionals.
What they're up to now: Last year, Red Canary raised a $6.1 million round of funding, which has enabled them to expand the platform and more than double the team in recent months.
Startup Crawl fun alert: Every quarter, Red Canary holds an epic all-hands meeting called BEASTMODE. They're giving Denver Startup Week a taste of the BEASTMODE spirit, with some of their favorite team challenges, such as "Beat Chris at Sports Trivia," "Beat Zach at ping pong," and "Beat Cory at Mental Math." They'll also serve drinks and apps on the patio, overlooking Downtown Denver.
LoDo
Address: 1730 Blake St., Suite 200
What they do: Apto's SaaS platform helps commercial real estate brokers build customer relationships and manage their properties, listings, deals and commissions.
What they're up to now: Last month, the company released a new relationship-based sales tool for its platform that helps brokers nurture and strengthen relationships with previous and new customers.  
Startup Crawl fun alert: Things might get strange this year at Apto. The company is hosting a Stranger Things-themed shindig with its own Snapchat geofilter, a photo wall, ping pong, themed throwback drinks and more.
Other info: Head to the second floor to find their office.
Address: 1755 Blake St Suite 450
What they do: Like its name suggests, FullContact helps businesses manage their customer and company contacts with its suite of powerful APIs.
What they're up to now: The company was awarded a patent from the U.S. Patent Office for the core technology behind its Customer 360° platform.
Startup Crawl fun alert: Meet the FullContact team, tour the office, add some swag to your bag and play corn hole or pinball while enjoying a beer or a glass of wine.
Larimer Square
Address: 1500 Market St.
What they do: GoSpotCheck's execution management software is designed to streamline field team management and make communicating and collaborating with those teams easy, even when they're on the go.  
What they're up to now: The company was named the "Top Small Workplace" by the Denver Post this year.
Startup Crawl fun alert: Check out GoSpotCheck's brand new office space on the corner of 15th and Market, where you can grab a cold drink, hit the taco bar, play some ping pong or network with fellow crawlers. Once again, the design team has created a super cool Denver t-shirt to honor the occasion — another great reason to stop by.
Address: 1675 Larimer St., Suite 300
What they do: The Blinker app enables consumers to scan a license plate with their smartphone; obtain instant, up-to-date Bluebook value information; and then buy, sell or finance a car on the spot.
What they're up to now: In July, the Denver-based company launched its second market in Austin, Texas — the country's second-largest car market.
Startup Crawl fun alert: For the crawl, Blinker will be serving up BBQ bites and beers on their Downtown Denver rooftop. Attendees can enjoy lawn games and tours of the Blinker office, mingle with the company's Denver team, and pop into the "Spirit Car" photo booth to capture a few Startup Crawl memories.
Other info: When you arrive at Blinker's office, you'll see signs and a greeter outside directing you to the patio.
Address: 1530 Blake Street
What they do: Notion creates DIY wireless home awareness sensors made to to detect things like smoke, carbon monoxide, water, movement and temperature.
What they're up to now: Notion raised $10 million in funding this June, with plans to focus on product integrations and partnerships with other IoT giants like Nest, Google Home, Alexa and others.
Startup Crawl fun alert: Forget the tech of the future! For this year's crawl, Notion is bringing back some of our favorite tech from the past: the Nintendo 64. Come play your favorite N64 games or try your luck in a ping pong tournament. Or, just come hang out, snag some swag and enjoy a drink with the Notion team.
Address: 1675 Larimer St., Suite 500
What they do: TrackVia provides low-code, mobile workflow management solutions that help users optimize and collaborate on their internal business processes.
What they're up to now: TrackVia experienced three consecutive quarters of record-breaking sales this year. The company is currently on pace to increase new business sales by more than one hundred percent year over year.
Startup Crawl fun alert: If good company, cornhole and beers aren't enough to draw you to the TrackVia office during the Crawl, the catered Little Man ice cream should do the trick.
Other info: Enter on the corner of 17th and Larimer, take the elevator in the lobby to the 5th floor, and then take a right.
Address: 1624 Market St. Suite 211
What they do: Walkthrough brings virtual reality to real-life realty, enabling homebuyers to take 3D walkthroughs of a space, without having to leave their home.
What they're up to now: The Denver-based company closed a round of funding at the end of August for an undisclosed amount
Startup Crawl fun alert: Startup Crawl attendees can play special VR games and get a taste of Walkthrough's technology, while enjoying snacks and drinks with the team.
Other info: You'll see a sign outside that says "Market Center," where you'll enter and go up two flights of stairs. Walkthrough is down the hall in suite 211.
Central Business District
Address: 999 18th St., Suite 240
What they do: Bluprint delivers online tutorials and crafting supplies to help people explore the hobbies they're passionate about.
What they're up to now: In May, Bluprint (formerly Craftsy) was acquired by NBCUniversal, which has also invested in companies like Snapchat, Buzzfeed and Vox Media.
Startup Crawl fun alert: Stop by on Tuesday to enjoy food, games, office tours and more.
Address: The Park at Denver Place, 999 18th St., 3rd floor
What they do: Fastly's real-time content delivery and edge cloud platforms provide some of the world's largest web sites and applications with fast, secure and scalable digital experiences.
What they're up to now: Fastly locked down a $50 million Series E funding in May, bringing its overall funding to date to $180 million.
Startup Crawl fun alert: Startup crawlers can come check out Fastly's new office space in the prestigious Denver Place office complex and grab some food, beverages and Fastly swag out on the gorgeous Park terrace.
Other info: Denver Place is Colorado's largest commercial office property, meaning it can be a bit tricky to get around. The Park at Denver Place is located on the third floor. Use the entrance at 18th St. and Champa and look for signs to the terrace elevator.
Address: 1515 Arapahoe St, Tower 3, Suite 400
What they do: Wazee Digital created a cloud platform that enables rights holders and content creators to manage and monetize their digital assets.
What they're up to now: During Denver Startup Week, CEO Harris Morris will lead a discussion titled "Is Denver the New Tech Frontier?" with a group of other Denver-based tech thought leaders.
Startup Crawl fun alert: There will be no shortage of refreshments and snacks as you tour Wazee's colorful office complete. There will be games, raffles (last year they gave away a drone!), and stories about the some the work they've done with brands like NatGeo, USGA, CBS and the World Poker Tour.
Other info: The best way to enter the building is from Lawrence and 16th. There are multiple towers in the complex, and Wazee Digital can be found in Tower 3 under Bridgepoint Plaza. The office is on the 4th floor. But if it sounds confusing, don't worry. They'll have Wazee Digital greeters inside the plaza to let folks up the elevators.
Ballpark / Five Points
Address: 2245 Curtis St., #200
What they do: Choozle provides a programmatic digital advertising platform that uses consumer data to power campaigns in real time.
What they're up to now: Choozle ranked 113th on the 2017 Inc. 500 list of the fastest-growing private companies in the country, with 3,498.97 percent three-year growth rate — the highest out of any Colorado companies.
Startup Crawl fun alert: The company will be hosting its own startup carnival, featuring games, carnival food, prizes and the chance to peek inside their Downtown Denver digs.
Other info: Choozle's office is on the corner of Curtis St. and Park Ave. W. Look for the large white building and look for suite 200 — with the big white "Choozle" down the door.
Address: 1245 Champa St.
What they do: Pear Workplace Solutions partners with local businesses to design and deliver custom office environments.
What they're up to now: If you want to check out one of the company's most recent projects, stop by GoSpotCheck's sleek and modern new office.
Startup Crawl fun alert: Stop by Basecamp (at the Commons on Champa) for a Pear Workplace's pear-themed happy hour. They'll have delicious food and drinks, lawn games
RiNo
Address: 2500 Larimer St.
What they do: This Denver-based adventure outfitter designs stylish, simple and functional clothing for the outdoor enthusiast.
What they're up to now: Topo takes functionality seriously, sending their products off to every corner of the earth to test its durability and performance.
Startup Crawl fun alert: Stop by to snag a special Topo gift, enter your name in a drawing for some awesome gear, check out the Fall 2017 line of Topo Designs, or simply enjoy a drink, a snack and some lively conversation.
Photos via featured companies.
Attending the crawl? Share your photos on Twitter and Instagram with #DSWcrawl, and feel free to tag us: @builtincolorado.