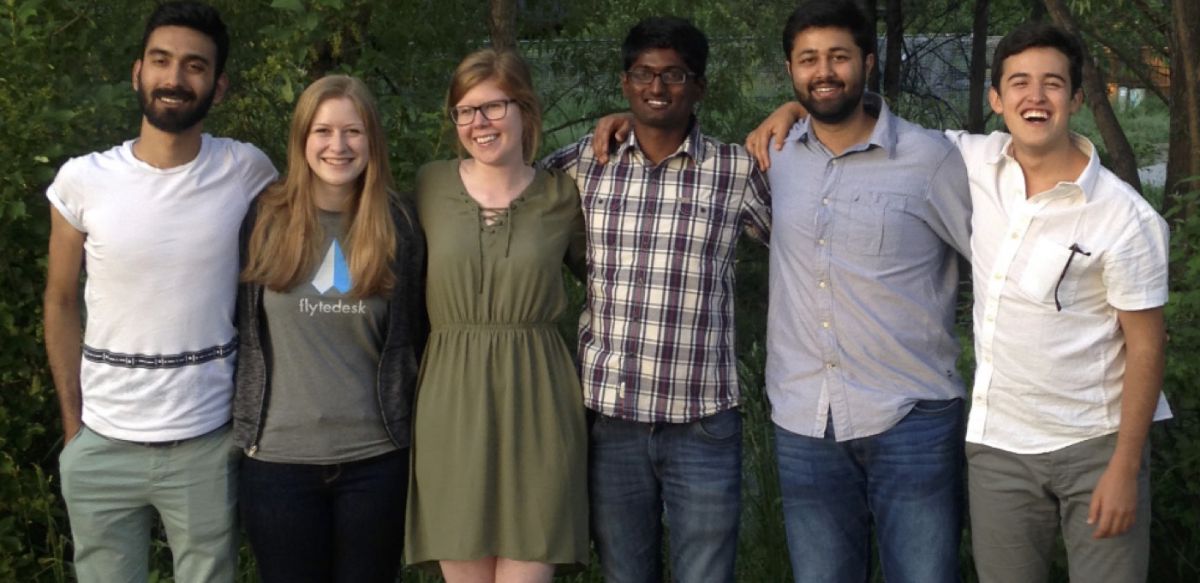 As college students across Colorado find themselves in the home stretch of the semester, some wait in anticipation of graduation, while others look to summer jobs and internships to stay occupied (and make a little cash on the side).
One Colorado startup's internship program is enough to make even the gainfully employed wish they could go back to school.
Boulder's Flytedesk, an adtech company that connects brands with ad opportunities on college campuses, used their experience at Techstars Boulder to shape their internship program. Now in its second year, the summer internship program involves real-world experience, guest lecturers, one-on-one mentorship and networking opportunities — and, it's paid.
"As a college advertising platform, we use summer as a time to rebuild," said Piper Jackson-Sevy, Flytedesk's VP of growth. "We're fortunate in that we have two months to think more strategically, that other companies don't have."
One of the company's strategies is to lean on the expertise college students have that the company may not. Their tech interns are typically grad students focusing on computer science, whereas the other interns are usually undergrad students from various disciplines. They work on projects that may have fallen by the wayside, or ones they come up with themselves.
"Putting an intern on it commits us to thinking more deeply about the product and tackling it," said Jackson-Sevy.
The experience sets students up for success in the field; five of the seven interns the company hired last summer ended up doing more work for them throughout the school year, and two of them will start full-time jobs with Flytedesk when they graduate in a few weeks.
"We were really impressed by the kids we brought on," said Jackson-Sevy. "Students who have gone through our internship program are ready to hit the ground running when they get here as full-time employees."
As a small team looking for top talent, the company had limited resources for recruitment. They used some online recruiting tools, sponsored coding clubs and turned to local organizations like Startups2Students at CU. Even with a limited budget, one thing was certain: Flytedesk would pay their interns, whatever it took.
"It was a no-brainer to pay them," said Jackson-Sevy. "If someone's doing valuable work for you, they should be paid for that. Not paying hurts diversity, and diversity is important to us. There's only a certain type of kid that can do an unpaid internship for the summer, so you have to think about the type of people you're going to get with that, and the type of people you're excluding."
Along with real-world work and a paycheck, the internship prioritizes professional development. Before the interns start, Jackson-Sevy asks interns to make a list of what they're interested in learning over the summer.
They bring in people from their network to speak at lunch and learns, host an in-house resume critique and even follow Techstars' 8:08 meeting model, with weekly meetings for reflection and goal setting at 8:08 p.m. Every intern has a mentor within the company, and they have an opportunity to get lunch with someone working in the field they want to go into.
"It's a way to reconnect with our network, as well," said Jackson-Sevy.
Flytedesk has already selected their interns for this summer, but they hope Colorado students will keep an eye out for opportunities to work with them next year. For the last-minute internship seekers, Jackson-Sevy shared some advice:
"What I always tell students is to really think about the company you're applying to; look at their mission, and what their internship program looks like," she said. "The biggest mistake is students being a little too honest. Don't freak out when they ask what you want to do when you graduate. No one's gonna check back on you five years down the road and make sure you're doing exactly what you said you were going to be doing in five years."
Photo via Flytedesk.
Have a tip or know of a company worth covering? Email us.