Today's modern tech company couldn't function as efficiently and effectively without the help of software tools. They help us communicate better, collaborate seamlessly, track sales performance and execute a litany of other tasks that would probably otherwise be a drain on current resources. With a partially remote team at Built In Colorado, we don't know where we'd be without Slack or
OfficeVibe
. 
We spoke with four other Colorado companies and asked them what's the startup tool they value most:
"Slack! Slack allows our team to communicate on the fly while organizing channels by subjects, teams or projects. In those channels, you can place or pin important files that need to be utilized or seen right away. The best part about Slack isn't it's ease of use or seamless organization. It's the extensive emoji library that brilliantly captures the range of emotions that go along with everyday agency life"!" - Sherrie Buck, VP of People Services
"One tool we use a ton currently is Quip. Quip functions as our own internal wiki, and is an excellent tool for collaboration — you can keep things private or shared with only a few people while you're finalizing details, or publish something out to the entire team for feedback. Quip holds our employee directory, internal support documentation, policy drafts, tech specs, and so much more. Before Quip, we had all these things spread out across various services (a dev wiki in ReadMe, policies and procedures in Google Apps, etc). Quip is fantastic for us because we're able to funnel anything that multiple team members need to see into one place, and you can view the edit history, make comments, and link to other things in Quip." — Charlotte Whitmore, Operations Assistant at StatusPage.io
"We couldn't live without our on-line accounting software, Xero. Although it is not ubiquitously used by everyone in our company, this tool is essential to the day-to-day operations of Tack Mobile. Unlike the accounting tool we used before (QuickBooks), Xero is a cloud-based accounting software, accessible from any device — and there's no additional cost to add multiple users. We also like that they are constantly adding new features to their software, and are pretty transparent in communicating what is coming out next. It is definitely lightyears ahead of its competitors, so we feel like it would be an irreplaceable tool." — Leilani Rose, Community Director at Tack Mobile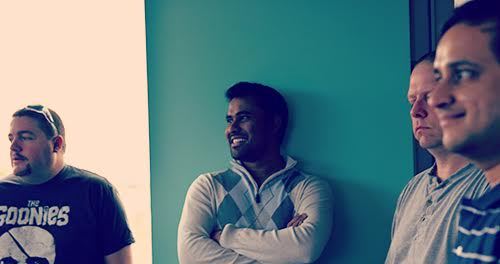 "We implemented RoundPegg at ShopAtHome.com just over one year ago. RoundPegg, a Boulder-based startup and graduate of Techstars, is a scientifically-backed, cloud-based solution that helps companies reduce turnover, increase productivity, and improve overall performance by enabling business leaders to better navigate and manage this fuzzy thing called "culture." With RoundPegg, we can aggregate and review the values selected by our workforce (e.g., professional growth, adaptability, being team oriented), set aspirational values, and be cognizant of our conflict values, those highly chosen as both the most and least important by our workforce. We also use RoundPegg to take a quarterly pulse on our workforce through the solution's light touch engagement survey, and then collaborate with our business leaders to address our areas of opportunity. Not every company goes so far as to invest in technology that helps them leverage data to refine their culture." — Nicholas Larche, Human Resources Manager 
Some responses have been edited for length or clarity.