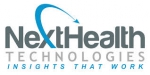 NextHealth Technologies (NHT), based in Denver, empowers healthcare consumers to make the best decisions by radically reducing healthcare costs. The platform predicts risk-reduction opportunities and prescribes "nudges" through three foundational technologies – prescriptive analytics, behavioral economics, and multichannel consumer engagement.
When your company mission is to empower healthcare consumers to make better decisions, loving your job is easy! Are you someone who is passionate about healthcare and technology? Tired of 100% travel but love working with clients?
NextHealth Technologies is seeking an Account Executive with sales experience that will report to our SVP/VP of Sales.
Our company is implementing a Voice of the Customer program where we solicit customer strategies and align our product roadmap to support their success. We are looking for a consultative account manager that can cultivate these relationships into bookings growth.
If you are looking to interface and have interfaced with client c-suite, this is the job for you!
WHY WORK FOR US?
When you feel well, you do well! We offer rich benefit options including vision, dental, and medical benefit options paid at 100% for employee.
Top Venture Partners are Accelerating our Growth: We completed a Series A round of funding led by one of the top venture capitalist firms in the nation, with participation from existing investors.
Contribute to an inspiring workplace! Partake in company culture collaborations, social gatherings, and enjoy the amenities at our Denver office.
In a hard-charging work environment, it's good to take time for yourself! We offer unlimited PTO to provide the flexibility to take time off for vacation, illness, family obligations or whatever else life has in store.
Competitive salary, commission structure and equity.
Required
3 – 5 years of consulting at a reputable consulting firm or HCIT company
Demonstrated grit, resilience, and persistence and ability to overcome adversity
Based in Denver
Must be willing to travel 30-50%
Demonstrable ability to communicate, present and influence credibly and effectively at all levels of the organization, including executive and C-level
Experience with CRM software (e.g. SF.com) and MS Office (particularly PowerPoint and MS Excel)
Proven ability to manage multiple accounts at a time while paying strict attention to detail
Excellent verbal and written communications skills
Understanding client needs and Craft solutions including business needs and ROI
ONLY apply if all above REQUIREMENTS are met
Preferred
3-5 years' proven track record of successfully selling to Healthcare Payers
Based in Denver
5+ years Experience developing new business with existing clients
Experience at top tier consulting firm
MBA
Company Reviews
Being part of NHT, and in a startup environment, offers more opportunity to find creative solutions and own many different responsibilities

Jesse Barker-Booth
Marketing Manager
at NextHealth Technologies
Find more startup and tech jobs in Boulder and Denver